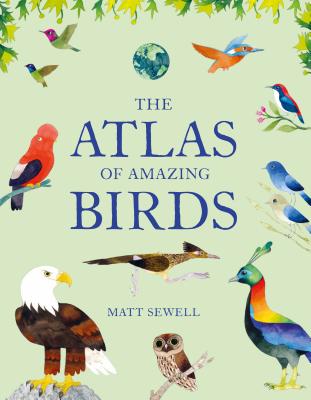 The Atlas of Amazing Birds
(fun, colorful watercolor paintings of birds from around the world with unusual facts, ages 5-10, perfect gift for young birders and naturalists)
Hardcover

* Individual store prices may vary.
Description
From colossal condors to polychromatic peacocks, The Atlas of Amazing Birds celebrates winged creatures through joyful watercolors and well-researched, humorously told tales of their habits and habitats. Some birds migrate thousands of miles, others display showy mating rituals. Some survive in extreme environments, others are fast, brave, or big! Organized by continent, the book features maps of migratory patterns across Europe, Asia, Africa, Australasia, North America, South America, and Antarctica, where our feathered friends live in all sorts of interesting places — in gardens, amidst waterways, and along byways.
Praise For The Atlas of Amazing Birds: (fun, colorful watercolor paintings of birds from around the world with unusual facts, ages 5-10, perfect gift for young birders and naturalists)…
"Appreciative and informative. Enchanting, indeed. An invitation to a world of ornithological wonders."
- Kirkus Reviews

"Tackling an entire class of animals is a daunting task, but this book, neatly organized by continent, rises to the challenge. Each section has a map and a small index of species. There is a short entry with a full-color illustration for each species. Useful for projects, entries include the animals' scientific species name and details such as size, diet, behavior, and how their environment is impacted by humans. Overall, a very readable and beautiful book. A charming compendium on the world's birds."
- School Library Journal

"If you have a budding ornithologist in the family, they will be awed by Matt Sewell's gorgeous compendium of more than 150 birds from around the world. Sewell knows just how to entice young readers with engaging, humorous, and insightful text that provides a robust and individual introduction to each bird as well as their status in the world. Every entry is accompanied by brilliant watercolors that highlight each species' spectacular, surprising, and sometimes even seemingly Dr. Seussian plumage." - Celebrate Picture Books

"Author/illustrator Matt Sewell has created a lovely book for the budding ornithologist. Divided into sections by continent, the volume includes lesser-known bird species. Each entry includes a charming, somewhat cartoon-like watercolor painting of the bird and several informational paragraphs."
- School Library Connection
Princeton Architectural Press, 9781616898571, 160pp.
Publication Date: October 1, 2019
About the Author
Matt Sewell is an avid ornithologist, and this is his fourth book about birds. He lives in Shrewsbury, England, and is also the author of The Colorful World of Dinosaurs.