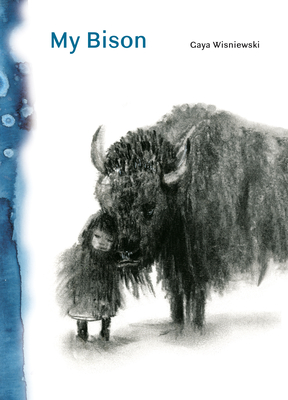 My Bison
Hardcover

* Individual store prices may vary.
Description
In a clearing by the forest, a little girl befriends a bison. Each winter they meet, sit by the fire, and share stories or simply enjoy the silence together until it is time for the bison to rejoin his herd in the spring. Their bond deepens as they grow older and the years go by, but one winter her bison does not return. After searching for him in the woods, the little girl, now a grown-up, comes to understand that though her bison is gone, he will also always be with her. Gaya Wisniewski's evocative charcoal-and-ink illustrations, enriched by the gradual addition of blue watercolor, masterfully convey this tender, affecting story of friendship and understanding the passage of time.
Praise For My Bison…
"My Bison, is a gentle story of love, loss and healing told through unadorned text and extraordinary illustration.... Deeply contemplative, never frightening, this fanciful tale of friendship amid the passing years is not to be missed."
- Shelf Awareness

"This gorgeously illustrated, gentle story is a reminder about the power and importance in the connection between humans and nature, and how one is never alone when one is with nature." - School Library Journal

"Wisniewski's narrative, voiced in the first person by the protagonist, is spare, stating the essentials. Sometimes it is only a sentence or two on an otherwise blank page, a choice that draws attention to the exquisite charcoal-and-ink compositions, arranged in changing page designs. Wisniewski's words and images capture the deep satisfaction of an interspecies bond. Perfect for animal lovers and old souls who harbor a touch of melancholy."
Kirkus Reviews

"Wisniewski's spare text conveys a simple, heartfelt story of a child connecting with the natural world, and eventually experiencing loss. The charcoal-and-ink illustrations lend a dreamy feel to the story, especially appropriate since several scenes depict the pair inside, sharing cups of cocoa or quietly resting together. Quiet and contemplative, this book highlights the sense of well-being that can be found outdoors."
- Booklist

"Sad and beautiful, My Bison is a book to fall in love with, a book to share, a book to help smooth over the sting of loss after investing so much time, energy, and love into something special. It is a wonderful glimpse into the world of uncomfortable or difficult emotions that everyone can appreciate." -
New York Journal of Books
Princeton Architectural Press, 9781616898861, 36pp.
Publication Date: March 3, 2020
About the Author
Born into an artistic family, Gaya Wisniewski studied illustration at the Saint–Luc Institute in Brussels. While teaching drawing at Le Wolf, a center for children's literature in Belgium, she fell in love with storytelling. My Bison is her first book in English. She now lives in France.