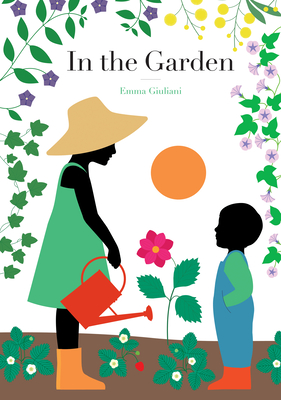 In the Garden
Hardcover

* Individual store prices may vary.
Description
Marvelous wonders await in this extraordinary garden book. From season to season, children follow the life of a garden as each page reveals new treasures hiding under lift-up flaps. Peek inside the curious tulip bulb and discover the peas inside a peapod. Watch a ladybug help with pesky aphids and search for ripe strawberries under the leaves. Rich in detail, Emma Giuliani's bright, immersive illustrations and flaps in fantastic shapes, sizes, and colors carry the reader into the enchanted world of gardening. Discovering different facets of the garden-fauna, flora, and the work necessary to help it grow and thrive-will delight gardeners of all ages.
Praise For In the Garden…
"In the Garden beautifully brings to life the meditative rhythm of backyard gardening through the seasons. It's a wonderful title for gentle little explorers, full of curiosity and garden wonder....In a word, In the Garden is 'soothing."
- The Maine Organic Farmer Gardener,


"A graphic artist's view of a small, mixed garden's seasonal round, enhanced by flaps, inside views, and cut-paper flowers. In Giuliani's composed, quietly harmonious scenes, young Plum and her little brother Robin-both depicted as solid black silhouettes-tidy up their patch after its winter sleep, then at proper times sow seeds, repot plants that wintered over in the greenhouse, water and nurture seedlings, set up poles for beans and stakes for tomatoes, then at last, in autumn, gather ripe fruits and veggies before putting the garden back to bed... Elegantly illustrated, oversized album to fuel winter dreams and schemes. Visually and conceptually idyllic."
- Kirkus Reviews (STARRED REVIEW)

"When I say this book is incredible, I cannot stress it enough....The book is inviting, colorful, and engaging for readers. Teaching kids to garden and be in charge of the food that they will later cook is a fantastic way to introduce waste production and reduction, composting, and Emma Giuliani's book is a must-have!" 
- The Tiny Activist,


"Using a multitude of flaps that promote interactivity and lend an intimate sense of discovery to the text, Giuliani offers facts about flora and fauna phrased in accessible and scientific terms: in "Spring," a magenta bean's "seed coat or integument" folds back to reveal a "plumule or bud," while an adjacent flap discusses dormancy and germination. One by one, other flaps (shaped like a winter squash, a ground cherry) reveal the kind of glad surprises that a garden can provide; together, the contemplative text offers a growing season's worth of activities and cares."
- Publishers Weekly (Starred Review)

"With simple yet elegant graphic illustrations, Giuliani engages the child gardener with colorful imagery and rich information about how this world can be a nurturing and poetic experience throughout the year. Filled with inspiration and anticipation, In the Garden satisfies the interests of all gardeners."
- New York Journal of Books

"A super-sized introduction to gardening through the seasons. With engaging lift-the-flap features, this beautifully illustrated book reveals the secrets of the garden and will inspire budding gardeners to get started."
- Picture Book Blogger (UK)

Take a walk through a year in the life of a family's garden, from the bleak emptiness of January to a lush riot of colour in July. Help pick the apples in September and toast marshmallows to celebrate the end of another year. Really gorgeous! This would be the perfect beginners' guide for new gardeners young and old, giving hints and tips about what to plant and harvest when.
- Library Girl and Book Boy (UK)

"A brilliant resource and a joy to peruse, In the Garden is a book that adults and children-both gardeners or nature lovers-will share throughout the seasons and from year to year. The book is most highly recommended for home, school, and public library collections."
- Celebrate Picture Books

"Emma Giuliani captures the essence of the soothing physical contact with the earth, while giving practical tips to get budding gardeners started on growing according to the season."
- Evening Echo - Cork (Ireland)

"At their first glimpse of this oversized book by Emma Guiliani, children will want to lay it on the floor, open it wide, and stretch out to look at its bold graphic illustrations. Inside they'll join Plum and her brother Robin, for a year of gardening through the seasons....With tips for deterring aphids and rabbits, and making cuttings to propagate plants, grown-ups will learn new things, too."
- The Gardener's Path

"Giuliani showcases the life cycle of a garden from season to season in this interactive and informative book....Simple illustrations with sharp colors pair nicely to highlight the intricate workings of the siblings' garden. From the flap that reveals what tools Plum and Robin keep in their shed to what the inside of winter squash looks like, each provides tactile fun. The format allows readers to see the garden's evolution and get a holistic view of how backyard life grows and thrives. An excellent purchase for public and elementary school nonfiction collections."
School Library Journal

"A striking, large-format book filled with practical information about things like compost and cycles of a garden. But gorgeous lift-the-flap illustrations also present seeds, leaves, bulbs, in all their scientific detail. It's eye candy for any kid (or adult) who gets hungry from learning about things like the pericarp inside a pea pod, how a pistil grows into a cherry, and the highly specific words for the different parts of a seed."
Sieera Magazine

"In the Garden will captivate children with the adventure of Plum and her brother Robin as they explore the garden through the seasons....They are sure to enjoy the story and learn what it means to garden and the pleasures that come from it."
- Ozaukee Press,

Princeton Architectural Press, 9781616898939, 16pp.
Publication Date: April 7, 2020
About the Author
Emma Giuliani is a graphic designer and illustrator living in Paris. Her previous books include Egyptomania and Welcome the Day.