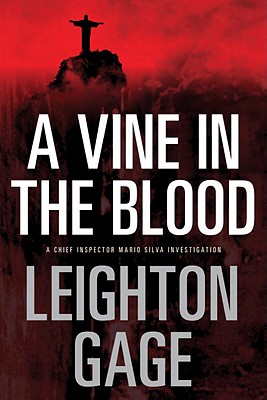 A Vine in the Blood (Hardcover)
Soho Crime, 9781616950040, 289pp.
Publication Date: December 27, 2011
Other Editions of This Title:
Paperback (11/20/2012)
Compact Disc (12/27/2011)
MP3 CD (12/27/2011)
Pre-Recorded Audio Player (12/1/2011)
Compact Disc (7/10/2012)
* Individual store prices may vary.
Description
It is the eve of the FIFA World Cup, the globe's premier sporting event. The host country is Brazil. A victory for the home team is inextricably linked to the skills of the country's principal striker, Tico "The Artist" Santos, the greatest player in the history of the sport. All the politicians in Brasilia, from the President of the Republic on down, have their seats squared-away for the finale, when they hope to see Argentina, Brazil's bitterest rival, humbled by the Brazilian eleven. But then, just three weeks before the first game, Juraci Santos, Tico's mother, is kidnapped. The star is distraught. The public is appalled. The politicians are outraged. And the pressure is on Chief Inspector Mario Silva to get her back.

Suspects aren't lacking. Among them, are a cabal of Argentineans, suspected of having spirited the lady away to put Tico off his game, the star's gold-digging, top-model girlfriend, whom his mother dislikes and has been trying to get out of his life, his principal rival, who wants to play in the World Cup in Tico's place, and the man whose leg Tico broke during a match, thereby destroying his career. In the end, Silva and his crew discover that the solution to the mystery is less complex - but entirely unexpected.
About the Author
Leighton Gage is the author of five novels in the Mario Silva series: "Blood of the Wicked, Buried Strangers, Dying Gasp, Every Bitter Thing," and "A Vine in the Blood." He spends part of each year in Santana do Parnaiba, Brazil, and divides the rest of the year between Florida and the Netherlands. He is married with four daughters.
Praise For A Vine in the Blood…
Wall Street Journal "Hard-hitting, atmospheric…. Despite their social conscience and ambitious reach, there's nothing stiff or programmatic about Mr. Gage's lively, action-filled chronicles. They have finely sketched characters, vivid geographical detail and their own brutal sort of humor. The vast size of Brazil, with its great economic and topographic differences, affords a diversity of locales. Each book is a bit of adventure-travel, with Silva and crew often feeling like tourists within their own country. Yet the Silva investigations have all the step-by-step excitement of a world-class procedural series…. The books' greatest appeal, though, is Silva. Even after five books and many glimpses into his past and present, he remains an enigma. The reader never knows what the detective might or might not do in order to balance the scales of justice."

"Silva, a tough, compassionate cop with an alcoholic wife and an unerring instinct for working the system, tackles this highly spiced case with his usual aplomb. Rising above Brazilian brutality, corruption, and bribery with uncommon wit and the help of his colorful, appealing colleagues, he scores a winning goal in an enormously complex kidnap payoff scheme."
—Publishers Weekly, Starred Review

"Gage knows Brazil well and has a cast of characters so amusing and so skillfully constructed that this novel is irresistible."
—Toronto Globe and Mail

"A brisk, colorful police thriller with much interesting information about contemporary Brazil.  As usual, the strong and disparate personalities of Silva's detectives add spice to their fifth case."
—Kirkus Reviews

"This book, like all of the titles in Gage's Chief Inspector Mario Silva Investigations series, throws a spotlight on the society and politics of contemporary Brazil. A Vine in the Blood attests to that country's intense involvement with the game of soccer…. Gage effectively increases the suspense of his latest work by creating a variety of characters, each with a valid motive for the crime."
—Examiner.com

"Whether it's characterization, plot or setting, A Vine in the Blood is possibly the best book in this series. If you have yet to sample it, fear not. This book stands on its own very well. My personal recommendation would be to read the entire series. Each book is a window into a fascinating country."
—Crimespace

"Mr. Gage is a master of the procedural who paints with a fine brush, using the tools he needs to craft a fine novel—and no more."
—New York Journal of Books
 
"Leighton Gage's skill is that he imparts a lot of information as an integral part of the exciting narrative, or the smart and frequently amusing dialogue between his characters. Everything flows along so smoothly that suddenly you have read 300 pages and are eagerly awaiting the next investigation. You can start with number five in the series as each of the stories is self contained, but if you do you will certainly want to go back and read the rest of this top quality crime fiction series."
—Crime Scraps Review
 
"Silva himself is something of a homebody, sticking to his familiar Sao Paolo turf, but that doesn't stop Gage from conveying a strong sense of place and Brazilian culture…. an engaging and fast-paced mystery."
—Booklist

"This is a fine series and one that readers would do well to seek out."
—Deadly Pleasures Mystery Magazine

A Chicago Tribune Mystery Book Club "favorite."
 
"Enthralling…. The plotting is amazing; the finale will leave the reader a little stunned but the motivation is so true that it all makes sense."
—MysterEbook
 
"The series offers a tour of the hemisphere's largest and most populated country and a hint of its future…. a great stocking stuffer for the reader on your holiday list."
—The Big Thrill
 
"When the final break comes, it's a perfectly believable insight rather than the strained coincidence that we sometimes see in crime fiction. All in all, the Silva series just gets better and better."
—International Noir Fiction