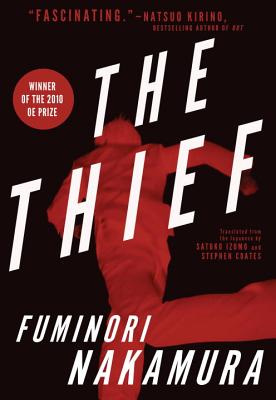 The Thief
Hardcover

* Individual store prices may vary.
Other Editions of This Title:
Digital Audiobook (2/29/2012)
Paperback (1/15/2013)
Compact Disc (3/1/2012)
Compact Disc (7/10/2012)
Description
A literary crime masterpiece that follows a Japanese pickpocket lost to the machinations of fate. Bleak and oozing existential dread, The Thief is simply unforgettable. The Thief is a seasoned pickpocket. Anonymous in his tailored suit, he weaves in and out of Tokyo crowds, stealing wallets from strangers so smoothly sometimes he doesn't even remember the snatch. Most people are just a blur to him, nameless faces from whom he chooses his victims. He has no family, no friends, no connections.... But he does have a past, which finally catches up with him when Ishikawa, his first partner, reappears in his life, and offers him a job he can't refuse. It's an easy job: tie up an old rich man, steal the contents of the safe. No one gets hurt. Only the day after the job does he learn that the old man was a prominent politician, and that he was brutally killed after the robbery. And now the Thief is caught in a tangle even he might not be able to escape.
Praise For The Thief…
A Los Angeles Times Book Prize 2013 FINALIST
A Wall Street Journal BEST FICTON OF 2012 SELECTION
A Wall Street Journal BEST MYSTERY OF 2012
A World Literature Today NOTABLE TRANSLATION
 A Los Angeles Times BOOK PRIZE NOMINEE
*A World Literature Today Notable Translation of the Year
*An Amazon Best Mystery/Thriller of the Month
*Winner of Japan's Prestigious Oe Prize

"The Thief brings to mind Highsmith, Mishima and Doestoevsky... A chilling philosophical thriller leaving readers in doubt without making them feel in any way cheated."
 —The Wall Street Journal, BEST BOOK OF THE YEAR selection

"Nakamura's prose is cut-to-the-bone lean, but it moves across the page with a seductive, even voluptuous agility. I defy you not to finish the book in a single sitting." —Richmond Times Dispatch

"His grasp of the seamy underbelly of the city is why Nakamura is one of the most award-winning young guns of Japanese hardboiled detective writing."
—Daily Beast

"Fascinating. I want to write something like The Thief someday myself."
—Natsuo Kirino, bestselling author of Edgar-nominated Out and Grotesque

"It's simple and utterly compelling - great beach reading for the deeply cynical. If you crossed Michael Connelly and Camus and translated it from Japanese."
—Grantland

"Surreal."
—Sacramento Bee "Page-Turner" pick

"Disguised as fast-paced, shock-fueled crime fiction, Thief resonates even more as a treatise on contemporary disconnect and paralyzing isolation."
—Library Journal

"I was deeply impressed with The Thief. It is fresh."
—Kenzaburo Oe, Nobel Prize–winning author of A Personal Matter

"Nakamura's memorable antihero, at once as believably efficient as Donald Westlake's Parker and as disaffected as a Camus protagonist, will impress genre and literary readers alike."
—Publishers Weekly

"Nakamura's dark imagination gives rise to his literary world... the influences of Kafka and Dostoyevsky are not hard to spot.
—The Japan Times

"Fast-paced, elegantly written, and rife with the symbols of inevitability."
—ForeWord

"Compulsively readable for its portrait of a dark, crumbling, graffiti-scarred Tokyo—and the desire to understand the mysterious thief."
—Booklist

"The drily philosophical tone and the noir atmosphere combine perfectly, providing a rapid and enjoyable "read" that is nonetheless cool and distant, provoking the reader to think about (as much as experience) the tale."
—International Noir Fiction

"There's a sense of dread that pervades each page, and a surprising Camus-like ennui that provokes existential and deterministic motifs."
—Kevin Nguyen, Omnivoracious

"The Thief manages to wrap you up in its pages, tightly, before you are quite aware of it."
—Mystery Scene

"Nakamura succeeds in creating a complicated crime novel in which the focus is not on the crimes themselves but rather on the psychology and physicality of the criminal. The book's power inheres in the voice of the thief, which is itself as meticulously rendered as the thief's every action."
—Three Percent

"Unique and engrossing."
—Mystery People

"Readers will be enthralled by this story that offers an extremely surprising ending."—Suspense Magazine

"Along the way the reader catches glimpses of Japan and its lifestyle, which is far from a pretty picture"
—Deadly Pleasures Mystery Magazine

"More than a crime novel, The Thief is a narrative that delves deep into the meaning of theft and the nature of justice....Japanese crime fiction has a new star."
—Out of the Gutter

"So many issues are raised in this novel. It is wonderfully brief, and spare, much like something Hemingway would write."
—Dolce Bellezza Blog
Soho Crime, 9781616950217, 211pp.
Publication Date: March 20, 2012
About the Author
Fuminori Nakamura was born in 1977 and graduated from Fukushima University in 2000. He has won numerous prizes for his writing, including the Oe Prize, Japan's largest literary award, and the prestigious Akutagawa Prize. The Thief, his first novel to be translated into English, was a finalist for the Los Angeles Times Book Prize. He is the recipient of the David L. Goodis Award for Noir Fiction. He lives in Tokyo with his wife.
or
Not Currently Available for Direct Purchase