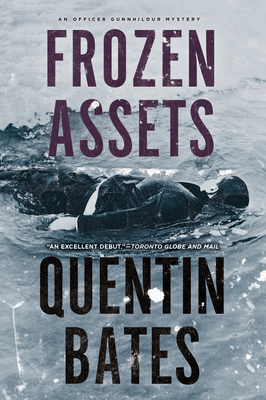 Frozen Assets (A Sergeant Gunnhildur Novel #1) (Paperback)
Soho Crime, 9781616950569, 352pp.
Publication Date: January 10, 2012
Other Editions of This Title:
Hardcover (1/18/2011)
* Individual store prices may vary.
Description
THE FIRST INSTALLMENT OF THE OFFICER GUNNHILDUR MYSTERIES SET IN ICELAND

An unidentified body is found floating in the harbor of a rural Icelandic fishing village. Was the stranger's death an accident or something more sinister? It's up to Officer Gunnhildur, a sardonic female cop, to find out. Her investigation uncovers a web of corruption connected to Iceland's business and banking communities. Meanwhile, a rookie crime journalist latches on to her, looking for a scoop, and an anonymous blogger is stirring up trouble. The complications increase, as do the stakes, when a second murder is committed.
About the Author
Quentin Bates lived in Iceland for ten years, during which time he got married, produced a family, and generally went native. He moved back to the UK with his family in 1990 and became a full-time journalist at a commercial fishing magazine. He and his wife frequently return to Iceland, where they have many friends, including several in the Reykjavik police.
Praise For Frozen Assets (A Sergeant Gunnhildur Novel #1)…
"Excellent debut ... Bates does a fine job with both Gunna and her town, her acerbic boss and an online blogger who keeps us abreast of events in Icelandic media and politics."—Toronto Globe and Mail

"British author and sometime Icelandic resident Bates embeds his well-paced mystery in this strange time, making (some) sense of it for American readers while introducing us to a heroine we could enjoy for the long haul. He doesn't skimp on the plot either, intertwining Gunna's investigation with the killer's movements and ratcheting up suspense as he brings it all together in a  rousing finale."—Portsmouth Herald