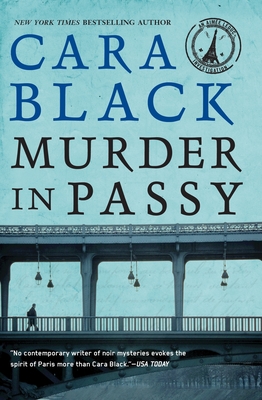 Murder in Passy (Aimee Leduc Investigations) (Paperback)
Soho Crime, 9781616950637, 273pp.
Publication Date: March 6, 2012
Description
The eleventh Aimee Leduc investigation set in Paris
Business is booming for Parisian private investigator Aimee Leduc. But she finds time to do a favor for her godfather, Commissaire Morbier, who asks her to drop by the gorgeous Passy home of his girlfriend, Xavierre d Eslay, a "haut bourgeois" matron of Basque origin. Xavierre has been so busy with her daughter's upcoming wedding that she has stopped taking Morbier's calls, and he's worried something serious is going on. When Aimee crashes the rehearsal dinner, Xavierre is discovered strangled in her own yard, and circumstantial evidence makes Morbier the prime suspect. To vindicate her godfather, Aimee must find the real killer. Her investigation leads her to police corruption, radical Basque terrorists, and a kidnapped Spanish princess.
About the Author
Cara Black is the author of sixteen books in the"New York Times"bestselling Aimee Leduc series. She lives in San Francisco with her husband and visits Paris frequently."
Praise For Murder in Passy (Aimee Leduc Investigations)…
Praise for Murder in Passy:

"Addictive ... Leduc is always a reliable and charming guide to the city's lesser-known corners."—Seattle Times

"The ideal mix of the personal, the political, the puzzling and the Parisian make Aimée's latest a perfect pleasure."—Kirkus Reviews, Starred Review

"Aimée is a fantastic guide as she invites the reader along on an excursion of Paris on the back of her scooter, which most tourists traveling to the City of Light never see. Back streets and alleys, smoky bistros and Paris mansions set the backdrop for this mystery."—New York Journal of Books

"Cara Black of San Francisco is one of our favorite mystery authors."—Sacramento Bee

"The rest of us will follow Aimee anywhere, the blinder the alley the better, thrilled to hitch a ride on the back of her scooter."—Booklist

"Full of French political intrigue ... atmospheric."—Publishers Weekly

Praise for the Aimée Leduc series:
 
"No contemporary writer of noir mysteries evokes the spirit of Paris more than Cara Black in her atmospheric series starring P.I. Aimée Leduc.... Fearless, risk-taking Aimée is constantly running, hiding, fighting and risking her life—all while dressed in vintage Chanel and Dior and Louboutin heels."—USA Today
                           
"If you've never been to Paris, or you'd like to go back soon, let Cara Black transport you there."—Linda Fairstein
 
"Black does for Paris what Dashiell Hammett did for San Francisco. She makes the city shimmer."—Plain Dealer (Cleveland)
 
"Charming.... Aimée is one of those blithe spirits who can walk you through the city's historical streets and byways with their eyes closed."—The New York Times Book Review
 
"Leduc has such a thorough grasp of the practicalities of investigation, plus a penchant for undercover work that will have readers on pins and needles."—San Francisco Chronicle


Advertisement