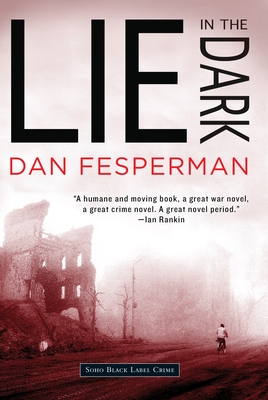 Lie in the Dark (Paperback)
Soho Crime, 9781616950644, 288pp.
Publication Date: March 6, 2012
* Individual store prices may vary.
Description
Vlado Petric is a homicide investigator in war-torn Sarajevo. When he encounters an unidentified body near "sniper alley," he realizes that it is the body of Esmir Vitas, chief of the Interior Ministry's special police, and that Vitas has been killed not by any sniper's aim but by a bullet fired at almost pointblank range. Searching for the killer in this "city of murderers," Petric finds himself drawn into a conspiracy, the scope of which goes beyond anything he could possibly have imagined.

Lie in the Dark brilliantly renders the fragmented society and underworld of Sarajevo at war—the freelancing gangsters, guilty bystanders, the drop-in foreign correspondents, and the bureaucrats frightened for their jobs and very lives. It weaves through this torn cityscape the alienation and terror of one man's desperate and deadly pursuit of bad people in an even worse place.
About the Author
Dan Fesperman, a former foreign correspondent for The Baltimore Sun, is the author of ten novels of international intrigue. His books have won a Dashiell Hammett Award for best novel and two Dagger awards from the Crime Writers Association.
Praise For Lie in the Dark…
"This is a humane and moving book, a great war novel, a great crime novel. A great novel period."
—Ian Rankin

"A vivid, beautifully written book . . . Lie in the Dark marks the appearance of an exciting new talent."
—Laura Lippman

"Far more than just a murder mystery, Lie in the Dark is a moody, at times dire, evocation . . . of one honorable man's dogged attempts to find truth and reason within a most unreasonable, hellish landscape."
—Dennis Lehane

"This book has all the elements we love in a top-notch crime fiction: Strong plot, realistic descriptions, rich character development and intriguing story-line . . . We strongly recommend this book to all fans of mystery novels."
—Mystery Tribune

"A vivid chronicle of the desperation and deprivation of life in a city under seige and of the willingness of its inhabitants to profit from that condition."
—Examiner.com