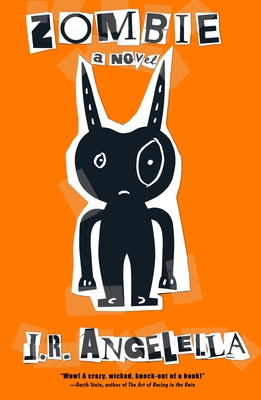 Zombie (Paperback)
Soho Press, 9781616950880, 352pp.
Publication Date: June 5, 2012
* Individual store prices may vary.
Description
A zombie movie-obsessed teen is forced to face a dark family secret in this shocking debut literary novel from a talented new author.  

"Wow! A crazy, wicked knock-out of a book!" -Garth Stein

Fourteen-year-old Jeremy Barker attends an all-boys Catholic high school where roving gangs of bullies make his days a living hell. His mother is an absentee pillhead, his older brother a self-diagnosed sex-addict, and his father disappears night after night without explanation. Jeremy navigates it all with a code cobbled together from the zombie movies he's obsessed with: Night of the Living Dead, 28 Days Later, Planet Terror, Zombieland, and Dawn of the Dead among others.

The code is put to the test when he discovers in his father's closet a bizarre homemade video of a man strapped to a bed, being prepped for some sort of surgical procedure. As Jeremy attempts to trace the origin of the video, this remarkable debut moves from its sharp, precocious beginnings to a climax of almost unthinkable violence, testing him, and the reader, to the core.
About the Author
J.R. Angelella has an MFA from the Bennington Writing Seminars and his short fiction has appeared in various literary journals. He and his wife, Kate Angelella, are co-writing two YA novels for Sourcebooks/Teen Fire, Crossed and Cursed, the first of which will publish in 2012. He lives in Brooklyn, NY. For more information, visit his website at www.jrangelella.com.

Praise For Zombie…
Praise for Zombie

"If you want to know how teenagers feel and what they say when adults aren't around, Zombie—a funny and very authentic, well-written first novel by J. R. Angelella—should definitely be the next book you read."
—John Waters, author of Role Models, and director of Hairspray and Pink Flamingos.

 "Zombie will make you laugh, shake your head in recognition, and go for the aluminum bat in your basement."
—Ned Vizzini, author of It's Kind of a Funny Story
 
"An irreverent and twisted coming-of-age story with one of the most shocking endings I've ever read."
—Matthew Quick, author of The Silver Linings Playbook

"Wow! A crazy, wicked, knock-out of a book!"
—Garth Stein, author of The Art of Racing in the Rain

"It's simultaneously a bildungsroman à la Salinger's The Catcher in the Rye, an homage to zombies in pop culture, and a twisted mystery all wrapped up into one utterly original—and darkly delightful—novel."
—BN.com

"A brass-knuckle book, reminiscent in tone to Chuck Palahniuk's Fight Club . . . A great choice for readers who are excited by stories with offbeat characters."
—School Library Journal

"Zombie is one of the smartest, strangest, and most beautifully crafted coming-of-age stories you will ever encounter."
—Donald Ray Pollock, author of The Devil All the Time

"Angelella's debut novel crackles with energy and attitude."
—Publishers Weekly 

"Your home life's an apocalypse, school's the plague, and you're growing up in a wasteland. To survive this zombie movie of a life is probably going to take more than you've got. But a world where the dead walk is also a world with miracles. Have faith. Read this book."
—Stephen Graham Jones, author of Growing Up Dead in Texas

"Barker is clearly a spiritual successor to Salinger's Holden Caulfield . . . I haven't finished a book this quickly since I first read American Psycho."
—The Lit Pub

"Zombie basically starts at 10 mph and ends at 100 . . . The book got better and better as I read."
—Hello Giggles

"A coming-of-age tale—angry and violent but full of heart—with stellar prose, first-rate dialogue and a cinematic eye for detail."
—Shelf Awareness

"Zombie is fierce, brave and entertaining literature."
—Opinionless Reviews

"A superb debut."
—Zouch Magazine

"Dark and unforgettable."
—Horror News Net

"Overall, Zombie may be a weird book but it has something to say. It deals with relevant and relatable issues, it has interesting and likable characters, it is humorous, and it subtly underscores flaws in society."
—Book Stoner

"You won't forget these characters, or the Zombie Survival Code quickly."
—Bookshelf Bombshells

"When it starts to slip into David Lynch territory, I was absolutely mesmerized . . . The final act is gruesome and cathartic, smart and gripping. I would recommend this book to anyone. This is easily one on of the most entertaining novels I've read in years."
—The Blog of the Living Dead
or
Not Currently Available for Direct Purchase