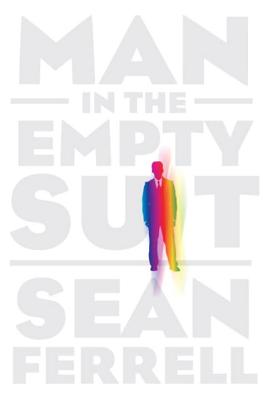 Man in the Empty Suit
Hardcover

* Individual store prices may vary.
Other Editions of This Title:
Digital Audiobook (2/4/2013)
Paperback (10/15/2013)
Compact Disc (2/5/2013)
Compact Disc (2/5/2013)
Description
Say you're a time traveler and you've already toured the entirety of human history. After a while, the outside world might lose a little of its luster. That's why this time traveler celebrates his birthday partying with himself. Every year, he travels to an abandoned hotel in New York City in 2071, the hundredth anniversary of his birth, and drinks twelve-year-old Scotch (lots of it) with all the other versions of who he has been and who he will be. Sure, the party is the same year after year, but at least it's one party where he can really, well, be himself.
The year he turns 39, though, the party takes a stressful turn for the worse. Before he even makes it into the grand ballroom for a drink he encounters the body of his forty-year-old self, dead of a gunshot wound to the head. As the older versions of himself at the party point out, the onus is on him to figure out what went wrong--he has one year to stop himself from being murdered, or they're all goners. As he follows clues that he may or may not have willingly left for himself, he discovers rampant paranoia and suspicion among his younger selves, and a frightening conspiracy among the Elders. Most complicated of all is a haunting woman possibly named Lily who turns up at the party this year, the first person besides himself he's ever seen at the party. For the first time, he has something to lose. Here's hoping he can save some version of his own life.
Praise For Man in the Empty Suit…

Praise for Man in the Empty Suit

"Ferrell's humor and invention will draw you in, and the real emotion in his writing will keep you reading. A clever premise that deepens into a surprising and moving story about fate, identity, and how we shape our own lives and the lives of those around us."
—Charles Yu, author of How to Live Safely in a Science Fictional Universe

"A tour de force. Ferrell's skill in plotting is matched only by his ability to bring fully-formed characters to life. A moving and brilliantly-executed puzzle of a novel."
—Emily St. John Mandel, author of The Lola Quartet

"Ferrell makes a strong case to be the Kurt Vonnegut of his generation. Man in the Empty Suit is alternately funny, sad, and thought-provoking.... I wish I could travel back in time and write this book myself."
—Andrew Shaffer, bestselling author of Fifty Shames of Earl Grey

"Man in the Empty Suit is a marvel: a complicated, soul searching, entirely riveting piece of work."
—Marcy Dermansky, author of Bad Marie

"An arresting setup—the same character is simultaneously the murder victim, suspect, and investigator—and Ferrell exploits it carefully... [presenting] the reader with some ugly truths about life and owning up to who we really are. Ferrell himself has jokingly called it the time-travel book of 3102, but I wouldn't suggest waiting that long."
—The Atlantic

"[Man in the Empty Suit has] an ingenious setup....Both Looper and Man In The Empty Suit track the trajectory of a pained, lonely man who learns what it means to sacrifice for the sake of another's well-being."
—The A.V. Club

"Ferrell's novel satisfies as both a tale of a four-dimensional conspiracy and as a stark meditation on solitude."
—Minneapolis Star-Tribune

"An exceptional read for any sci-fi fan who enjoys a challenge."
—The Maine Edge

"Ferrell (Numb) has written a brain-teasing, paradox-defying, time travel mystery in the tradition of such pretzel-bending-logic classics as Fritz Leiber's The Big Time and Robert A. Heinlein's 'By His Bootstraps.'"
—Publishers Weekly

"Engaging and thought-provoking...It will also appeal to readers of Stephen King's 11/22/63."
—Library Journal

"Full of imagination and head-scratching conundrums... It should definitely appeal to those who enjoy offbeat sf and mystery fiction."
—Booklist

"Man in the Empty Suit has a clever enough premise that it could be straight out of a Philip K. Dick or Kurt Vonnegut novel."
—Pittsburgh Post-Gazette

"Out of this intriguing premise Sean Ferrell proceeds to spin a dark hybrid of Paul Auster and the film Memento, complete with a mysterious love interest... Best of all, however, is the evocation of mid-21st century New York as a melancholy, dilapidated place high in entropy, cluttered with ruined buildings, and weirdly infested with parrots."
—The Toronto Star

"Man in the Empty Suit is a rich, complex novel.... a slightly sinister, brooding tale of death and lost love."
—Verbicide

"A most unusual murder mystery."
—Mysterious Reviews

"Enter a mysterious woman with parrot tattoos, a post-apocalyptic Manhattan, Vonnegut-sharp humor and Hemingway-spare prose, and you've got some seriously good sci-fi. VERDICT: Buy, you fools!"
—Book Riot

"A cerebral, noirish, and very unusual novel … a challenge for me to put down. This one made me think about it long after I was finished."
—My Bookish Ways

"This is trippy book; a great read... Ferrell spins a web of lies, deceit, and self-loathing, sprinkles it with intelligent humor and wit, a dash of love and loss, and presents it to the reader on a silver platter."
—The Examiner

"[Man in the Empty Suit] is tickling the Dr. Who parts of my brain, but in a really dark kind of way.... As you can imagine, this has one hell of an opening line: It is unfortunate for me that I am, by most any objective measure, a genius. Quite the set up for an interesting story."
—A Home Between Pages

Praise for Sean Ferrell's Numb

"Ferrell's eye-catching debut is a mordant take on contemporary culture."
—Kirkus Reviews

"Offbeat.... The book has a lot of heart."
—Publishers Weekly

"A masterwork of transgressive fiction."
—David Brown, writer for The Week, The Atlantic, and Mental Floss

Soho Press, 9781616951252, 306pp.
Publication Date: February 5, 2013
About the Author
Sean Ferrell's fiction has appeared in journals such as "Electric Literature"'s "TheOutlet" and "The Adirondack Review." His short story "Building an Elephant" wonThe Fulton Prize. His debut novel, "Numb," was described as "eye catching,""daring" and "offbeat." He lives and works, in no particular order, in New York City."
or
Not Currently Available for Direct Purchase