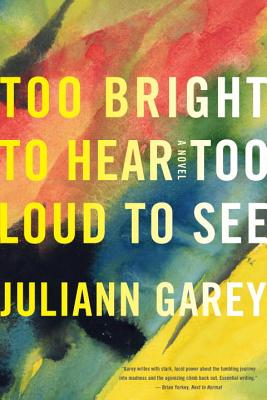 Too Bright to Hear Too Loud to See
Hardcover

* Individual store prices may vary.
Other Editions of This Title:
Digital Audiobook (12/25/2012)
Paperback (11/12/2013)
Compact Disc (8/1/2017)
Compact Disc (12/26/2012)
Description
A studio executive leaves his family and travels the world giving free reign to the bipolar disorder he's been forced to hide for 20 years.

"You won't be able to put down this exhilarating debut novel... brave and touching." 
—Marie Claire

In her tour-de-force first novel, Juliann Garey takes us inside the restless mind, ravaged heart, and anguished soul of Greyson Todd—a successful Hollywood studio executive who leaves his wife and young daughter for a decade to travel the world, giving free reign to the bipolar disorder he's been forced to keep hidden for almost 20 years. The novel intricately weaves together three timelines: the story of Greyson's travels (Rome, Israel, Santiago, Thailand, Uganda); the progressive unraveling of his own father seen through Greyson's childhood eyes; and the intricacies and estrangements of his marriage. The entire narrative unfolds in the time it takes him undergo twelve 30-second electroshock treatments in a New York psychiatric ward.
Praise For Too Bright to Hear Too Loud to See…
ALA Notable Book

Longlisted for the 2014 Andrew Carnegie Medal for Excellence

NPR Great Reads of 2013 Selection

"Too Bright to Hear Too Loud to See is a brilliant first novel about love and madness, written with an assured grace."
—Nancy Pearl

"A fine, sharp-tongued debut. "Too Bright to Hear Too Loud to See" is a novel deeply wrapped around its subject, but it has its sights on grander themes — namely, how to survive in a world not made for you."
—Los Angeles Times

"[Greyson Todd] is interesting and complex...We are deftly led through his erratic trains of thought, and suddenly we are with him in the irrational, sometimes violent place, and oddly, we understand how we got there."
—All Things Considered

"Juliann Garey, who has spoken openly about being bipolar herself, is a vivid and startling writer, and this novel shouldn't be relegated to the mental illness shelf unless it's also placed squarely in fiction and literature, where it will not only teach, it will shine."
—Meg Wolitzer, author of The Interestings 

"You won't be able to put down this exhilarating debut novel... brave and touching."
—Marie Claire

"Garey delivers a genuinely harrowing story that, against all odds, is deeply enjoyable."
—Boston Globe

"A gripping tale of a man's unraveling."
—Real Simple

"[Garey's] tense, unsettling, and convincing portrait of mental illness...[makes] a dark novel glow."
—Entertainment Weekly

"Greyson Todd is the most fully-realized fictional character I've come across in a while...Garey doesn't shy away from the depths of her character's pain, but scenes that could easily become gratuitous in lesser hands are rendered with restraint and grace. She excels at leading us down the rabbit hole...Garey creates an atmosphere of exquisite tension."
—The Millions

"Brilliantly captures the effects of electro-convulsive therapy...[Garey's] prose, with its mixture of the poetic and the profane, illuminates the psyche of a bipolar man, who seeks not a Hollywood ending but a restoration of the 'glimmer' of his faded past."
—Huffington Post

"A visceral, sometimes hard-to-read look at the attempt to find happiness and stability when they can seem impossibly out of reach....Too Bright To Hear Too Loud To See personalizes an often-stigmatized mental illness, turning Greyson's struggles into something comprehensible and universal."
—The A.V. Club

"[Garey] writes...with a jarring, effective immediacy…She shows a sharp, witty voice, and an ability to tackle a difficult topic with grace."
—Boston Phoenix

"Greyson Todd is so utterly human...with the sheer force of her talent, [Garey] makes us want to look. And she makes us laugh. And she helps us understand and feel compassion."
—Pittsburgh Post Gazette

"This is an important novel, an eye-opener, and, at times, a white-knuckle horror show in its depiction of mental illness."
—David Abrams, Fobbit

"Garey evokes in stark detail the torment and raw suffering of mental illness. A compelling read."
—Library Journal, Starred Review

"A racing, vertiginous read, harrowing and heart-breaking and humorous at once. Greyson Todd has a magnetic presence, from which it is extremely difficult to step away. Juliann Garey has written a brilliant novel, allowing us the privilege of travelling—hurtling, really—in the presences of Grey's troubled mind. By doing so, she makes his single, deeply moving story something even greater: a comment on family, and illness, and the complicated tracks that remain within our memory, waiting to be traveled down again."
—Daniel Mason, The Piano Tuner

"Garey breathes life into an uncomfortable and often misunderstood subject and creates a riveting experience."
—Kirkus Reviews

"In her debut, screenwriter Garey delivers a commanding portrait... A vividly written chronicle of one man's attempt to conquer his mental illness."
—Booklist

"As heartbreaking as The Diving Bell and the Butterfly and as hilarious as A Confederacy of Dunces, I think Garey is a genius." 
—Jennifer Belle, High Maintenance and The Seven Year Bitch
 
"Authentic . . . earnest."
—Publishers Weekly

"Juliann Garey writes with stark, lucid power about the tumbling journey into madness and the agonizing climb back out. Her electric prose trembles and her images vibrate at the edges, affording a rare and precious experience of the troubled mind from the inside out. It's essential writing—terrifying, exhilarating, absurd, achingly human and absolutely compelling."
—Brian Yorkey, Next To Normal

"Strap me down and give this novel to me in strong doses"
—Quivering Pen

Too Bright to Hear will help you appreciate the brain of a mentally ill person, their struggle, and the resiliency of human relationships...a must read for the craft alone!"
—Books Are The New Black
Soho Press, 9781616951290
Publication Date: December 26, 2012
About the Author
Juliann Garey has sold original screenplays and television pilots to Sony Pictures, NBC, CBS, Columbia TriStar Television and Lifetime TV. As a journalist she has edited and written for publications including Marie Claire, Glamour, More, Entertainment Weekly, ELLE, New York Magazine, The Los Angeles Times and The Huffington Post. She has received fellowships in fiction writing at The Virginia Center for the Creative Arts and The Vermont Studio Center. Garey is a graduate of Yale University and the Columbia Graduate School of Journalism. Too Bright To Hear Too Loud To See is her first novel.
Coverage from NPR
or
Not Currently Available for Direct Purchase