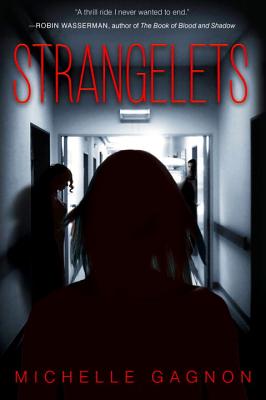 Strangelets (Hardcover)
Soho Teen, 9781616951375, 272pp.
Publication Date: April 9, 2013
Other Editions of This Title:
Digital Audiobook (4/8/2013)
Paperback (3/25/2014)
Compact Disc (4/9/2013)
Compact Disc (4/9/2013)
* Individual store prices may vary.
Description
17-year-old Sophie lies on her deathbed in California, awaiting the inevitable loss of her battle with cancer
17-year-old Declan stares down two armed thugs in a back alley in Galway, Ireland
17-year-old Anat attempts to traverse a booby-trapped tunnel between Israel and Egypt
All three strangers should have died at the exact same moment, thousands of miles apart. Instead, they awaken together in an abandoned hospital only to discover that they re not alone. Three other teens from different places on the globe are trapped with them. Somebody or something seems to be pulling the strings. With their individual clocks ticking, they must band together if they re to have any hope of surviving.
Soon they discover that they've been trapped in a future that isn't of their making: a deadly, desolate world at once entirely familiar and utterly strange. Each teen harbors a secret, but only one holds the key that could get them home. As the truth comes to light Sophie, Declan, Anat, and the rest must decide what to do with a second chance at life if they can survive to claim it.
About the Author
Michelle Gagnon is a veteran thriller writer and International Mystery Book Association bestseller, whose novels have been published in numerous countries and include "The Tunnels," "Boneyard," "The Gatekeeper," and "Kidnap & Ransom." Her first YA trilogy, "Don't Turn Around," debuted in 2012.
Praise For Strangelets…
Selected as a Junior Library Guild Pick

Praise for Strangelets

"Mysterious, compelling, and edge-of-your-seat, heart-in-your-throat, drive-you-out-of-your-mind suspenseful, Strangelets was a thrill ride I never wanted to end."
—Robin Wasserman

"Didn't put it down until I was done—and then I was sad it was over. Can't wait to see what Gagnon is up to next!"
—Liz Braswell

"Three very different teens on the edge of death get firsthand experience of the Many-Worlds Interpretation of quantum mechanics... Finding out what happened takes a back seat to survival... but readers won't mind. Interesting characters, some of whom have dangerous secrets, act and react like real teens. The slow reveal of what's going on is as tantalizing as the action is pulse-pounding... A fun ride."
—Kirkus Reviews

"Well-executed survivalist horror.... Engrossing characters and building suspense.... Pulse-pounding."
—Publishers Weekly

"Fast-paced.... very intriguing."
—Kittling Books

"Gagnon blends the dystopian phenomenon with a creepiness that fans of The Walking Dead can appreciate. And while Gagnon presents the story simply, it is anything but easy to explain, with the tragedy of an incident akin to Isla Bick's Ashes...  With gore, sympathetic and equally unsympathetic characters, and tension, teens will unequivocally devour this dystopian tale, which is certainly worth adding to the shelf."
—VOYA

"I loved the story.... There were many twists and turns and surprises along the way, but it all helped build this world the characters suddenly found themselves in. It was amazing."
—The Story Behind the Book Cover

"A crazy, mysterious, creepy, mind boggling story!"
—Some Like It Paranormal 

"Strangelets is crazy and awesome and thrilling and, well, strange.... I look forward to reading more from Gagnon, especially if it's anything like Strangelets."
—Beauty and the Bookshelf 

 "Fans of time travel, the concept of parallel universes or multi-verses will completely devour this story.... The way in which the events are described in Strangelets by Michelle Gagnon sure makes it seem like this could be true.  And that totally freaks me out!"
—Chapter by Chapter

"A taut, well-paced mystery with sci-fi tendencies."
—We Eat YA

"The characters of Strangelets are – like LOST – varied in nature and in appeal.... [A] fun read."
—The Book Smugglers

"Fast-paced.... very intriguing.
—Kittling Books
Praise for The Tunnels
 
"Michelle Gagnon's stellar debut is an edge-of-your seat story of suspense and intrigue. Highly recommended."
─New York Times bestselling author Sheldon Siegel
 

Praise for The Gatekeeper
 
"High stakes, tension, excitement─I loved The Gatekeeper."
─New York Times bestselling author Lee Child
 
Praise for Boneyard
 
"Boneyard is a winner! A compelling page-turner that pays due attention to the human heart. It'll keep you up all night."
─New York Times bestselling author Jeffery Deaver
or
Not Currently Available for Direct Purchase