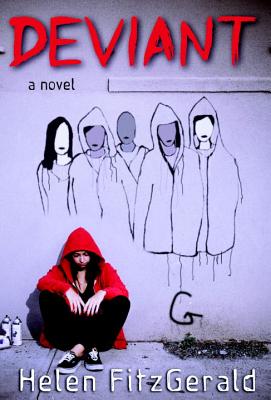 Deviant (Hardcover)
Soho Teen, 9781616951399, 248pp.
Publication Date: June 11, 2013
* Individual store prices may vary.
Description
When sixteen-year-old Abigail's mother dies in Scotland leaving a faded photo, a weirdly cryptic letter, and aone-way ticket to America she feels nothing. Why should she? Her mother abandoned her as a baby to grow up on an anti-nuclear commune and then in ugly foster homes. But the letter is a surprise in more ways than one: Her father is living in California. What's more, she has an eighteen-year-old sister, Becky. And the two are expecting Abigail to move in with them.
While struggling to overcome her natural suspicions of a note from beyond the grave (not to mention anything positive) Abigail tries to fit in with her strange, new American family: a distant father with a closed past, a too-perfect stepmother, and most puzzling of all, her long-lost sister. Becky sweeps Abigail into a shadowy underground movement involving clandestine street art, jailbreaks, and a bizarre double life. Soon, Abigail uncovers something unimaginable: a plot with vast implications, one that is aimed not only at controlling her sister, but the behavior of rebellious teens across the globe.
About the Author
Helen Fitzgerald is a highly acclaimed and bestselling UK author, whose five thriller titles have sold over 125,000 copies in the UK and Europe. She worked as a parole officer and social worker for ten years before becoming a full-time writer. "Dead Lovely "is currently in film production. Her first YA, "Amelia O'Donohue Is SO" "Not a Virgin," was published in 2010.
Praise For Deviant…
Praise for Deviant

"Readers will enjoy Abigail's blunt voice and savvy as she works to unravel the mystery of her parents' pasts. FitzGerald's experience writing thrillers for adults comes through in this atmospheric story that features codebreaking, an SF edge, and many twists."
─Publishers Weekly

"FitzGerald excels with Abigail's hard voice and in contrasting the rough, intimate streets of Glasgow with the glittering superficiality of L.A ... a good, gritty drama."
─Booklist

"Gritty, dark and hard, beautifully demonstrating Abigail's inner reserves of strength."
─Kirkus Reviews

"Darkly engaging and full of suspense."
─Lynn Weingarten, author of Wherever Nina Lies

"Fans of strong heroines will love Abigail. Deviant is fast paced and dramatic, played out across an international stage."
─Carrie Arcos, National Book Award Finalist for Out of Reach

"Humor, danger, romance and a heart-wrenching twist. If you are in the mood for a quick read that will keep you entertained, Deviant is it!"
─TeenReads.com

"The horrors of family and people run deep in this book, but [Abigail] is a strong character with steady morals. I look forward to reading [FitzGerald's] next book."
─YA Book Nerd

Praise for Dead Lovely
 
"For quality chick-lit with a murderous twist, look no further than Fitzgerald's brand of thinking woman's noir."
─Sunday Telegraph
 
Praise for My Last Confession
 
"Cool, classy, sexy."
─The Daily Mirror
 
Praise for The Devil's Staircase
 
"Colourful characters, dramatic plot twists, and vibrant vernacular ... a great read"
─The Bookseller
 
"Brilliant, shocking, and unputdownable"
─Sydney Morning Herald
or
Not Currently Available for Direct Purchase