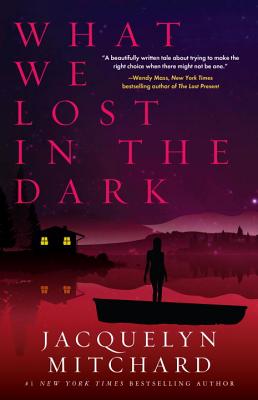 What We Lost in the Dark (Hardcover)
Soho Teen, 9781616951436, 262pp.
Publication Date: December 17, 2013
* Individual store prices may vary.
Description
Allie Kim's fatal allergy to sunlight, XP, still confines her to the night. Now that she's lost her best friend, Juliet, to an apparent suicide, the night has never felt darker--even with Rob at her side.
Allie knows why Juliet killed herself: to escape the clutches of Garrett Tabor, whom Allie saw committing an unspeakable crime. Garrett is untouchable; the Tabors founded the world-famous XP clinic that keeps Allie and Rob alive and their small Minnesota town on the map.
Allie can't rest until Garrett is brought to justice. But her obsession jeopardizes everything she holds dear. Not even Parkour can distract her; nothing reminds her more that Juliet is gone. When Rob introduces Allie to the wildly dangerous sport of nighttime deep diving, Allie assumes he's only trying to derail her investigation . . . until they uncover the terrible secret Garrett Tabor has hidden under Lake Superior.
About the Author
Jacquelyn Mitchard is the #1 "New York Times" bestselling author of "The Deep End of the Ocean," the very first Oprah Book Club pick, as well as over twenty other critically acclaimed books for adults and teens. A nominee for several National and International Awards, she served on the 2004 Fiction Jury for the National Book Award. In addition, she is a longtime journalist and regular contributor to" Real Simple" and" Parade magazines." Most recently, she has been named Editorial Director of Merit Press, the new Young Adult imprint at F+W, launching in Fall 2012.
Praise For What We Lost in the Dark…
Praise for What We Lost in the Dark

"A beautifully written tale about trying to make the right choice when there might not be one."
—Wendy Mass, New York Times bestselling author of The Candymakers and Every Soul a Star

"With soaring, lyrical prose and a deep understanding of human strength and frailty, Jacquelyn Mitchard aims her unflinching narrative gaze at the mysteries of death, life, love, and loss. Finding beauty in even the darkest of tragedies, her writing will make you hurt—but it will also make you hope." 
—Robin Wasserman, author of The Waking Dark

"This fast-paced story has a lot of aspects to appeal to a wide range of teen readers, including forensic science, daredevil stunts, teenage relationships, and serial killers.  Set in a small Minnesota town on the shore of Lake Superior, the setting plays a big role in the plot."
—VOYA

"Two teens afflicted with a rare medical disorder continue unraveling the mystery begun in What We Saw at Night.... readers will definitely want to get their hands on this sequel."
—Kirkus Reviews

"The nighttime action, including deepwater diving, will attract readers."
—Booklist

Praise For What We Saw At Night
 
Spring 2013 Kids' Indie Next Pick

"Allie's...voice [is] honest and real...fascinating looks at both Parkour and a disease so unconventional that it turns the lives of patients and families upside down."
—Booklist, High Demand Review

"Dangerously addictive, breathtakingly beautiful, terminally awesome."
—Lauren Myracle, New York Times bestselling author of Shine
  
"A thrilling ride through the darkness... Dark, suspenseful and quietly beautiful."
—Melissa Walker, author of Small Town Sinners

"The plot is intricately woven, with twists at every turn. Mitchard's exemplary writing takes a masterful detour into young adult territory."
—Karin Slaughter, New York Times bestselling author of Criminal

"What We Saw at Night is an engaging blend of real-world drama involving a life-and-death illness and a whodunit thriller. Imagine John Green's recent The Fault in Our Stars in a mashup with a Nancy Drew mystery. Plus some roof jumping and wall scaling."
—Pittsburgh Post-Gazette

"The fast pace is set from the beginning with Juliet's dazzling jump across the buildings... recommended for readers who enjoy a unique twist on realistic fiction."
—VOYA Magazine

"Atmospheric, melancholy... breathtaking."
—Publishers Weekly

"This latest from Mitchard is quickly paced and intricately plotted, with flares of humor cobbled into the dialogue…. The suspense will keep [readers] engrossed."
—Kirkus

"An interesting page-turner…the cliff-hanger ending will have most readers waiting for the next installment."
—School Library Journal

"WHAT WE SAW AT NIGHT is a well-crafted, well-paced crime thriller about friendship, disability, first love and the choices we make about how to spend our short time on this earth."
—TeenReads.com

"What We Saw At Night is a very unique book in many ways. I loved the writing, the mystery, the suspense, and the characters. There is nothing formulaic about it at all, which was also refreshing."
—One Day YA
or
Not Currently Available for Direct Purchase