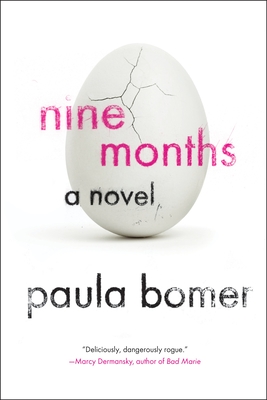 Nine Months
Paperback

* Individual store prices may vary.
Description
A bold, unapologetic first novel about a pregnant mother and wife who abandons her family in search of an identity that is hers alone. 

"Deliciously, dangerously rogue." —Marcy Dermansky, author of Bad Marie

Sonia, a young Brooklyn mother shaken by her unexpected (third) pregnancy, abandons her husband and kids and takes off on a cross-country odyssey in search of an identity separate from her family. She does everything a pregnant woman shouldn't do—engaging in casual sex and smoking weed—as she retraces her past and attempts to reclaim her sidelined career as an artist. Nine Months is a fierce, daring page-turner of a novel—a lacerating response to the culture of mommy blogs, helicopter parents and "parental correctness" as well as an unflinching look at the choices women face when trying to balance art and family.
Praise For Nine Months…
Praise for Nine Months

"Dark, sharp, and hilarious . . . (many?) mother's escape fantasy." 
—New York Magazine

"Deliciously, dangerously rogue."
—Marcy Dermansky, author of Bad Marie
"A raw, darkly funny, at times appalling page-turner . . . Mommy lit lovers will be horrified, but Bomer's debut novel will resonate with fans of quirky, character-driven fiction in the vein of Richard Russo, John Updike, and Tiffany Baker."
—Library Journal
"Phenomenal comedic pace."
—The Atlantic
"This novel may make you feel uncomfortable at times, but it will also make you laugh and think about the difficult task of parenting and the choices we make."
—Pittsburgh Post-Gazette
"This is a brave and provocative book about the insidious power of PC. That's Parental Correctness not Political Correctness . . . [Bomer's] wounding analysis of herself and the vicious new mummy tribes she introduces us to make this book an instant classic."
—The Guardian
"This is the road trip novel I've always wanted to read . . . Sonia's observations are priceless . . . After reading this powerful, entertaining novel, and Bomer's excellent collection of stories, I'm convinced. Anything she writes, I want it."
—
PANK
"Bomer's feisty prose style and fluid storytelling are very, very good. They have the marks of truth: pith and passion."
—
The Brooklyn Rail
"Paul Bomer's Nine Months is a daring look at motherhood, exploring the thoughts most women keep secret . . . A page-turner that will tie your stomach in knots and stir up one hell of a debate."
—Susan Henderson, Up From the Blue

"Realistic, darkly funny, and thoroughly engaging . . . a needed flipside to books and mommy blogs that depict motherhood as solely a state of bliss and whimsy."
—BUST Magazine

"Bomer could have titled this work What to REALLY Expect When You're Expecting as there is more raw, honest truth in this novel than any parenting book I've ever read."
—Jessica Anya Blau, author of Drinking Closer to Home 
"Paula Bomer has written a dark, honest and powerful novel in Nine Months, one that constantly surprises the reader as the layers of emotion are peeled off, one after another, revealing the depth and need of the human experience."
—The Nervous Breakdown
 
"Nine Months is the best book I have read about the secret fears and sinister underbelly of becoming a parent, a satire which should be viewed not only as a stellar novel, but as a challenge to a literary scene mired in laziness, backslapping and lousy cliches."
—Tony O'Neill, author of Sick City
"Bomer takes [Mommy Culture] head-on, in blunt, brave writing . . . articulate, searing, and blastingly funny on pregnancy and childbirth . . . not for the fainthearted, they would make excellent reading in high school sex education courses."
—
PopMatters
"Confronting, seditious and original."
—
Bookd Out
Praise for Bomer's collection Baby & Other Stories
"Reading
Baby & Other Stories
is like being attacked by a rabid dog—and feeling grateful for it. This is some of the rawest and most urgent writing I can remember encountering."
—Jonathan Franzen, author of The Corrections

"Dysfunctional doesn't begin to describe the marriages in this brilliant, brutally raw debut collection."
—O Magazine

"In 10 raw and angry stories, Bomer flays the idea of happy little families.... This lacerating take on marriage and motherhood is not one to share with the Mommy and Me group."
—Publishers Weekly (starred review)

"If Bomer's harsh portrayal of modern parenting and marriage were water, it would be transparent, unflecked, jagged ice.... She lands firmly between Mary Gaitskill's articulate, unflinching anhedonia and Kathy Acker.... Amy Hempel with a twist of Grace Paley. Baby is punk rock for the roundly domesticated."
—Bookforum

"Words like 'tough' and 'honest' don't quite do justice to the fiction of Paula Bomer. The real housewives of Bomerworld break themselves and break your heart and yet never completely lose their soulful dignity."
—Sam Lipsyte, author of The Ask
Soho Press, 9781616951467, 272pp.
Publication Date: August 21, 2012
About the Author
Paula Bomer is publisher of Sententia Books and the editor of Sententia: A Literary Journal as well as a contributor to the literary blog, Big Other. Her writing has appeared in The Mississippi Review, Open City, Fiction, Nerve, and Best American Erotica. Her collection, Baby & Other Stories, is published by Word Riot Press. She lives in Brooklyn with her husband and two children.