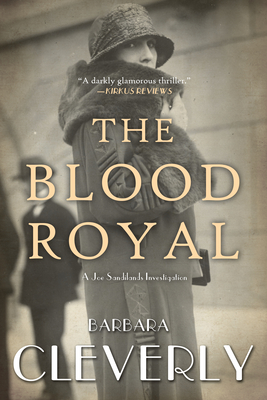 The Blood Royal (A Detective Joe Sandilands Novel #9)
Paperback

* Individual store prices may vary.
Other Editions of This Title:
Compact Disc (4/1/2012)
MP3 CD (4/1/2012)
Analog Audio Cassette (4/1/2012)
Description
The ninth mystery in the critically acclaimed Joe Sandilands series, a story of murder, mystery and espionage against the backdrop of the Romanov murders and the disappearance of the Tsar's fortune.
 
It's 1922. Joe Sandilands is just back in England from his trip to India, and he has learned that his role at the Metropolitan Police has been expanded. Not only is he responsible for running CID, he is now also supposed to take up the reins on the Special Irish Branch, and he's juggling Irish terrorism and high-profile assassination attempts on prominent political officials. To top it all off, Joe locks horns with a Russian princess who is running a spy network out of Kensington. Then one of the assassination attempts is successful, and the pressure escalates. Joe must find out who is behind the violence: Irish or Russians?

Praise For The Blood Royal (A Detective Joe Sandilands Novel #9)…
Praise for The Blood Royal

"For a series writer to break the bounds of chronology requires courage, and Barbara Cleverly is not afraid to take that bold step.... Cleverly's intrigues absorb the reader's mind, and her spare but elegant prose serves her well. Joe, as always, is the epitome of determination, intelligence and charm, and Lily is a character the reader will want to see again in this spellbinding series."
—Richmond Times-Dispatch

"Cleverly underscores the idea that the actions of great nations can be substantially less noble than the nations themselves; it is a fine writer who can make her readers reflect on such concepts.... Compelling and effectively written; with each chapter, the reader is drawn further into the narrative and the darkness of the time.... Another very good read from Barbara Cleverly."
—The Strand Magazine

"A darkly glamorous thriller."
—Kirkus Reviews

"Lovers of golden age mysteries will revel in this jarring meeting of the insouciant upper crust and the roiling masses."
—Booklist

"Barbara Cleverly mysteries are addictive, and The Blood Royal is highly recommended." —Historical Novels Review

"Cleverly's skill with narration is matched with her ability to convey both her characters' social class and emotional drama in her dialogue…. I was so impressed with Cleverly's writing and her ability to draw you into her story that I immediately read her first of the series, the award-winning THE LAST KASHMIRI ROSE, written in 2001. But if you are unfamiliar with this series, there would seem to be no harm in starting with this one, as it seems to be signalling a new direction and certainly offers much to enjoy."
—ReviewingTheEvidence.com

Praise for Barbara Cleverly

"Despite her mastery at vivid scene-setting, Cleverly never loses sight of the historical puzzle that is central to her story. Simply put, it's a stunner."
—New York Times

"Spectacular and dashing. Spellbinding."
—New York Times Book Review

"Excellent.... Golden age fans who appreciate deceptive storytelling enhanced by the kind of in-depth characterization lacking in Agatha Christie will be more than satisfied."
—Publishers Weekly Starred Review

"This series and its hero age well: the perspicacious Sandilands exhibits an arresting combination of Mary Russell's discernment and Chief Inspector Wexford's tenacious certainty."
—Booklist Starred Review

"Cleverly's crisp prose and solid cast of supporting characters ... make the book a delight to read."
—Denver Post

"Stylish and intricate.... Cleverly has perfect pitch for period and place, whether her hero is unearthing evil in India, England or France."
—Richmond Times-Dispatch

"A great blood and guts blockbuster."
—Guardian

"Atmospheric ... intricately plotted."
—Kirkus Reviews 
Soho Crime, 9781616951634, 416pp.
Publication Date: August 14, 2012
About the Author
Barbara Cleverly was born in the north of England and is a graduate of Durham University. A former teacher, she has spent her working life in Cambridgeshire and Suffolk; she now lives in Cambridge. She has one son and five step-children. She is the author of seven books in the Joe Sandilands series, including The Last Kashmiri Rose, Folly du Jour and Strange Images of Death. Her Joe Sandilands series, set against the background of the Indian Empire, was inspired by the contents of a battered old tin trunk that she found in her attic.
or
Not Currently Available for Direct Purchase