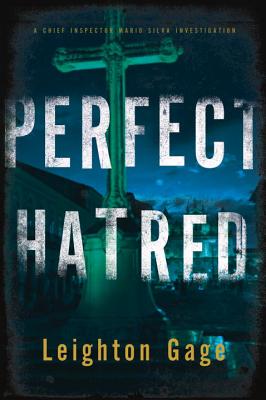 Perfect Hatred (Hardcover)
Soho Crime, 9781616951764, 311pp.
Publication Date: February 19, 2013
* Individual store prices may vary.
or
Not Currently Available for Direct Purchase
Description
Chief Inspector Mario Silva and his team have a heavy work load with several high-profile cases. First, a suicide bombing that was apparently the work of a militant Islamist group. Then, a gubernatorial candidate is assassinated in broad daylight at a campaign rally. Could the cases be related? To complicate Silva's investigation, a criminal with a very bad grudge against the Chief Inspector has been released from prison and is plotting ugly revenge.
About the Author
Leighton Gage is the author of five novels in the Mario Silva series: "Blood of the Wicked, Buried Strangers, Dying Gasp, Every Bitter Thing, "and" A Vine in the Blood." He spends part of each year in Santana do Parnaiba, Brazil, and divides the rest of the year between Florida and the Netherlands. He is married with four daughters.
Praise For Perfect Hatred…
A Book Page Best Mystery & Thriller of 2013

"Perfect Hatred is a perfect thriller. No one writes the cold glint of evil in bright sunlight the way Leighton Gage does.  And there's enough evil here—and heroism, too—for three lesser books."
—Timothy Hallinan, Edgar-nominated author of the Poke Rafferty thrillers and the Junior Bender mysteries

"In his own hard-boiled, agreeably literate and tourist-cautioning fashion, [Gage has] made South America's largest nation accessible to readers who might otherwise never have been exposed to its jungles—both the wild and urban varieties."
—Kirkus Reviews

"Well-written police procedurals set in an exotic location . . . what's not to like? Think of Ed McBain's 87th Precinct transplanted to Brasília, and you wouldn't be far off, although Gage's stories exhibit a somewhat more serious bent.... hands down the first 'do not miss' mystery of 2013!"
—BookPage (A Mystery Pick of the Month)

"Gage is able to combine three complex plots, several main characters, and a number of vivid settings into a fast-moving narrative...but he does so with brio. Perfect Hatred is a strong entry in a fine series."
—Barbara Fister, Reviewing the Evidence


"A different approach to the crime story and to the portrait of Brazil.... [Gage's] books not only don't repeat themselves, they are also getting better and better."
—Glenn Harper, International Noir Fiction

"Engrossing.... Crime fiction writing at its best."
—Kittling Books

"The writing is perfect for the story, as it always is. Gage is of the school where the writer's goal is to be as unobtrusive as possible, where he scored highest marks."
—One Bite at a Time

"Crime fiction with a social conscience, featuring memorable characters and unique settings."
—Read Me Deadly

"A fascinating story with deep insights into modern multicultural tensions of immigrant populations and the age-old fodder of political intrigue and corruption.... The true joy of Perfect Hatred is the rich interaction which occurs when interesting people interact with warmth, innuendo, barbs, humour and love. A very satisfying book."
—Reviews by T de V



Praise for Leighton Gage's Mario Silva series
 
"For those of you who love to be transported to a new locale in your books, [Gage] gives us Brazil with a marvelous sense of place."
—Linda Fairstein
 
"Breathtaking. . . . A book you can't afford to miss."
—Louise Ure, The Fault Tree
 
"Terrifically written, intelligent, and powerfully evocative. Leighton Gage is a master storyteller, a natural; but more than that, he takes us on a breakneck trip to a real world, with real characters, and real issues."
—Brian Haig, Man in the Middle
 
"The perfect outsider's inside look at a system hobbled by nepotism, bribery and corruption, but which, at the same time, delivers justice."
—Toronto Globe and Mail
Advertisement