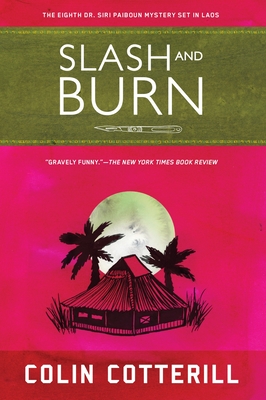 Slash and Burn (A Dr. Siri Paiboun Mystery #8) (Paperback)
Soho Crime, 9781616951788, 320pp.
Publication Date: December 18, 2012
Other Editions of This Title:
Digital Audiobook (12/5/2011)
Compact Disc (12/6/2011)
Hardcover (12/6/2011)
Paperback (3/29/2012)
Hardcover (10/1/2011)
Pre-Recorded Audio Player (4/1/2012)
MP3 CD (12/6/2011)
* Individual store prices may vary.
Description
The eighth Dr. Siri Paiboun mystery

Dr. Siri never really wanted to be Laos's national coroner. And now that he is in his mid-70s, he longs to spend some time with his wife before the untimely death that is sure to befall him, according to the local transvestite fortune-teller. But retirement will have to wait (again) until he has completed one last job for the Lao government: supervising an excavation for the remains of a US fighter pilot who went down in the remote northern Lao jungle ten years earlier. And the stakes are high. The presence of American soldiers in Laos is controversial, and the search party includes high-level politicians and scientists. So when a member of the party is found dead, Dr. Siri suspects it may not have been an accident. Can Dr. Siri get to the bottom of the MIA pilot's mysterious story before the body count rises and the fortune-teller's prediction comes true?
About the Author
Colin Cotterill is the author of ten other books in the Dr. Siri Paiboun series, including The Coroner's Lunch, Thirty-Three Teeth, Disco for the Departed, and Six and a Half Deadly Sins. His fiction has won a Dilys Award and a CWA Dagger in the Library. He lives in Chumphon, Thailand, with his wife and five deranged dogs.
Praise For Slash and Burn (A Dr. Siri Paiboun Mystery #8)…
Praise for Slash and Burn

"Dr. Siri Paiboun will be a gladdening complement to many mystery-reader's table. If you are unfamiliar with Paiboun works, it is time to crawl out of whatever cave you have been living in."
—The Christian Science Monitor

"Any crime fan who hasn't discovered the Dr. Siri books should start here and then work back. This is the eighth and best, and it's been far too long since book seven."
—The Globe and Mail

"Outstanding . . . deftly inserts humor into what could easily have been an unrelentingly grim plot line."
—Publishers Weekly, Starred Review

"The most entertaining case for Siri (Love Songs from a Shallow Grave, 2010, etc.) in years."
—Kirkus Reviews

"Cotterill brings together all the elements that have made the stories so popular: a good mystery, plenty of humor, and a touch of the supernatural. A must for series fans."
—Booklist

Praise for the Dr. Siri series

"Unpredictable . . . Tragically funny and magically sublime."
—Entertainment Weekly

"A wonderfully fresh and exotic mystery. If Cotterill had done nothing more than treat us to Siri's views on the dramatic, even comic crises that mark periods of government upheaval, his debut mystery would still be fascinating. But the multiple cases spread out on Siri's examining table are not cozy entertainments but substantial crimes that take us into the thick of political intrigue."
—Marilyn Stasio, The New York Times Book Review

"You get a real feeling for what Laos was like in the '70s. The humor is wonderful, too."
—New York Post

"The sights, smells and colors of Laos practically jump off the pages of this inspired, often wryly witty first novel."
—Denver Post

"A fresh and innovative detective who goes straight to the heart and soul, without any sappty sentiment. THe author gives us exotic locations; a world that few us know well; crisp, intelligent, and often-witty writing; and most of all a hero unlike any other."
—Philadelphia Inquirer

"A crack storyteller and an impressive guide to a little-known culture."
—Washington Post Book World

"This is the seventh and most sardonic of Mr. Cotterill's Dr. Siri series, and it is not easy to cope with the combination of misery and merry melancholy that he employs. His writing, as always, is skillful and smooth and his plot is artfully strung together. The book fascinates as it chills."
—The Washington Times

"This wonderful series has consistently managed to convey the beauty and sadness of this damaged country through the wisdom and humor of its protagonist."
—The Boston Globe

"I love this elegantly written series, set in Laos with clever, septuagenarian coroner Dr. Siri. This one, the seventh, is the best, but all of them are terrific . . . A delightful mix of history and politics, and an excellent mystery."
—The Globe and Mail

"It's a rare treat to say that a book placed so far into a series is the best one. Authors more often than not run out of steam by the seventh book. Not Colin Cotterill."
—The Oregonian

"Colorful."
—The Seattle Times