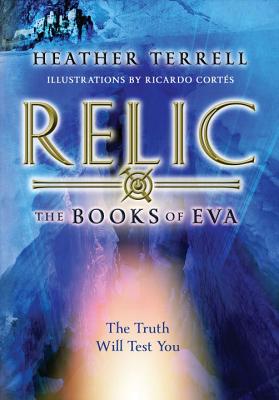 Relic
Hardcover

* Individual store prices may vary.
Other Editions of This Title:
Digital Audiobook (10/28/2013)
MP3 CD (10/29/2013)
Compact Disc (10/29/2013)
Compact Disc (10/29/2013)
Description
The truth will test you...

For fans of Game of Thrones and The Hunger Games: high fantasy and dystopia meet in this high-stakes tale of a civilization built on lies and the girl who single-handedly brings it down.

When Eva's twin brother, Eamon, falls to his death just a few months before he is due to participate in The Testing, no one expects Eva to take his place. She's a Maiden, slated for embroidery classes, curtseys, and soon a prestigious marriage befitting the daughter of an Aerie ruler. But Eva insists on honoring her brother by becoming a Testor. After all, she wouldn't be the first Maiden to Test, just the first in 150 years.
 
Eva knows the Testing is no dance class. Gallant Testors train for their entire lives to search icy wastelands for Relics: artifacts of the corrupt civilization that existed before The Healing drowned the world. Out in the Boundary Lands, Eva must rely on every moment of the lightning-quick training she received from Lukas—her servant, a Boundary native, and her closest friend now that Eamon is gone.
 
But there are threats in The Testing beyond what Lukas could have prepared her for. And no one could have imagined the danger Eva unleashes when she discovers a Relic that shakes the Aerie to its core.
Praise For Relic…
Praise for Relic

"Heather Terrell excavates a richly realized and adventurous world from the iced-over wreck of our own."
—William Alexander, New York Times bestseller and 2012 National Book Award winner

"Fans of The Hunger Games will devour this book."
—School Library Journal

"With threads taken from The Hunger Games, The Giver, and other dystopian novels, Terrell spins her own story, which has plenty of adventure, some unanswered questions, and a dash of romance... The way relics—iPhones, guns, even makeup—affect the story adds an ironic touch."
—Booklist

"Adult author Terrell, in her books for teens, weaves fresh complexity... with smart, thoughtful, and resourceful heroines."
—Publishers Weekly

"Part post-apocalyptic fiction and part high fantasy, Relic is the beginning of a trilogy that is written artfully and with a voice you will not soon forget.  Delicately weaving in elements of Inuit culture as well as elements you might find in Game of Thrones, Heather Terrell creates a world that is as intricate as it is icy.  The intrigue and mystery make it a page-turner, and the rich and complex characters make it hard to forget.  I cannot wait for the sequel!"
—E. Kristen Anderson, Editor of Dear Teen Me

"Technology is a fragile thing and another Dark Age could be closer than you think.... the world built in Relic is unique and has a rich allegorical quality."
—Pittsburgh Post Gazette

"A suspenseful novel that's as smart and well written as it is inventive, original, and surprising."
—M. J. Rose, author of The Reincarnationist series

"A dystopia set in a post–global-warming future: plucky heroine, lying leaders, ridiculous endurance tests and, yes, two hot guys."
—Kirkus Reviews

"Even when Eva knows that what she's doing might come with unforeseen, negative consequences, she cannot ignore her need to know the truth. I love her for that."
—Kirkus Book Report by Mandy Curtis of Forever Young Adult

"I already can't wait for the second book of the RELIC series to come out. Eva is a strong female character and a great role model for teen girls. This is also a great book for both teens and parents to read."
—Jennifer Wagner, Connect with your Teens through Pop Culture and Technology

"An exciting tale of self-discovery and one of great societal commentary.... Deft world-building creates a believable society in an icy clime with a strong and well-rounded main character. Eva's choices for the future will leave readers anxious to see her tale continue in the next installment... a fresh new perspective in the dystopian field."
—VOYA

"A remarkable story.... highly recommended."
—Mysterious Reviews
Soho Teen, 9781616951962, 277pp.
Publication Date: October 29, 2013
About the Author
Heather Terrell worked as a commercial litigator in New York City for over ten years, but she has always been obsessed with myth, lore, and the gap between history and the truth. This preoccupation has led to several loosely factual historical novels ("The Chrysalis," "The Map Thief," "Brigid of Kildare") and the pure-lore "Fallen Angel" series. "Relic" is the first installment of The Books of Eva series. She lives in Pittsburgh with her family. Visit her at www.heatherterrell.com.
or
Not Currently Available for Direct Purchase