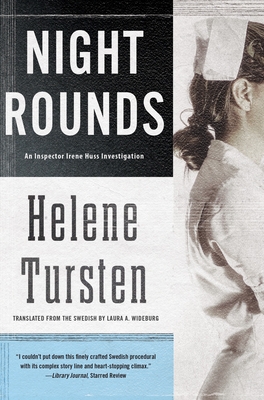 Night Rounds (Paperback)
Soho Crime, 9781616952082, 352pp.
Publication Date: January 15, 2013
Description
The fourth investigation in the nationaly bestselling Swedish detective series Irene Huss is a former jujitsu champion, a mother of twin teenage girls, the wife of a successful chef, and a Detective Inspector in the Violent Crimes Unit in Goteborg, Sweden. And now she's back in the gripping follow-up to Detective Inspector Huss. One nurse lies dead and another vanishes after a local hospital is hit by a blackout. The only witness claims to have seen Nurse Tekla doing her rounds, but Nurse Tekla died sixty years ago. Irene Huss has the challenge of disentangling wandering ghosts and complex human relationships to get to the bottom of this intriguing case.
About the Author
Helene Tursten was a nurse and a dentist before she turned to writing. Other books in the Irene Huss series include Detective Inspector Huss, The Torso, The Glass Devil, The Golden Calf, The Treacherous Net, and Who Watcheth. She was born in Goteborg, Sweden, where she now lives with her husband.
Praise For Night Rounds…
Praise for Night Rounds

A Library Journal BEST BOOK for 2012

Voted one of Deadly Pleasures Magazine's "Best Mystery-Crime Novels of 2012."

"I couldn't put down this finely crafted, Swedish procedural with its complex story line and heart-stopping climax. In her fourth outing (after The Glass Devil), Huss works intuitively, and her family interactions add extra depth to the novel."
—Library Journal  STARRED review

"One of the more domestic in the dark and violent Nordic crime field…. Huss' investigation delves into the history of the hospital and the local wealthy family who owns it, creating a taut and compelling mystery.
—Booklist

"In an excellent translation, the story flows smoothly, incrementally adding to the reader's knowledge until it all coalesces in the final pages. Recommended."
—Spinetingler Magazine

"Hurrah for the fad of Scandinavian crime fiction in the United States, because it's pushing and pulling some really good books into translation…. this is the other kind of Scandinavian crime fiction, a sturdy and well put together police investigation of murder and malice, with a detective team that's quietly likable…. it lets the calm braiding of plot threads gleam quietly, proof of Tursten's capable narration and sensible probing of human motivation."
—Kingdom Books

"I seriously couldn't put it down."
—How Mysterious!

Praise for the Inspector Huss series:

"An absorbing, intelligent mystery that holds its own alongside the best feminine hardboiled novels."
—Maureen Corrigan, NPR, "Fresh Air"

"These days Scandinavian crime writers are thick on the ground. It's nice to see that the women can be just as bloodthirsty as the men."
—The New York Times Book Review

"As good as Louise Welsh's similarly creepy tour of Glasgow."
—Entertainment Weekly

"A superior Scandinavian crime novel…. Tursten does an outstanding job of offering multiple plausible murders, making this the rare procedural that actually requires the reader to evaluate alibis, motives, and means to solve the case."
—Publishers Weekly, STARRED review

"The Huss series was one of the earliest of the Swedish crime series to appear in English, thanks to SoHo, and the publisher deserves praise for continuing to translate Huss's novels. Night Rounds shares a supernatural aspect with another Swedish writer, Johan Theorin, but with a lighter and more urban flavor that is less spooky but more contemporary..."
—International Noir Fiction
Advertisement