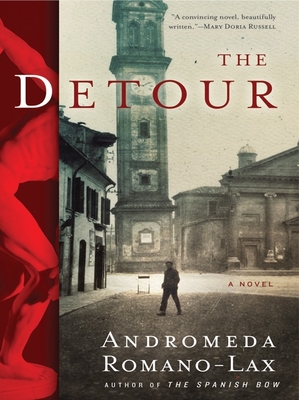 The Detour
Paperback

* Individual store prices may vary.
Other Editions of This Title:
Digital Audiobook (2/13/2012)
Compact Disc (2/14/2012)
Compact Disc (6/12/2012)
Description
Ernst Vogler is twenty-six years old in 1938 when he is sent to Rome by his employer—the Third Reich's Sonderprojekte, which is collecting the great art of Europe and bringing it to Germany for the Führer. Vogler is to collect a famous Classical Roman marble statue, The Discus Thrower, and get it to the German border, where it will be turned over to Gestapo custody. It is a simple, three-day job.

Things start to go wrong almost immediately. The Italian twin brothers who have been hired to escort Vogler to the border seem to have priorities besides the task at hand—wild romances, perhaps even criminal jobs on the side—and Vogler quickly loses control of the assignment. The twins set off on a dangerous detour and Vogler realizes he will be lucky to escape this venture with his life, let alone his job. With nothing left to lose, the young German gives himself up to the Italian adventure, to the surprising love and inevitable losses along the way.

The Detour is a bittersweet novel about artistic obsession, misplaced idealism, detours, and second chances, set along the beautiful back-roads of northern Italy on the eve of war.
Praise For The Detour…
Praise for The Detour

"The ethical issues of the book are thought provoking, contrasting the artistic perfection of classical sculpture with basic human values. Ultimately, the sculpture itself provides the answer. Just as the discus thrower leans to balance the weight of the outstretched arm and the heavy disc, Ernst must learn to balance his love for classical art with personal morality; to reach for love, even while acknowledging it is more than any of us deserve." 
—Foreword

"Epic in scale . . . Full of richly detailed tableaux of Catalonian peasant life, bohemian Barcelona, the chaos of the Second Republic, and the rise of Francoist fascism . . . Excels as a portrait of a country at a painful moment."
—Times Literary Supplement

"A gem, combining a fascinating storyline about art acquisition in Hitler's Germany, an entrancing setting darkened by impending war, rich symbolism and engaging characters . . . Well researched and executed. Romano-Lax, author of The Spanish Bow, possesses a gift for narrative texture that can incorporate and seamlessly join a moving story with character growth and an insightful, tangible realism."
—San Antonio Express News

"Romano-Lax is singularly gifted: she creates full-fledged, engaging characters and writes compelling narrative. Some of her descriptive passages take your breath away. The author's The Spanish Bow was a hit. This novel will make a splash, too, for the same reasons."
—Library Journal

"A gently haunting work of subtle and surprising wisdom."
—Booklist

"Elegant, haunting, compelling."
—Courier Mail

"With great care and skill, Romano-Lax teases out the human complexities, exploring the differing values, desires and fears of the various characters while creating, through Vogler's cautious and evasive voice, an atmosphere of chilling menace and threat."
—Sydney Morning Herald

"Swept up in the intrigue and humor, adventure and tragedy of The Detour, a reader might overlook the deep understanding of history and art imparted by author Andromeda Romano-Lax. Set in 1938 Europe during the rise of Nazi Germany, the novel does what only literature can do, allowing us to experience moral complexity and struggle through a single beating heart. As Ernst Vogler travels across Italy to bring a famous marble sculpture home to Hitler, you will ride along with him through small villages and fields of sunflowers, through violence and love, through history in the making. And when you arrive at the end, you—like Ernst—will have been changed by the journey."
—Eowyn Ivey, author of The Snow Child and The Art of Hearing Heartbeats

"As Nazi Germany passes from living memory, novels that allow the reader to travel its ethical landscape are increasingly important. Andromeda Romano-Lax has a fine feel for moments of clarity that are recognized only in hindsight, when chance and personal defects—moral and physical—combine to produce heroism, or mediocrity, or cowardice."
—Mary Doria Russell, author of The Sparrow, A Thread of Grace and Doc

"The Detour is both a thriller and a poetic journey of a young art specialist and an ancient statue through the deceits and dangers of the Third Reich. Plunging into crazy adventures in a truck on the back roads of Italy and fleeing long-buried memories, Ernst seeks the safe delivery of the statue and in the process discovers loyalty, love, and his own soul. Andromeda Romano-Lax is a unique and wonderfully gifted writer."
—Stephanie Cowell, author of Claude & Camille

"A marvelous adventure across landscapes both inner and outer, The Detour is a moving study in art and memory, history and geography, courage and compassion and every kind of love. Beautifully executed, deeply felt, and crammed with what feels for all the world like reality itself, it's a rare and valuable book indeed."
—Jon Clinch, author of Finn and Kings of the Earth

"The Detour is a suspenseful tale of artistic ideals, culture and power, complex family bonds, and redemptive love with one of the most finely crafted narratives I've ever read. It's certain to earn Andromeda Romano-Lax a new level of readership. Vivid and heartbreaking, set against a shameful time in world history, Lax celebrates the resilience of the human condition, and its ability to heal against all odds."
—Jo-Ann Mapson, author of Finding Casey

"A poignant and important historical drama, as well as part road trip and compelling adventure,The Detour defies our expectations on every page. Andromeda Romano-Lax is a powerful and moving storyteller."
—Jennifer Gilmore, author of The Mothers

"With elegance and an eye for the unexpected, Ms. Romano-Lax distills the often overwhelming anguish of World War II into this elegiac tale of an earnest young art curator's journey into Italy, where he finds himself caught between his reverence for the past and the horrors of the future. An evocative portrait of one man's passage into maturity and the resiliency of the human spirit, even in midst of the unimaginable."
—C.W. Gortner, author of The Confessions of Catherine de Medici

"The Detour is a wonderfully evocative and lyrical novel—a coming of age story woven into an adventure of art-smuggling under the Nazis. Romano-Lax brilliantly depicts a triumph over the seductive dangers of passivity when faced by love, art and the moral choices of life. A gemstone of a book!"
—Simon Goldhill, author of Jerusalem

"Romano-Lax weaves the upheavals of the first half of the 20th century into an elegy to the simultaneous power and impotency of art, and the contradictions of the human spirit."
—Historical Novels Review

"Fictional writing in its most elegant form."
—Pasatiempo


Praise for The Spanish Bow

"An impressive and richly atmospheric debut."
—The New York Times Book Review, Editors' Choice

"Will keep you mesmerized to the last page."
—Christian Science Monitor

"Epic in scale . . . excels as a portrait of a country at a painful moment in its evolution."
—Times Literary Supplement

"[A] vast, inventive novel . . . It's a pleasure to read popular fiction that is so interesting and instructive about music. "
—The Telegraph

"Ambitious and atmospheric."
—The Guardian

"Vivid and absorbing . . . Lively and well-written. Romano-Lax's passion for music is tangible but not daunting . . . She exposes the tension among the characters with masterly subtlety. "
—The Times

"Time and setting, character and plot come together in this exceptionally appealing first novel . . . Readers will be captivated."
—Library Journal, Starred Review

"Beautifully rendered . . . Provides plenty of food for thought."
—Metro London

"Extraordinary, gripping."
—BookPage

"Remarkable . . . [Romano-Lax's] writing is vivid, lyrical, engaging, the fictional characters rooted in their time ."
—Historical Novels Review
Soho Press, 9781616952112, 320pp.
Publication Date: February 5, 2013
About the Author
Andromeda Romano-Lax is the author of numerous works of nonfiction, as well as the novels The Spanish Bow, a New York Times Editors' Choice that has been translated into 11 languages; The Detour; Behave, an IndieNext pick; and Plum Rains, which won a Sunburst Award. She teaches creative writing and is a co-founder of 49 Writers, an Alaska statewide literary organization. She lives on Vancouver Island.
or
Not Currently Available for Direct Purchase