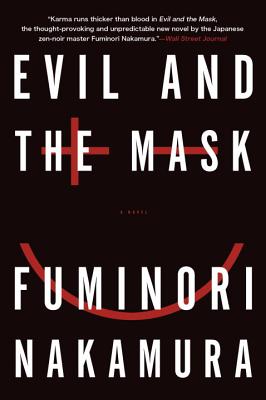 Evil and the Mask (Hardcover)
Soho Crime, 9781616952129, 356pp.
Publication Date: June 11, 2013
Other Editions of This Title:
Digital Audiobook (6/10/2013)
Paperback (6/10/2014)
Compact Disc (6/11/2013)
Compact Disc (6/11/2013)
* Individual store prices may vary.
Description
The second book by prize-winning Japanese novelist Fuminori Nakamura to be available in English translation, a follow-up to 2012's critically acclaimed "The Thief─"another fantastically creepy, electric literary thriller that explores the limits of human depravity─and the powerful human instinct to resist evil.
When Fumihiro Kuki is eleven years old, his elderly, enigmatic father calls him into his study for a meeting. "I created you to be a cancer on the world," his father tells him. It is a tradition in their wealthy family: a patriarch, when reaching the end of his life, will beget one last child to cause misery in a world that cannot be controlled or saved. From this point on, Fumihiro will be specially educated to learn to create as much destruction and unhappiness in the world around him as a single person can. Between his education in hedonism and his family's resources, Fumihiro's life is one without repercussions. Every door is open to him, for he need obey no laws and may live out any fantasy he might have, no matter how many people are hurt in the process. But as his education progresses, Fumihiro begins to question his father's mandate, and starts to resist.
About the Author
Fuminori Nakamura was born in 1977 and graduated from Fukushima University in 2000. He has won numerous prizes for his writing, including the Oe Prize, Japan s largest literary award, and the prestigious Akutagawa Prize."The Thief," his first novel to be translated into English, was a finalist for the"Los Angeles Times"Book Prize. He is the recipient of the David L. Goodis Award for Noir Fiction. He lives in Tokyo with his wife.

"
Praise For Evil and the Mask…
"Karma runs thicker than blood in Evil and the Mask, the thought-provoking and unpredictable new novel by the Japanese zen-noir master Fuminori Nakamura."
─Wall Street Journal

"This literary thriller steeps the reader in humanity's dark nature and the struggle of those who try to resist their own moral corruption."
─Library Journal

"Deals with basic questions of good and evil, guilt and remorse. Cryptic detectives, smoky nightclubs, and murky streets in Japanese suburbs add to the noir sensibility. At times bizarre, at times hallucinatory, the story is always provocative."
─Publishers Weekly

"Evil and the Mask is a hard-to-put-down novel of ideas and a savage comment on nihilism, both Japanese and global ... Shouldn't be missed."
─Booklist (Starred Review)

"Deliciously twisted ... Nakamura bend[s] the line between what is good and what is evil until it nearly breaks. It's impressive how a book so dark can be so much fun." 
─Grantland

"This literary thriller steeps the reader in humanity's dark nature and the struggle of those who try to resist their own moral corruption."
─Library Journal

"Evil and the Mask is concerned with a twisty sense of morality: is Fumihiro born evil, and can he escape the cruelty associated with his surname?"
─Kevin Nguyen, Omnivoracious

"Evil and the Mask is a brilliant novel from one of Japan's most current authors.... If you love Patricia Highsmith, you'll love Nakamura."
─Margaret Cannon, The Globe and Mail
"
Evil and the Mask
is an engrossing account...  The story is violent, revengeful, and often disagreeable but it still contains that hypnotic voice that makes you want to read more."
─Midwest Book Review
"
Evil and the Mask
 delves even further into the dark... [it] grapples with murder, war and a deep distrust of society that manifests itself in disturbing ways."
─The Japan Times
"
Evil and the Mask
, the second book of his to be available in English, is undoubtedly the narrative that will help cement him as the new master of Japanese noir.... an absolute must-read."
─Out of the Gutter Magazine
"[
Evil and the Mask
 is] full of themes that everyone can appreciate...Nakamura blurs the line between light and dark, good and evil. He illustrates that nothing in life is completely black and white." 
—
Elizabeth Provenzano, Tulsa Books ExaminerPraise for The Thief
"I was deeply impressed with
The Thief
. It is fresh."
─Kenzaburo Oe, Nobel Prize-winning author of A Personal Matter
"[Nakamura] does for Japanese fiction what John Woo did for Chinese filmmaking:
bringing the darker side to an American audience."
─The Daily Beast
"Nakamura's prose is cut-to-the-bone lean, but it moves across the page with a seductive, even voluptuous agility." 
─Richmond Times-Dispatch
"Disguised as fast-paced, shock-fueled crime fiction, The Thief resonates even
more as a treatise on contemporary disconnect and paralyzing isolation."
─Library Journal

"Compulsively readable for its portrait of a dark, crumbling, graffiti-scarred
Tokyo─and the desire to understand the mysterious thief."
─Booklist

"Mystery/crime aficionados with exacting literary standards, as well as readers
familiar with already-established-in-translation Japanese writers ... will especially
enjoy discovering Nakamura."
─BookDragon, blog of the Smithsonian Asian American program
or
Not Currently Available for Direct Purchase