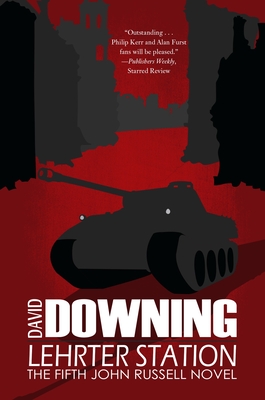 Lehrter Station
A John Russell WWII Thriller (A John Russell WWII Spy Thriller #5)
Paperback

* Individual store prices may vary.
Other Editions of This Title:
Digital Audiobook (4/30/2012)
Hardcover (5/8/2012)
Compact Disc (5/1/2012)
Description
Caught between Soviets and Americans, John Russell can't escape his role as an accidental spy

Book 5 in the John Russell historical thriller series.

It's 1945, and British journalist John Russell has finally reunited with his German girlfriend, Effi, in London after a dangerous flight from war-torn Berlin. But Russell realizes his new life in England isn't going to last when he is tracked down by Soviet agent Shchepkin, who helped Russell escape the disastrous last days of the war and the Russian army's destruction of Berlin. It is time to repay the debt, and Shchepkin's bosses in Moscow are not the forgiving types. Russell has no choice but to agree to be transferred back to Germany, where he will resume his cover as an investigative journalist and hand over US intelligence reports on the German Communist Party.

Meanwhile, Effi struggles to revive her acting career, but she cannot fight the desire to uncover ex-Nazi Party members still at large in Berlin. In this dangerous new world, where alliances change every day, will John and Effi be able to leave the past behind? Or are the new enemies the same as the old?
Praise For Lehrter Station: A John Russell WWII Thriller (A John Russell WWII Spy Thriller #5)…
Praise for Lehrter Station
"Outstanding . . . Philip Kerr and Alan Furst fans will be pleased."

—Publishers Weekly, Starred Review
"Downing is a master at work."
—Huffington Post UK
"Powerfully and skillfully written, with constant suspense and sudden surprises of satisfaction,
Lehrter Station
is one of the vital 2012 books that I'd pack for a desert island
—
or a beach vacation, or a rainy weekend."
—Kingdom BooksPraise for the John Russell series

"Epic in scope, Mr. Downing's "Station" cycle creates a fictional universe rich with a historian's expertise but rendered with literary style and heart."
—The Wall Street Journal
"John Russell has always been in the thick of things in David Downing's powerful historical novels set largely in Berlin . . . Downing provides no platform for debate in this unsentimental novel, leaving his hero to ponder the ethics of his pragmatic choices while surveying the ground level horrors to be seen in Berlin."
—
The New York Times Book Review
"Reminiscent of Woody Allen's Zelig, Russell, the hero of Downing's espionage series, can't seem to resist inserting himself into climactic moments of the 20th century . . . Downing has been classed in the elite company of literary spy masters Alan Furst and Philip Kerr . . . That flattering comparison is generally justified. If Downing is light on character study, he's brilliant at evoking even the smallest details of wartime Berlin on its last legs . . . Given the limited cast of characters, Downing must draw on almost Dickensian reserves of coincidences and close calls to sustain the suspense of his basic hide-and-seek story line. That he does ingeniously. It helps to read Downing's novels in order, but if Potsdam Station is your first foray into Russell's escapades, be forewarned that you may soon feel compelled to undertake a literary reconnaissance mission to retrieve and read the earlier books."
—Washington Post

"The echo of the Allied bombings and the crash of the boots of the invading Russians permeate the pages in which David Downing vividly does justice to the drama . . . The book is a reminder of what happened and those who allowed it to happen . . . The book lives up to the others in the Russell series, serving as yet one more reminder of a world too many have entirely forgotten."
—Washington Times

"Downing is brilliant at weaving history and fiction, and this plot, with its twists and turns—all under the terrible bombardment of Berlin and the Third Reich's death throes—is as suspenseful as they come. The end, with another twist, is equally clever and unexpected."
—Toronto Globe and Mail
Soho Crime, 9781616952204, 404pp.
Publication Date: March 5, 2013
About the Author
David Downing grew up in suburban London. He is the author of six books in the John Russell series, Zoo Station, Silesian Station, Stettin Station, Potsdam Station, Lehrter Station, and Masaryk Station, as well as Jack of Spies, One Man's Flag, and The Red Eagles. He lives in Guildford, England