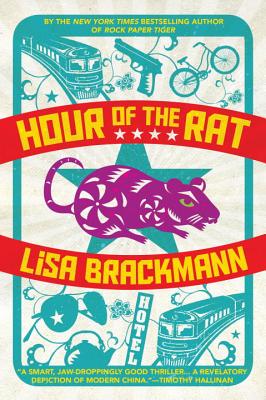 Hour of the Rat (Hardcover)
Soho Crime, 9781616952341, 375pp.
Publication Date: June 18, 2013
Other Editions of This Title:
Paperback (6/3/2014)
* Individual store prices may vary.
Description
Iraq War vet Ellie McEnroe has a pretty good life in Beijing, representing the work of controversial dissident Chinese artist Zhang Jianli. Even though Zhang's mysterious disappearance has attracted the attention of the Chinese authorities. Even though her Born-Again mother has come for a visit and shows no signs of leaving.
But things really get complicated when Ellie's agrees to help out an old Army buddy with his search for his missing brother. Ellie finds herself entangled in a conspiracy that may or may not involve a sinister biotech company, eco-terrorists, an art-obsessed Chinese billionaire, and lots of cats a conspiracy that will take her on a wild chase through some of China's most beautiful and most surreal places.
About the Author
Lisa Brackmann has worked as a motion picture executive and an issues researcher in a presidential campaign. A southern California native, she currently lives in Venice, California. Her critically acclaimed debut novel, Rock Paper Tiger, was an Amazon Best Book of 2010.
Praise For Hour of the Rat…
Praise for HOUR OF THE RAT

Mystery Scene Magazine Favorite Reads of 2013
The New York Times and USA Today bestselling Ellie McEnroe series.

A Los Angeles Times Summer PageTurner
 
"A smart, jaw-droppingly good thriller, often hilarious, set in a revelatory depiction of modern China. Hour of the Rat should make Lisa Brackmann a star."
—Timothy Hallinan, author of the Junior Bender series
"A rocking sequel.... [Ellie McEnroe's] motives, her dogged determination, and her burning sense of moral outrage will be familiar to anyone who's ever read Chandler's The Long Goodbye... Brackmann captures it all with an unflinching honesty and frank sense of moral unease that strips bare the romance myths of the 'New China'—and of the old capitalism running amuck."
—Mystery Scene

"A totally genius novel: smart, funny, dark, hip... exquisite. She had me in a choke-hold of utter happy reading splendor from, literally, the first sentence, and never let up. Also, I think I could hang with Ellie McEnroe forever. Definitely the woman I want along on my next wild jaunt across Asia."
—Cornelia Read, author of the Madeline Dare series

"If you're shopping for someone who enjoyed Stieg Larsson's Lisbeth Salander books and is looking for something new to read, pick up the two Ellie McEnroe mysteries by Lisa Brackmann,Rock Paper Tiger and Hour of the Rat.... the combination of a strong female protagonist, a Chinese setting, and engrossing mystery plots results in books that I think any grown-up fan of Nancy Drew would enjoy finding in her Christmas stocking."
—Los Angeles Review of Books

"The latest Ellie McEnroe China mystery (see Rock Paper Tiger) is a fabulous thriller that vividly brings to life Beijing and the rural countryside. Ellie is terrific."
—Midwest Book Review

"China's a big country, and as the foul-mouthed, pill-popping vet travels from tourist trap to toxic wasteland and back, her journey becomes one of disenchantment, frustration and anger.... this book—and the fingers it points—matter."
—January Magazine, Best Books of 2013

"Nail-biting... Brackmann touches on issues ranging from pollution to evangelical Christianity." 
—South China Morning Post

"Imbued with vivid detail about contemporary China." 
—Time Out Beijing

"Modern China, with all its beauty and blemishes, comes alive as the story unfolds. Ellie pops her pain pills, drinks her beer, offers wry observations, and follows clues from one city to another across vast, cipherlike China... Beautiful lakes lie under magical mountains at one stop. Revolting rivers of sludge foul the air at another.... [Hour of the Rat] features an enjoyably profane protagonist and is peopled with characters who will take up residence in the reader's mind, setting up an itch that can only be satisfied by another novel from this author."
—Suspense Magazine

"Brackmann's easy familiarity with everyday life in China lends a fascinating multiculturalism to her writing. Nods to local cuisine, Chinese slang and dress help paint a vivid picture of that country.... [Ellie] always entertains."
—Kirkus Reviews
 
"A finely honed thriller.... Brackmann is as adept at bringing China's densely populated cities and breathtaking landscapes to life as she is at depicting her flawed but appealing characters and twists and turns galore."
—Publishers Weekly

"One of the best thrillers of the year.... Brackmann has topped off a perfect, darkly humorous, hip novel and gone one better by writing dialog that is Chandleresque yet thug modern. She has set the bar high for anyone wishing to write at the top of their game in the noir genre."
—Seattle Post-Intelligencer 

"This mystery-thriller set among China's expat community is both a fascinating character study and a transportation in place. Brackmann's descriptions of China make me feel like I've been there. Plus, Ellie says what all of us are thinking. Love her!"
—Huffington Post

"[Brackmann] somehow manages to weave together a perfectly logical story with Uigar dissidents, a subversive online game, and the Chinese art world, without ever bogging down in explication. There aren't many writers who could pull all that off, maintain suspense, and be funny, too."
—Long Beach Gazette

"Brackmann's crime fiction is exhilarating and compelling, and I had no regrets about trading in my preconceptions about China, to absorb both the current issues and the clear passion that Ellie has for the place and its diversity."
—Beth Kanell, Owner, Kingdom Books

"One part China travelogue, two parts mystery, and a healthy dose of quirky charm. This is a perfect summer read for those looking for a mystery that's off the beaten path!" 
—My Bookish Ways
 
Praise for ROCK PAPER TIGER
 
"Don't turn the pages too fast.  Brackmann's evocation of China, funny, frustrating, frightening, sometimes tender, and always real, is worth savoring."
—Nicole Mones, author of Lost in Translation and The Last Chinese Chef  
 
"Lisa Brackmann's novel gets off to a fast start and never lets up…. Ellie is a perfect spunky heroine…. be prepared for a wild ride."
—The New York Times Book Review
 
 "Recommendation for More Thrills: This pulse-racer about an American Iraq-war vet is set in the art world of Beijing."
—Entertainment Weekly
 
"Lisa Brackmann's debut novel is as slick and smart as an alley cat…. Beijing in Rock Paper Tiger is as it is in real life: fast, furious, often ugly, and with a Starbucks sitting on every corner."
—Time Out Beijing
 
"Summer reading recommendation. "The contemporary China so vividly rendered in Lisa Brackmann's bracing debut novel is a place where the Starbucks baristas 'all know the English words for coffee'' and housing developments are named after glamorous U.S. hotspots… Rock Paper Tiger is a gripping ex-pat nightmare that unfolds with superb pacing and salient details. And it makes you damned glad your life is boring."
—Miami Herald
 
"A remarkable debut… Brackmann paints a mesmerizing picture of life in jittery modern Beijing."
—Seattle Times
 
"Lisa Brackmann's timely and hip debut novel is a thriller with a plucky heroine, locales actual and virtual, and grounding in the Abu Ghraib scandal…. Brackmann can write."
—Boston Globe
 
"At the top of the Most Promising New Author list is Lisa Brackmann with Rock Paper Tiger... a terrifying tale of life and death behind the Bamboo Curtain."
—San Diego Union Tribune
 
"Rock Paper Tiger is a splendid debut novel by a gifted new writer. Her Chinese setting is exotic and chilling, and the characters live and breathe. The story is smart and fast as a sports car. Keep an eye on Brackmann."
—T. Jefferson Parker, author of The Renegades and Iron River
 
"Few writers would be up to the challenge of blending the worlds of urban China, Iraq, and a virtual online kingdom—but Lisa Brackmann wildly succeeds. Prepare to taste the smog, smell the noodles, and rub the Beijing dust between your fingers."
—Eliot Pattison, author of the Edgar award-winning novel, The Skull Mantra
 
"A terrifying odyssey in present-day China.... A totally captivating page-turner with vivid, first-hand details and nuanced multi-cultural facets."
—Qiu Xiaolong, author of The Mao Case
 
"Electrifying debut... the book's exotic setting and tough heroine will definitely appeal to fans of John Burdett and Steig Larsson."
—Publishers Weekly, STARRED REVIEW
 
"A fast-paced and engaging story as both plots are full of mystery and suspense… Good reading for anyone interested in the international crime novel."
—Booklist
 
"A gritty and intriguing tale of terror that draws in the reader with each page; Brackmann is a new writer to watch."
—Library Journal
or
Not Currently Available for Direct Purchase