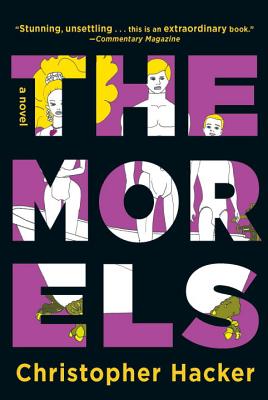 The Morels
Hardcover

* Individual store prices may vary.
Other Editions of This Title:
Digital Audiobook (4/29/2013)
Paperback (3/18/2014)
Compact Disc (4/30/2013)
Compact Disc (4/30/2013)
Description
The Morels─Arthur, Penny, and Will─are a happy family of three living in New York City. So why would Arthur choose to publish a book that brutally rips his tightly knit family unit apart at the seams? Arthur's old schoolmate Chris, who narrates the book, is fascinated with this very question as he becomes accidentally reacquainted with Arthur. A single, aspiring filmmaker who works in a movie theater, Chris envies everything Arthur has, from his beautiful wife to his charming son to his seemingly effortless creativity. But things are not always what they seem.
" "
"The Morels "takes a unique look at the power of art─literature, music and film in particular─and challenges us as readers to think about some fascinating questions to which there are no easy answers. Where is the line between art and obscenity, between truth and fiction, between revolutionary thinking and brainless shock value, between craftsmanship and commerce? Is it possible to escape the past? Can you save your family by destroying it?
Praise For The Morels…
"Stunning, unsettling … this is an extraordinary book."
—Commentary Magazine

"The Morels is gripping and mesmerizing, even at its most depraved and saddening." —The A.V. Club

"The Morels asks big questions. What is art? What risks must be taken to grab our attention? Where is the line between truth and fiction? Hacker's story kept me up at night, turning the pages to find out what would happen."
—Cleveland Plain Dealer

"Audacious, thought-provoking…. One of the top first novels of the year. The author spins out the story at a fast clip, creating a believable and entertaining tale. Woven into the fabric of the work are discussions of the function of art in society, the difficulty of arriving at the truth, and a thoughtful, compassionate detailing of the social and personal repercussions of individual actions and beliefs."
—Library Journal, STARRED REVIEW

"In Hacker's engaging debut, eccentric author Arthur Morel writes a novel that pushes the envelope of art-for-art's-sake beyond anyone's capacity to understand, much less forgive.... Whether a reader is intrigued by the philosophical questions or not, this family's plight makes for a marvelous read."
—Booklist, STARRED REVIEW

"The Morels is a total shock, and announces the arrival of a blistering new talent."
 —Three Guys One Book

"Christopher Hacker's The Morels is a captivating book, a clever, engaging read. But it also does a lot of heavy lifting, asking big questions about art, life, and family, transforming this ambitious debut into something really special."
—Jami Attenberg, author of The Middlesteins

"The Morels is a brilliant and wickedly hilarious debut novel about artists of all stripes. With a sharp-shooter's eye, alarming honesty and serious wit infused with palpable compassion and affection for his characters, Christopher Hacker has written a rollicking picnic for cynics."
—Binnie Kirshenbaum, author of The Scenic Route

"The Morels is a daring and dangerous novel about the dangers of writing—and perhaps reading—novels, its pages stuffed with love, pain, worry, movies, music, fresh-baked bread, daily life in the real Manhattan, family secrets and, dare I say it, big bold ideas."
—David Gordon, author of The Serialist

"It's hard out there for sons and lovers in Christopher Hacker's accomplished debut, The Morels. To step into both this novel and the eponymous family it harbors is to peek into a house of mirrors that reminds us it can still be dangerous to write a novel, expose a strip of film to light—or make any kind of art, really. Hacker's splendid snapshot of a distinct cultural moment in the life of the American artist truly beguiles, and you're going to want to see how this multi-layered, flying-trapeze-routine of a story ends."
—T Cooper, author of Real Man Adventures

"Hacker's novel asks fundamental questions about imagination and art.... An unnerving and hugely satisfying novel, I hungrily read The Morels less for answers than for the pleasure of the messy and vital world Hacker creates."
—Victoria Redel, author of The Border of Truth

"A jarring New York story of a self conscious writer who desperately over-intellectualizes his home life in order to psychologically masticate personal demons with devastating results. Set in the gloaming of the 20th century, Hacker's creation, Arthur Morel, is on a quest to prove art is not only vital but inextricably linked with reality."
—Margarita Shalina, translator of The Duel by Anton Chekhov

"I could not stop reading this book, and it wasn't because I was searching for some answer but rather I couldn't wait to get to the next question."
—Michael Seidenberg, Brazenhead Books

"The Morels is an accomplished and moving novel. It's challenging, and not easy to talk about, but in the end, I fell in love with Hackers' characters and was deeply touched by their story."
—Cale Hand, The Strand Bookstore

"The Morels is always entertaining."
—The Wall Street Journal

"Ambitious, sincere....An eloquent treatise on the rights of artists to exploit their personal histories—and why they do so, and at what cost."
 —Publishers Weekly

"Hacker is a fine writer....The air of talent lingers on this debut."
 —Kirkus

"Hacker moves well beyond the realm of esoteric matters like truth and art and into the darker arena of human relationships and nurture vs. nature with prose that cuts through the intellectual meat to the bone, revealing the humanity of all involved, as deeply flawed as they might be."
—The Gilmore Guide to Books
Soho Press, 9781616952433, 356pp.
Publication Date: April 30, 2013
About the Author
Christopher Hacker received a BA in Music Composition from the University of Michigan and an MFA from Columbia University. His stories have appeared in "Quarterly West "and "The Rake," and he was a finalist for a Pushcart Prize in 2009. He currently lives in Washington, D.C. with his wife.
or
Not Currently Available for Direct Purchase