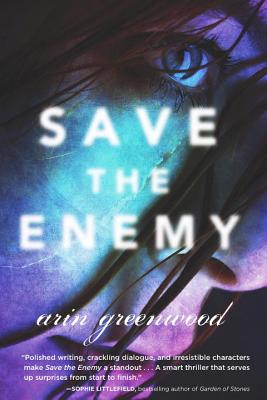 Save the Enemy (Hardcover)
Soho Teen, 9781616952594, 248pp.
Publication Date: November 12, 2013
* Individual store prices may vary.
or
Not Currently Available for Direct Purchase
Description
Everything has been downhill since Zoey Trask's mother was murdered in a random mugging. Her younger brother, Ben, is on the autistic spectrum and needs constant supervision. It's senior year, and she's the new girl at a weird private school in Old Town Alexandria, VA, full of kids who seem too nice to be true--including a very cute boy named Pete. Aside from half-forgotten martial arts and survivalist skills that her widowed father insisted on teaching her (because that is excellent for her social life), Zoey has nothing to offer Pete or anyone else. Then Dad is kidnapped. Zoey suddenly finds herself sole caretaker of a younger brother she barely understands. Worse, Ben seems to hold the key to their father's disappearance in his Dream Diary, a bizarre journal of names and places Ben claims that their mother shares from beyond the grave. And as if Zoey doesn't have enough on her plate, there's Pete, who stubbornly refuses to leave her side. Relying on the skills she never wanted to learn--Dad might have had his reasons after all--Zoey is plunged into a lethal battle to rescue her father, protect her brother, and determine the identity of her family's true enemy.
About the Author
Arin Greenwood is a writer and former lawyer living just outside Washington, D.C., with her husband, Ray, their dog, Murray, and their cat, Derrick. Arin is an editor for The Huffington Post, covering things both nerdy and weird, like Virginia cats running for U.S. Senate, in and around the nation's capital. Her stories have appeared in Slate, the Washington City Paper, the American Bar Association Journal, and dozens of other publications. Her first novel--Tropical Depression, published in 2011--was loosely based on the five-odd, sometimes very odd, years Arin spent lawyering on a small island near Guam. Save the Enemy is her first young adult novel. Read some of Arin's stories and get in touch at www.aringreenwood.com.
Praise For Save the Enemy…
Praise for Save the Enemy

"Savvy, fun and fast-paced, Save the Enemy is full of twists and turns that you won't see coming.  Ukuleles, libertarians, a dog named Roscoe, a hot boy, and ghosts, all rolled into a twisting, turning mystery? This book had me at hello." 
—Jodi Lynn Anderson, New York Times bestselling author of Peaches, May Bird, and Tiger Lily.

"Greenwood's polished writing, crackling dialog, and irresistible characters make Save the Enemy a standout. Zoey's up against some bizarre struggles, but her reactions are achingly familiar: a character to root for. A smart thriller that serves up surprises from start to finish."
—Sophie Littlefield, nationally bestselling author of Garden of Stones

"Full of dead ends, sharp turns and swerving mishaps this mystery novel is a nonstop, high-speed chase for the truth."
—The New Orleans Advocate

"Readers will be pulled by Zoey's strong inner compass and martial-arts
Prowess... gnarly yet buoyant. Readers of detective, spy, and crime novels, as well as Ayn Rand fans, will find tidbits to enjoy as Zoey and family prevail against the odds."
—Booklist

"An intricate tale of confusion and loss as Zoey attempts to peel away the mysteries surrounding her family and her unusual upbringing... This is good for ravenous fans of thrillers with a twist."
—VOYA

"Part mystery-thriller, part coming-of-age tale, and part romance with a pinch of the paranormal."
—School Library Journal

"Thrilling, chilling, funny and true to life... a dream come true for readers."
—Gary Shteyngart

"Reminiscent of A Wrinkle in Time, Greenwood's debut for teens twists and turns with mysterious men, real bullets and numerous candidates for worst parent ever…. [readers] with a philosophical bent may find references to Kant, Nietzsche and Ayn Rand entertaining."
—Kirkus Reviews

"Save the Enemy isn't your standard YA novel... a madcap adventure."
—Bustle 
Advertisement