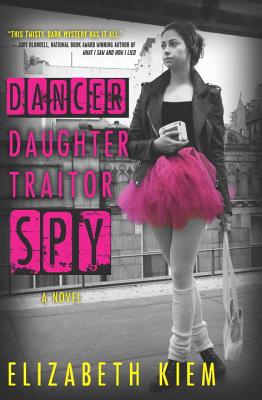 Dancer, Daughter, Traitor, Spy (Hardcover)
Soho Teen, 9781616952631, 288pp.
Publication Date: August 13, 2013
Other Editions of This Title:
Digital Audiobook (8/12/2013)
Paperback (3/4/2014)
Compact Disc (8/1/2013)
* Individual store prices may vary.
Description
A new breed of spy novel combines classic thrills ("The Americans," John Le Carre, and Alan Furst), Bolshoi intrigue, and elements of the paranormal.
Marina is born of privilege. Her mother, Sveta, is the Soviet Union's prima ballerina: an international star handpicked by the regime. But Sveta is afflicted with a mysterious second sight and becomes obsessed with exposing a horrific state secret. Then she disappears.
Fearing for their lives, Marina and her father defect to Brooklyn. Marina struggles to reestablish herself as a dancer at Juilliard. But her enigmatic partner, Sergei, makes concentration almost impossible, as does the fact that Marina shares her mother's "gift," and has a vision of her father's murder at the hands of the Russian crooks and con artists she thought they'd left behind.
Now Marina must navigate the web of intrigue surrounding her mother's disappearance, her ability, and exactly whom she can--and can't--trust.
About the Author
Elizabeth Kiem studied Russian language and literature at Columbia University and lived in Russia immediately after the collapse of the Soviet Union. Her nonfiction work can be read all over the world wide web." Dancer, Daughter, Traitor, Spy" is her first novel. She lives in New York.
Praise For Dancer, Daughter, Traitor, Spy…
Praise for Dancer, Daughter, Traitor, Spy

"Dancer, Daughter, Traitor, Spy culminates in a tangle of bad guys and intrigue.... [Evokes] the bleakness and nostalgic charms of the early 1980s [in Russia]. The results are enjoyably escapist. For [readers] enamored with the Russia of literature and film, who want something slightly more contemporary."
—The New York Times

"Exceptional."
—Teen Ink

"Terrifying... Historical fiction meets spy thriller, Dancer, Daughter, Traitor, Spy is sure to keep you on the edge of your seat."
—Dance Spirit Magazine

"In a world where nothing makes sense, what is sanity?.... This atmospheric, suspenseful story is one of devotion and deception,  innocence and independence, friendship and love, music and dance, immigration and coming of age."
—Booklist (starred review)

"Pays apt homage to John le Carré.... creates the mood of the oppressive, fearful state of Communist Russia that persists outside its borders, and builds levels of intrigue that lead to a devastating climax."
—Publishers Weekly

"Sophisticated storytelling with complex characterization and details that provide color and texture... A compelling portrait of a young woman on the verge of adulthood, caught up in the domestic secrets of her parents and the enmity of two countries."
—Kirkus Reviews

"I love a book that plunges me headlong into an unfamiliar world. This twisty, dark mystery has it all—terrible choices, narrow escapes, last chance gambles, and the desperate risks you'll take to save the person you love."
—National Book Award Winner Judy Blundell

"Dancer, Daughter, Traitor, Spy has it all: love, death, ballet, and pop music during the Cold War '80s. A romantic, suspenseful, and gracefully-written novel."
—Natalie Standiford, author of How to Say Goodbye in Robot and Confessions of the Sullivan Sisters

"Fascinating ... The twists and turns, as Marina tries to decide whom she can really trust, keep readers guessing right up to the end, just as a good spy novel should."
—School Library Journal

"Think The Girl With the Dragon Tattoo meets Sookie Stackhouse."
—Brooklyn Based

"Kiem has a way with language that brings her surroundings to life whether it's 1982 Russia with its long bread lines, Brighton Beach with its Russian gangsters or the dirty streets of Manhattan."
—Fresh Fiction 
or
Not Currently Available for Direct Purchase