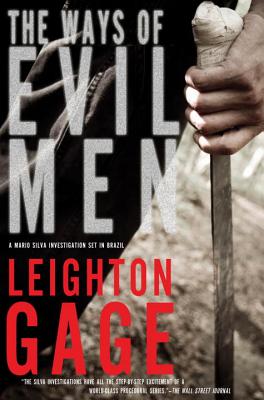 The Ways of Evil Men
Hardcover

* Individual store prices may vary.
Other Editions of This Title:
Digital Audiobook (1/20/2014)
Paperback (1/13/2015)
Compact Disc (1/21/2014)
MP3 CD (1/21/2014)
Compact Disc (1/21/2014)
Description
The Awana tribe, who live in the remote Amazon jungle in the Brazilian state of Para, have dwindled to only 41 members and now 39 of them have dropped dead of what looks like poison. The neighboring white townsfolk don t seem to be mourning the genocide much in fact, the only person who seems to care at all is Jade Calmon, the official tribal relations agent assigned to the area. She wants justice for the two survivors, a father and his 8-year-old son. But racism is deeply entrenched and no one is going to help her get to the truth.
Unfortunately, this is far from the first time the Brazilian federal police have had a tribal genocide to investigate. Chief Inspector Mario Silva and his team are sent in from Brasilia to try to solve the increasingly complex case just as a local white man is discovered murdered. Someone has done their best to frame the surviving Awana man, and the town is about to erupt.
Praise For The Ways of Evil Men…
Praise for The Ways of Evil Men:

"Leighton Gage died in 2013, making this fine book, it would seem, the last Silva investigation. Given plot developments that involve an orphaned native youth, the book provides a fitting if unintended resolution to the memorable Silva chronicles."
—The Wall Street Journal

"A final gift from Leighton to his readers... His voice, his portrayal of vital fictional characters and stories, his outrage at injustices in Brazil and beyond, and his lively participation in the on-line crime fiction community will remain as his testament."
—Glenn Harper, International Noir Fiction

"A fine send-off for a compelling character."
—Booklist

"The late Gage (1942–2013) weaves an engaging plot and psychologically complex characters together with a sharp-edged social commentary on the Brazilian class system; his voice will be greatly missed in the crime fiction community."
—Publishers Weekly, STARRED Review

"Gage had it all: social conscience; complex, well-drawn characters; and superb plot development. All he lacked was the gift of another dozen years of writing, to shepherd Chief Inspector Silva safely into his retirement." 
—BookPage, Top Pick in Mystery by Bruce Tierney

"Leighton Gage is one of those rare writers who can write about social issues without being pedantic. There are many facets to the issue of the indigenous peoples and their future, both in Brazil and elsewhere. Gage presents those facets within the framework of a well-written police procedural. While there is a solution to the mystery at the end, there is no pat answer to all the questions Gage presents along the way to that solution." 
—P.J. Coldren, Reviewing the Evidence

"Some of the color went out of the world when Leighton Gage died, but his literary legacy is pure gold. I can't recommend his books highly enough."
—Cathy Cole, Kittling Books

"Irresistible... It's sad to think this is the final Mario Silva tale we'll enjoy. If you haven't read the previous half-dozen installments of the series, do yourself a favor and look them up, too."
—Black Mask

"Gage's last offering is at once dark and light, depressing and uplifting, violent but also compassionate, a tale of dastardly, cowardly evil, but also of quiet, unrelenting heroism."
—Mystery Scene

"I suspect that Leighton put a lot of himself into the character of Mario Silva, both will be sorely missed."
—Crime Scraps Review

"There are few storytellers as gifted as Leighton Gage, and virtually none with his ability to convey messages of such societal importance in fast-paced, can't-put-down mysteries that are not in any way preaching."
—Jeff Siger, writing for the New York Journal of Books

"This marks the end of one of Brazil's most popular procedural crime series. He [Leighton Gage] will be sorely missed by his many fans around the world."
—BookLoons  

"A most rewarding book. Recommended."
—I Love a Mystery

"A fitting farewell to the inspector."
—Fort Worth Star-Telegram

"The complexity of the storyline together with several credible paths of misdirection make this one of the better books in this already very good series; sadly, it will also be the last."
—Mysterious Reviews


Praise for Leighton Gage's Mario Silva series:

"No one writes the cold glint of evil in bright sunlight the way Leighton Gage does. And there's enough evil here—and heroism, too—for three lesser books."
—Timothy Hallinan, author of Crashed

"Top notch ... controversial and entirely absorbing."
—The New York Times Book Review

"A dark, violent book with characters that seethe on the page ... compelling writing. Readers will smell the steam and stench of the Amazon and recoil from the torture and depredation from which Gage averts his lens, barely in time."
—Boston Globe

"The Silva investigations have all the step-by-step excitement of a world-class procedural series."
—The Wall Street Journal
Soho Crime, 9781616952723, 338pp.
Publication Date: January 21, 2014
About the Author
Leighton Gage (1942-2013) wrote six other books in the Mario Silva series: "Blood of the Wicked, Buried Strangers, Dying Gasp, Every Bitter Thing, A Vine in the Blood," and "Perfect Hatred." Since 1973, he spent part of each year in Santana do Parnaiba, Brazil, where he met his wife, Eide. His books have been translated into French, Italian, Finnish, and Dutch.
or
Not Currently Available for Direct Purchase