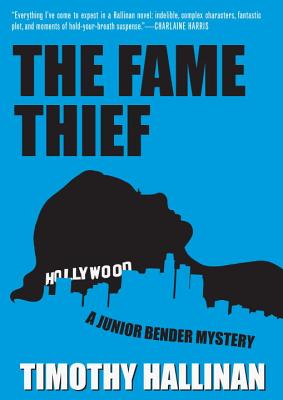 The Fame Thief
Hardcover

* Individual store prices may vary.
Other Editions of This Title:
Compact Disc (7/2/2013)
Compact Disc (7/2/2013)
MP3 CD (7/2/2013)
Description
THE LAUGH-OUT-LOUD FUNNY THIRD INSTALLMENT IN THE MYSTERY SERIES FEATURING JUNIOR BENDER, HOLLYWOOD BURGLAR TURNED PRIVATE EYE
There are not many people brave enough to say no to Irwin Dressler, Hollywood's scariest mob boss-turned-movie king. Even though Dressler is ninety-three years old, LA burglar Junior Bender is quaking in his boots when Dressler's henchman haul him in for a meeting. Dressler wants Junior to solve a crime he believes was committed more than sixty years ago, when an old friend of his, once-famous starlet Dolores La Marr, had her career destroyed after compromising photos were taken of her at a Las Vegas party. Dressler wants justice for Dolores and the shining career she never had.
Junior can t help but think the whole thing is a little crazy. After all, it's been seventy years. Even if someone did set Dolores up for a fall from grace back then, they re probably long dead now. But he can't say no to Irwin Dressler (no one can, really). So he starts digging. And what he finds is that some vendettas never die they only get more dangerous.
Praise For The Fame Thief…
Praise for The Fame Thief

A Crimespree Magazine Best Book of 2013

"Timothy Hallinan's The Fame Thief has everything I've come to expect in a Hallinan novel: indelible, complex characters, fantastic plot, and moments of hold-your-breath suspense."
—Charlaine Harris, author of the New York Times bestselling Sookie Stackhouse series

"Wisecracking Junior is great company, the occasional whiff of the supernatural is nicely kooky, and there's a satisfying balance between the present-day mystery and the vivid flashbacks."
—The Seattle Times

"As usual in a Junior Bender novel, the writing is reminiscent of the best of crime fiction's golden age — as taut and hardboiled as Dashiell Hammett's yet peppered with the sort of smart-aleck lines Raymond Chandler loved to toss off."
—The Associated Press

"In Hallinan's satisfying third Junior Bender novel (after Little Elvises), the L.A. burglar/PI continues to excavate show business's forgotten past, investigating in this installment the also-rans of postwar Hollywood."
—Publishers Weekly

"Could not stop laughing. Tim Hallinan is sharp as a blade, has a wicked eye for human nature and keeps the reader guessing and rooting for Junior Bender all the way."
—Helen Simonson, New York Times bestselling author of Major Pettigrew's Last Stand

"The Fame Thief will keep you laughing long after you close the cover."
—Molly Weston

"The third book in any series can be expected to rest on its laurels, but Hallinan raises the bar."
—Bill Barnes, Unshelved

"The refreshingly unassuming Junior is a fun riff on the typical private investigator: his specialty--committing crimes, rather than solving them--brings him an unusual perspective. The elderly Dressler is a fabulous, deadpan wiseguy in "eye-agonizing" golf pants, backed up by two unusually domestic versions of the standard muscled goon. And Junior's own domestic concerns--a teenage daughter, her jokester boyfriend, an ex-wife and a randy new girlfriend--fill out the eccentric, likable cast. Fast-paced action and a building body count pair nicely with humor in this series, bound to keep the reader coming back for more."
—Shelf Awareness

"Hallinan's natural storytelling skills will hold readers rapt through his Shakespeare-quoting, five-act tale as they relish his attention to Los Angeles cultural details and ability to weave two time periods together so effectively."
—Library Journal (starred review)

"Junior is at the top of his game in this third in the comic crime series, dispensing facetious remarks while assembling all the disparate pieces into a masterful exposé of a long ago Hollywood frame-up."
—Stop You're Killing Me

"The tangled plot ... produce[s] some surprises along the way, but the real draw here remains the fasttalking, quick-thinking Junior, a slightly seedier but equally entertaining version of Lawrence Block's Bernie Rhodenbarr. If comic crime is your thing, you need to know Junior Bender." 
—Booklist

"The main character (not really a hero, because heroes are on the side of justice, right?) is a fun guy to hang out with. He's a witty burglar who kept me reading, turning the pages as fast as I could."
—Suspense Magazine

"I started reading Timothy Hallinan's books several years back and was drawn into his series featuring adventure travel writer Poke Rafferty. Read 'em all, loved 'em all ... So I was a bit concerned when Hallinan started a new series featuring Junior Bender, occasional burglar and full-time go-to guy for those who need a bit of private investigation that strays outside the fine lines of the law. My worries were unfounded: Hallinan is three-deep into the new series, and the books are every bit as good as their forebears—with the added attraction of some Hiaasen-esque comic tone."
—Bruce Tierney, Bookpage 

"Hallinan succeeds in crafting the wonderful blend of a Hollywood exposé and a noir mystery with the complexities of a caper... This third Junior Bender mystery satisfies as an extremely enjoyable mystery with loads of dark humor and a brilliant cast of characters who are enmeshed in a spider web plot that spanned through the decades." 
—King's River Life Magazine

"Funny and smart and suspenseful all at once."
—The Long Beach Gazette

"Timothy Hallinan's Junior Bender books are so much fun to read that they're almost illegal."
—Kittling Books

"Junior's levity provides an excellent set-off to the dark underpinnings of the criminal world he inhabits.  Along the way to the truth, he strives not only to keep himself alive, but also to bring a sort of justice to those who have been wronged, even so many years later.  More please, Mr. Hallinan." 
—Ted Hertel, Deadly Pleasures Magazine

"There is enough gruesome violence, tense drama, and oddball characters in The Fame Thief to satisfy any fan of modern noir. Highly recommended for mystery fans, like myself, who enjoy humorous, but violent, noir."
—Gumshoe Review

"The Fame Thief is a rare commodity, a good read that is satisfying on multiple levels. Highest recommendation."
—New Mystery Reader 

"Read The Fame Thief. It's a great book, an interesting mystery, and one of the best novels about living in Los Angeles that I've read in a while."
—The Bookreporter

"These are classic noir LA mysteries, giant twisty dark puzzles but with a wicked sense of humor, which I dearly love. I read The Fame Thief in one sitting. This series is absolutely perfect for summer reading!"
—Popcorn Reads 

"Junior is hard not to like. He's funny, smart, resourceful, and his heart is pure, even if his career choice is not." 
—Over My Dead Body

Praise for the Junior Bender Series

"A modern-day successor to Raymond Chandler."
—Los Angeles Daily News

"Hallinan introduces us to a drugged-out, pain-impervious hit man, a nonagenarian puppet master who rules the L.A. underworld, a tabloid reporter who uses his job as a cover to blackmail the rich and the famous, and a host of other characters as dangerously outrageous as the murderous crew obsessed with obtaining the black bird in Hammett's 1930 masterpiece."
—Associated Press

"If Carl Hiaasen and Donald Westlake had a literary love child, he would be Timothy Hallinan.  The Edgar nominee's laugh-out-loud new crime series featuring Hollywood burglar-turned-private eye Junior Bender has breakout written all over it... A must-read."
—Julia Spencer-Fleming, New York Times bestselling author of One Was a Soldier

"Junior Bender is today's Los Angeles as Raymond Chandler might have written it. Tim [Hallinan] is a master at tossing out the kind of hard-boiled lines that I wish I thought of first."
—Bruce DeSilva, Macavity & Edgar Award-winning author of Rogue Island

"Loved loved loved Crashed, Tim Hallinan's first Junior Bender mystery. Great narrative voice, complex plot, 3-D characters. Hallinan's deft comic tone and colorful characters have earned him comparisons to Donald Westlake and Carl Hiaasen. Check it out now."
—Nancy Pearl

"Timothy Hallinan's affable antihero, an accomplished thief but inept sleuth named Junior Bender, makes a terrific first impression in Crashed.... Bender's quick wit and smart mouth make him a boon companion on this oddball adventure."
—New York Times Book Review

"Junior Bender is bound to be the topic of conversation amongst book lovers and crime fiction fans for a long, long time."
—Robert Carraher, Seattle Post-Intelligencer 

"The story is well designed and well told, and the dialogue sparkles. In a genre perhaps slightly overstuffed with crook-heroes, the book is like a breath of fresh air."
—Booklist

"One thing that immediately hits you about Timothy Hallinan's writing is the clarity and snap of his prose. Junior Bender isn't a gumshoe, but the cadence of his voice and his observations harken back to other great detectives who were expert at landing a crucial, devastating remark, as well as using their fists or a pistol. It's a cliché, of course, to bring up Raymond Chandler's Marlowe, but the similarities are nevertheless present in fitting ways."
—Derek Hill, Mystery Scene

"This is Hallinan at the top of his game. It's laugh-out-loud funny without ever losing any of its mystery. It's a whole new style and I love it. Junior Bender—a crook with a heart of gold—is one of Hallinan's most appealing heroes, rich with invention, and brimming with classic wit. I can't recommend it highly enough."
—Shadoe Stevens, Late Late Show with Craig Ferguson

"Bender's been a burglar since he was 14. He's "never been caught, never been charged," but he has been kissed. In "Little Elvises," he describes one particular smooch as full of "sweetness" with a "shot of cayenne." And that's a perfect description for Bender himself. He has a big heart. It's just crooked. Bender still loves his ex-wife, adores his precocious daughter, but he's become the go-to guy for folks who can't go to the cops. Think of him as a detective for the delinquent, a fixer for felons."
—Carole E. Barrowman, Milwaukee Journal-Sentinel

"Hallinan is a stunning talent."
—Gregg Hurwitz, author of They're Watching

"This is one of those books you long for, wait for, and find once or twice a year."
—Beth Kanell, proprietor of Kingdom Books, Vermont
Soho Crime, 9781616952808, 324pp.
Publication Date: July 2, 2013
About the Author
Timothy Hallinan is the Edgar-, Shamus- and Macavity-nominated author of thirteen widely praised books, including "The Fear Artist," "Crashed, Little Elvises," and "The Fame Thief." After years of working in Hollywood, television, and the music industry, he now writes fulltime. He divides his time between California and Thailand.
or
Not Currently Available for Direct Purchase