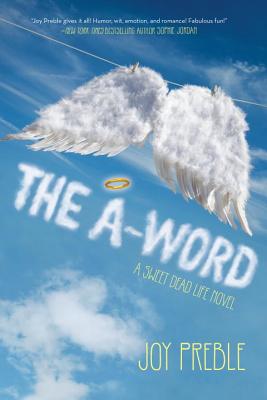 The A-Word (Hardcover)
A Sweet Dead Life Novel: A Sweet Dead Life Novel
Soho Teen, 9781616952907, 272pp.
Publication Date: May 13, 2014
* Individual store prices may vary.
Description
Jenna Samuels and her guardian angel brother battle heavenly head-honchos and earthbound bullies in this hilarious, Texas-set follow up to The Sweet Dead Life.
It's been almost a year since Jenna Samuel's stoner brother, Casey, bit the dust and returned as her guardian angel. A year since Casey and his "angel boss," Amber Velasco, saved Jenna's life and helped her foil the bad guys--more or less. A year in which Jenna has solved the true mystery of the universe: how to get one Ryan Sloboda to ask her out.
Jenna's feeling mighty cheery about life and love. But Casey, whose doomed relationship with Lanie Phelps (who has no idea her boyfriend is, well, dead) isn't doing much to distract him, has his own big question: Why is he still hanging around?
Bo Shivers, a heavenly head honcho Jenna and Casey didn't even know existed, might have the answer. Bo knows something big is coming. Something that might just change everything for Jenna Samuels, who once again finds herself up to her non-winged shoulders in heavenly secrets of global proportions--just as she's finally found the perfect Homecoming Dance dress.
About the Author
Joy Preble lives in Houston with her family, including a sweet but slightly unhinged basset mix. She teaches and lectures widely on writing and literacy, and is the author of the Dreaming Anastasia series and Finding Paris, which SLJ called "An intricate guessing game." The A-Word is the sequel to The Sweet Dead Life, which Kirkus hailed with "Hallelujah!" Like its narrator Jenna, Joy likes cowboy boots, breakfast tacos, and crazy unexpected stuff. Visit her online at joypreble.com or follow her on Twitter @joypreble.
Praise For The A-Word: A Sweet Dead Life Novel: A Sweet Dead Life Novel…
Praise for The A-Word: A Sweet Dead Life Novel

"Light, snarky, and heartfelt... The A-Word rolls along cheerfully through Halloween pranks, high school football, investigative reporting, angel-powered action, and a very realistic amount of aimless driving around."
—School Library Journal

"Sassy, smart-mouthed, cowboy-boot fan Jenna Samuels is back once again, fighting evildoers with the aid of her angelic cohorts..... has many of the elements that made its predecessor, [The Sweet Dead Life], so much fun."
—Kirkus Reviews

"The earthbound angels are as authentic as the down-to-earth people in The A-Word, but where the book really spreads its wings is in the interaction between the two. Resourceful teens and heavenly beings team up to get to the roots of a very modern mystery, and the big questions of the universe share space with first dates and football games. The result: a smart, original (and slightly celestial) mystery with a distinctly Texan flavor."
—Michael Northrop, author of Trapped and Surrounded by Sharks

"Joy Preble gives it all! Humor, wit, emotion, and romance! Fabulous fun!"
—New York Times bestselling author Sophie Jordan

"Romance, sassy humor, and a pain-in-the-rear brother … Who knew having a guardian angel could be so hard and so much fun to read?"
—New York Times Bestselling Author C.C. Hunter

Praise for The Sweet Dead Life

"A smart, sassy, supernatural mystery chock-full of heart, hope and fun."
—New York Times bestselling author Cynthia Leitich Smith

"The Sweet Dead Life is mischief and mayhem, zippy one-liners, mystery and a tiny bit of tragedy. A-word: Awesome."
—E. Lockhart, author of Fly On The Wall

"There's a whole lot going on here: poisonings, blackmail, sibling relationships, romance, and abandonment, in addition to angels, but the unifying thread is Jenna's clever, bitter, self-aware, and loving voice ... Preble's lively descriptions and unusually well-drawn, caring sibling relationship (a topic not usually explored in teen fiction) are especially noteworthy."
—Booklist

"Bizarre? Yes, very. Fun to read? Yes, very."
—The Examiner

"Hallelujah! A paranormal tale of angels that's not a romance, making it a novel that breaks the mold."
—Kirkus Reviews
or
Not Currently Available for Direct Purchase