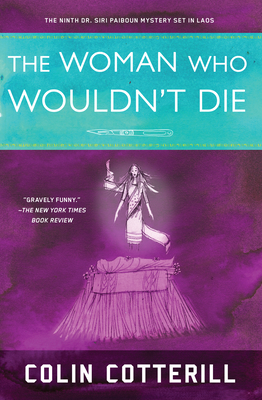 The Woman Who Wouldn't Die (A Dr. Siri Paiboun Mystery #9)
Paperback

* Individual store prices may vary.
Other Editions of This Title:
Digital Audiobook (12/31/2013)
Hardcover (2/19/2013)
Description
The long-awaited follow-up to 2011's Slash & Burn and the ninth installment in Colin Cotterill's bestselling mystery series starring the inimitable Lao national coroner, Dr. Siri

In a small Lao village, a very strange thing has happened. A woman was shot and killed in her bed during a burglary; she was given a funeral and everyone in the village saw her body burned. Then, three days later, she was back in her house as if she'd never been dead at all. But now she's clairvoyant, and can speak to the dead. That's why the long-dead brother of a Lao general has enlisted her to help his brother uncover his remains, which have been lost at the bottom of a river for many years.
 
Lao national coroner Dr. Siri Paiboun and his wife, Madame Daeng, are sent along to supervise the excavation. It could be a kind of relaxing vacation for them, maybe, except Siri is obsessed with the pretty undead medium's special abilities, and Madame Daeng might be a little jealous. She doesn't trust the woman for some reason─is her hunch right? What is the group really digging for at the bottom of this remote river on the Thai border? What war secrets are being covered up?
Praise For The Woman Who Wouldn't Die (A Dr. Siri Paiboun Mystery #9)…
Praise for The Woman Who Wouldn't Die

"Laughter is a subversive weapon when you live under a repressive regime. That's the take-away lesson from Colin Cotterill's gravely funny novels set in Indochina in the 1970s."
─New York Times Book Review

"The latest Dr. Paiboun novel by Colin Cotterill, showcases both author and detective at the top of their games. It's an entertaining and captivating mystery underpinned by a fascinating exploration of the tangled history of Laos."
─The Christian Science Monitor

"Cotterill has never been better than in this ninth outing for acerbic Dr. Siri.... The action builds to an ingenious resolution."
─Publishers Weekly, STARRED REVIEW

"This quirky mystery is filled with unforgettably strange characters. It's also filled with Cotterill's dark humor, best seen in the characters' wry dialogue. Readers who appreciate reluctant cops and detectives, like Tarquin Hall's Indian sleuth, Vish Puri, or Stuart Kaminsky's Russian Inspector Rostnikov, will love Cotterill's cynical, haunted coroner."
─Booklist, STARRED REVIEW

"One of Cotterill's best books yet. Fans are going to adore this one." 
─The Globe and Mail

"Crime fiction is a comprehensive introduction to different societies, and Cotterill's series are prominent on that bookshelf. It is not that he makes us laugh while working with the heartbreaking essentials of human drama. He fosters affection for and understanding of the Lao beyond the histories of Cold War geopolitics and the familiar touristy visions of southeast Asian hospitality. That is some achievement."
─The Indian Times

"Irresistible, for new readers as well as established fans."
─Shelf Awareness

"After Cotterill's hiatus to launch another series set in Thailand (Grandpa, There's a Head on the Beach, 2012, etc.), the return of that glorious curmudgeon Dr. Siri for a ninth escapade is bliss."
─Kirkus Reviews

"Colin Cotterill has the enviable ability to entertain the reader while never losing sight of the underlying tragedies upon which his narrative floats ... The conclusion of this book suggests that Siri has at least one further adventure in him. I for one certainly hope so."
─Reviewing the Evidence

"A first rate mystery... and an education into the people and culture of Laos. The dialog is wry and often humorous, and the novel is recommended."
─Midwest Book Review

"The best in an excellent series.... You'll go crazy for Dr. Siri and the rest of the superb cast."
─Kittling Books (Blog)

"Siri and his gang are nonconformists, and we cheer their every insubordinate move.... [Cotterill] mixes the terrible, wonderful, and whimsical in perfect proportions."
─Murder by the Book (Blog)


Praise for the Dr. Siri series
 
"Unpredicatable.... Tragically funny and magically sublime."
─Entertainment Weekly
 
"A wonderfully fresh and exotic mystery."
─The New York Times Book Review
 
"You get a real feeling for what Laos was like in the '70s. The humor is wonderful, too." ─New York Post
Soho Crime, 9781616952976, 320pp.
Publication Date: January 7, 2014
About the Author
Colin Cotterill is the Dilys Award-winning author of nine books in the Dr. Siri Paiboun series: The Coroner's Lunch, Thirty-Three Teeth, Disco for the Departed, Anarchy and Old Dogs, Curse of the Pogo Stick, The Merry Misogynist, Love Songs from a Shallow Grave, and Slash & Burn, and The Woman Who Wouldn't Die. He lives in Chumphon, Thailand, with his wife and five deranged dogs.
or
Not Currently Available for Direct Purchase