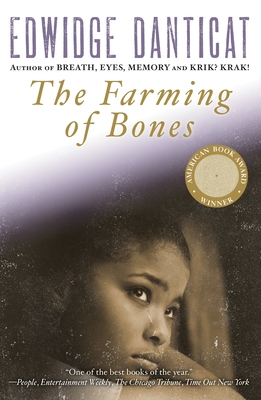 The Farming of Bones
Paperback

* Individual store prices may vary.
Other Editions of This Title:
Hardcover (7/1/2003)
Paperback (9/1/1999)
Prebound (9/1/1999)
Description
It is 1937 and Amabelle Désir, a young Haitian woman living in the Dominican Republic, has built herself a life as the servant and companion of the wife of a wealthy colonel. She and Sebastien, a cane worker, are deeply in love and plan to marry. But Amabelle's  world collapses when a wave of genocidal violence, driven by Dominican dictator Rafael Trujillo, leads to the slaughter of Haitian workers. Amabelle and Sebastien are separated, and she desperately flees the tide of violence for a Haiti she barely remembers.

Already acknowledged as a classic, this harrowing story of love and survival—from one of the most important voices of her generation—is an unforgettable memorial to the victims of the Parsley Massacre and a testimony to the power of human memory.
Praise For The Farming of Bones…
Praise for The Farming of Bones

A New York Times Notable Book
ALA Booklist Editor's Choice

"One of the Best Books of the Year"—Publishers Weekly

"Heartrending."
—Walter Mosely, Entertainment Weekly

"A powerful, haunting novel ... every chapter cuts deep, and you feel it."
—Time

"Danticat ... is a brilliant storyteller. Her language is simple, gorgeous, and enticing. Her perfect pacing and seamless narrative ... make each character's destiny seem inexorable."
—Time Out New York

"[With] hallucinatory vigor and a sense of mission ... Danticat capably evokes the shock with which a small personal world is disrupted by military mayhem.... The Farming of Bones offers ample confirmation of Edwidge Danticat's considerable talents."
—The New York Times Book Review

"A passionate story ... Richly textured, deeply personal details particularize each of Danticat's characters and give poignancy to their lives. Often, her tales take on the quality of a legend."
—The Seattle Times

"A beautiful and tragic book ... Danticat startles and enraptures readers once again with The Farming of Bones, a novel so mature in its exposition, so captivating in its spirit that it perpetually astonishes the reader in every remarkable chapter."
—The Orlando Sentinel

"Danticat ... infuses the dreamlike prose of her earlier works with a politicized resonance in her second novel. ... An eyeopening and delicately written testimonial to the 'nameless and faceless' who died in a historically overlooked conflict."
—The Wall Street Journal

"Because the larger themes of trauma and collective memory are in the hands of a gifted fiction writer, the novel cannot be summarized by casual reference to genocidal fact. Indeed, some of the most interesting writers today—Toni Morrison in Paradise, Caryl Phillips in Cambridge—are blending history and fiction, imparting information, in the manner of nineteenth century novelists, without seeming to.... A beautifully conceived work, with monumental themes."
—The Nation

"Steely, nuanced ... it's a testament to Danticat's skill that Amabelle's musical, sorrowing voice never falters."
—The New Yorker

"A surprisingly subtle and wise book."
—Chicago Tribune

"An admirable, even brilliant, work by an author of tremendous talent ... a story that will haunt both the mind and the soul."
—The Denver Post

"Exquisite ... Passionate and heartrending, Bones lingers in the consciousness like an unforgettable nightmare."
—Entertainment Weekly

"An erotic, devastating tale ... Danticat ... lets us feel the pain and hope of Amabelle's journey, using language that's poetic and understated all at once."
—Madamoiselle

"A beautiful book. Danticat's writing is superb, drifting easily from the visionary and ecstatic to the bare and simple notice of things as they are."
—The Sunday Oregonian

"Stunning both as revelation of a forgotten atrocity and as demonstration of narrative craft."
—The Cleveland Plain-Dealer

"Danticat gives us fully realized characters who endure their lives with dignity, a sensuously atmospheric setting and a perfectly paced narrative written in prose that is lushly poetic and erotic, specifically detailed ... and starkly realistic. While this novel is deeply sad, it is infused with Danticat's fierce need to bear witness."
—Publishers Weekly, Starred Review
Soho Press, 9781616953492, 336pp.
Publication Date: May 7, 2013
About the Author
Edwidge Danticat is the author of numerous books, including Brother, I'm Dying, which won the National Book Critics Circle Award and was a National Book Award finalist; Breath, Eyes, Memory, an Oprah Book Club selection; Krik? Krak!, a National Book Award finalist; and The Dew Breaker, winner of the inaugural Story Prize. The recipient of a MacArthur Fellowship, she has been published in The New Yorker, The New York Times, and elsewhere. The Farming of Bones won an American Book Award for fiction in 1999.