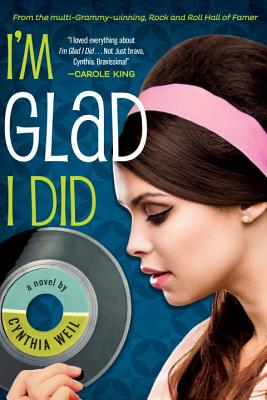 I'm Glad I Did
Hardcover

* Individual store prices may vary.
Description
Mad Men meets Nashville in this debut mystery set in 1963, written by Grammy winner and Rock and Roll Hall of Famer Cynthia Weil.

"I loved everything about I'm Glad I Did... Not just brava, Cynthia. Bravissima!!"
—Carole King, multi-Grammy winning singer-songwriter of Tapestry and author of the New York Times bestseller A Natural Woman 

New York City, summer of 1963: JJ Green is a born songwriter—a major problem, since her family thinks the music business is a cesspool of lowlifes and hustlers. Defying them, she secretly takes an internship at the Brill Building, the epicenter of a new sound called rock and roll. When she finds a writing partner in Luke Silver, a boy with mesmerizing green eyes, JJ believes she is living her dream. They'll even be cutting their first demo with legendary singer Dulcie Brown.

But soon JJ's dream is shattered by tragedy, and she must navigate a web of troubled pasts, hidden identities, and tangled secrets—before it snares her, too.
Praise For I'm Glad I Did…
Praise for I'm Glad I Did 

A Library Journal Editors' Pick
A Publishers Weekly Editors' Pick

"It's a treat to get Weil's take on [the] industry . . . So much of the author's own hard-earned experience sings out from the pages."
—The New York Times Book Review

"I loved everything about I'm Glad I Did . . . Who better than Cynthia Weil to describe authentically what it's like to write a great lyric? Weaving in Brooks Arthur, Bob Dylan, Dick Charles and the Brill Building gives the story atmosphere at their very mention. JJ is utterly lovable, believable, and multidimensional, with all the fashion awareness that I never had but Cynthia most certainly did. Not just brava, Cynthia. Bravissima!!" 
—Carole King, multi-Grammy winning singer-songwriter of Tapestry and author of the New York Times bestseller A Natural Woman

"Rocks and rolls."
—Vanity Fair

"The book seems especially true to life: the hustle-bustle, the thrill of writing a hit song, the heartbreak of watching it slide down the charts. Even the Brill Building, the art deco jewel box in Times Square . . . is a kind of character in the story . . . The winged eyeliner and soulful songs are as hot today as they were 50 years ago." 
—The Philadelphia Inquirer

"Meghan Trainor meets Nashville meets Mad Men . . . The recording business may be the beating heart of I'm Glad I Did, but it's the brave characters, sweet romance and window into the incredible civil rights changes going on in the 1960s that make this book sing."
—Justine

"Offering insider insight into the music business and its many characters, the heroine, JJ Green finds her voice and herself through music."
—Parade.com

"An up-tempo coming-of-age story complete with an entertaining slice of history that doesn't avoid the serious issues of the day. "
—Chico Enterprise-Register

"Part mystery, part 1960s New York City period piece, with a strong feminist flavor . . . This debut novel from a first-rate songwriter takes readers deep into the 1960s music business."
—Shelf Awareness

"Cynthia Weil sets the ball rolling (and rocking) on an endearing story set in the heart of the pop-music industry, circa 1963 . . . A tightly wound... clever plot."
—MetroKids 

"The author is a multi-Grammy-winning, Rock and Roll Hall of Famer, and the story reflects that, as JJ learns the language of the business: songs with bullets, Cashbox, Billboard. The names of famous recording artists leap off the page: Bobby Rydell, the Drifters, Leslie Gore... [the] memory of their music fills my heart."
—Historical Novel Society 

"JJ offers sharp commentary on some of the most stressful moments in U.S. history. She also discovers that 'trouble' is exactly where you need to be when you want to change the world . . . JJ's story exposes the mountains of 1963 in matters of race, feminism, and social expectations, and how music can help move these mountains."
—BookTrib

"The romance between JJ and an idealistic Luke is tenderly written . . . The strength of the novel lies in Weil's use of Dulcie and JJ to present, for teens, a history of the music industry and its pitfalls, the names of well-known performers, and an understanding of the 1960s songwriting business."
—VOYA

"Readers will root for the determined and self-sufficient JJ as she navigates the complex rules and relationships at play within the Brill Building. I'm Glad I Did also provides a valuable look at the racial tension and discrimination of the time, including the mistreatment of African Americans by their peers within the music world . . . Anyone who craves a bit of entertainment and a behind-the-scenes look at the music biz should tune in."
—TeenReads.com

"An impressive YA debut . . . Showing both the bright and the dark sides if the music business, Weil crafts an enticing tale of a sheltered teenager's induction into a world where ambitions and morals are repeatedly tested."
—Publishers Weekly

"Weil has painted a 1960s Mad Men–esque portrait of the music industry, in which white men take advantage of talented black musicians, especially young, beautiful, and innocent black women, during that period of gathering racial unrest. Weil deals with a variety of '60s social issues, including black-white relationships, women's rights, and white male privilege. It's an authentic picture of the 1963 turmoil, with reader hooks of murder, young love, and the '60s music scene."
—Booklist

"Rock and Roll Hall of Famer Weil, songwriter of 'You've Lost That Lovin' Feeling,' provides period detail about the fledgling rock-'n'-roll industry that adds verisimilitude to JJ and Luke's surprising journey of discovery. Mystery, romance and insider music-industry detail distinguish this intriguing 1960s coming-of-age story."
 —Kirkus Reviews

"JJ is both starry-eyed and determined . . . The themes here, from first love to breaking away from parental expectations, from race relations to the thrill of succeeding in a competitive industry, position this perfectly . . . Weil finds just the right balance between cynicism and hope, romance and heartbreak—kind of like one of her songs."
—The Bulletin of the Center for Children's Books

"Beneath the glamor and aspiration, I'm Glad I Did also provides an unflinching look at the race, gender, and class struggles that defined the time—seamlessly woven into a page-turning mystery."
—Coe Booth, LA Times Book Prize winning author of Tyrell

"Only a legendary songwriter like Cynthia Weil could have penned this insider's view of the rock and roll songwriting scene . . . A touching romance, a dark murder mystery, a compelling historical coming-of-age novel: this is Mad Men with microphones. Anyone who's ever dreamed big will love watching JJ spin her musical magic. A mesmerizing debut."
—Katherine Applegate, Newbery winner and New York Times bestselling author of The One and Only Ivan

"Cynthia Weil delivers a pitch-perfect debut about defining yourself and following your dreams.I'm Glad I Did expertly blends music and romance with a mystery that crescendos into page-turning ending. Encore! Encore!"
—Elizabeth Eulberg, author of The Lonely Hearts Club
Soho Teen, 9781616953560, 272pp.
Publication Date: January 27, 2015
About the Author
Cynthia Weil is a member of the Rock and Roll and Songwriters Halls of Fame, as well as the multi-Grammy-winning songwriter of classic songs like "On Broadway," "We Gotta Get Out of This Place," "You've Lost That Lovin' Feeling" (the most performed song of the 20th century), and "Somewhere Out There," which was a double Grammy winner and an Oscar nominee. A New Yorker at heart, she has lived in Southern California for many years with her husband and writing partner, Barry Mann. Cynthia's and Barry's younger selves and their songs are featured in Beautiful: The Carole King Musical on Broadway. I'm Glad I Did is her first novel.
or
Not Currently Available for Direct Purchase