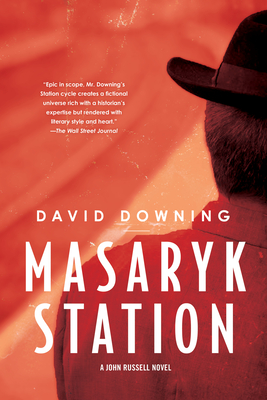 Masaryk Station (A John Russell WWII Spy Thriller #6) (Paperback)
Soho Crime, 9781616953737, 384pp.
Publication Date: April 1, 2014
* Individual store prices may vary.
Description
Berlin, 1948. Still occupied by the four Allied powers and largely in ruins, the city has become the cockpit of a new Cold War. The legacies of the war have become entangled in the new Soviet-American conflict, creating a world of bizarre and fleeting loyalties—a paradise for spies. As spring unfolds, a Western withdrawal looks increasingly likely. Berlin's German inhabitants live in fear of the Soviet forces who occupy half the city, and whose legacy of violence has ripped apart many families.
 
John Russell works for both Stalin's NKVD and the newly created CIA, trying his best to cut himself loose from both before his double-agency is discovered by either. As tensions between the great powers escalate, each passing day makes Russell's position more treacherous. He and his Soviet liaison, Shchepkin, seek out one final operation—one piece of intelligence so damning it could silence the wrath of one nation and solicit the protection of the other. It will be the most dangerous task Russell has ever taken on, but one way or the other, it will be his last.
About the Author
David Downing grew up in suburban London. He is the author of five previous books in the John Russell series, Zoo Station, Silesian Station, Stettin Station, Potsdam Station, and Lehrter Station. He lives with his wife, an American
acupuncturist, in Guildford, England.
Praise For Masaryk Station (A John Russell WWII Spy Thriller #6)…
Praise for Masaryk Station

"Epic in scope, Mr. Downing's "Station" cycle creates a fictional universe rich with a historian's expertise but rendered with literary style and heart."
—The Wall Street Journal

"Downing adroitly elucidates the morass that was post-World War II geopolitics without dumbing it down... One can only marvel at his talent for infusing such a rangy cast of characters with nuance and soul."
—The New York Times Book Review

"This is a brilliant finale to one of spydom's best series. If you haven't read all the others, get them first and enjoy the whole feast."
—The Globe and Mail

"Downing is one of a trio of exceptional writers (Philip Kerr and Alan Furst being the other two) who have managed to re-create a time and place when much of the world seemed to have gone temporarily mad."
—The Denver Post

"Downing's outstanding evocation of the times (as masterly as that found in Alan Furst's novels or Philip Kerr's Bernie Gunther series), thematic complexity (as rich as that of John le Carré), and the wide assortment of fully rendered characters provide as much or more pleasure than the plot, where disparate threads are tied together in satisfying and unexpected ways."
—Library Journal, STARRED Review

"Downing returns with another taut tale of espionage as World War II shades deeper into the Cold War and good guys get harder to tell from bad.... Downing writes with a sure grasp of the way bad situations become worse; he's a master of heightened tension and the sweat-bedewed upper lip... The local color and cigarette smoke are thick, and so is the plot, with fine MacGuffins, a truly red herring or two, and even a man in the boot to keep things interesting."
—Kirkus Reviews

"If your reaction is anything like mine, you'll want to continue through the entire series."
—Books & Culture

"The Station books are without a doubt some of the finest espionage novels these days, easily inviting comparisons to the legends of the genre like John le Carre, Frederick Forsyth and Tom Clancy… You won't want to read anything else until you have devoured the entire series."
—BookPage (Top Pick in Mystery)

"David Downing has created a complicated plot with many twists and turns while the hero seems caught in a maze."
—Historical Novel Society

"This is a thrilling and suspenseful espionage series, one of the best being written today. One cares about Russell and his family and even the somewhat oily Shchepkin as they attempt to unravel themselves from the brutal and unfeeling intelligence services. It's an extremely dangerous time and the likelihood for failure is high. If you like spy novels, you need to read all of the John Russell series."
—Bookgasm

"I loved Masaryk Station. The plot in interesting, but the real point is the insight into the times. It provided insights and aroused emotions in me concerning my own experiences during the Cold War and helped build some perspective over the world events that I, in my youth, only knew asfact."
—Gumshoe Review

"A wonderfully written mixture of history, espionage, and suspense. Downing perfectly captures post-war Berlin.... Intelligently written, provocatively told, and thoroughly convincing in every aspect, [John] Russell is a man who will not soon be forgotten by the readers of these books."
—Deadly Pleasures

"The book is a wonderful introduction to the Berlin Blockade, told through an exciting story with likeable characters." 
—Blogcritics.org

Praise for David Downing
 
"Full of striking inventions."
─Kingsley Amis, author of Lucky Jim
 
"A beautifully crafted and compelling thriller with a heart-stopping ending as John Russell learns the personal faces of good and evil. An unforgettable read."
─Charles Todd, author of the Inspector Ian Rutledge Series
 
"One of the most intelligent and persuasive realizations of Germany immediately before the war."
─Wall Street Journal
 
"In the elite company of literary spy masters Alan Furst and Philip Kerr ... [Downing is] brilliant at evoking even the smallest details of wartime Berlin on its last legs."
─Washington Post

"Downing distinguishes himself by eschewing the easy ways out. He doesn't shy away from portraying the cold brutality of the Third Reich, and his characters are far from stereotypes—they're flawed, confused and real."
—NPR


From the Hardcover edition.