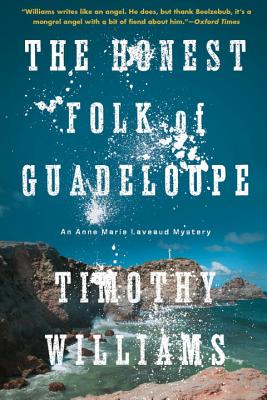 The Honest Folk of Guadeloupe (Hardcover)
Soho Crime, 9781616953850, 336pp.
Publication Date: January 13, 2015
* Individual store prices may vary.
or
Not Currently Available for Direct Purchase
Description
April 1990: French-Algerian judge Anne Marie Laveaud has been living and working in the French Caribbean departement of Guadeloupe for more than a decade, but her days are still full of surprises. She is only just starting to investigate the suspicious suicide of a high-profile environmental activist and media personality when she is pulled off the case. Is it because she was getting too close to the truth?
But the new case she's been assigned takes precedence. The naked body of a white woman has been discovered on a beach. The victim's remains offer no clues about her final hours she was found without any of her belongings, and it seems she had been dead at least three days before anyone spotted her corpse. What turned this woman's vacation in paradise into a final nightmare?
As always, the story of a murdered white woman attracts international media attention. The pressure is on Anne Marie to solve the murder quickly, before bad publicity destroys the island's all-important tourist industry.
About the Author
CWA award-winning author Timothy Williams has written six crime novels set in Italy featuring Commissario Piero Trotti as well as two novels set in the French Caribbean, Another Sun and The Honest Folk of Guadeloupe. Born in London and educated at St. Andrews, Williams has taught at the universities of Poitiers in France, Bari and Pavia in Italy, at Jassy in Romania, and most recently in the French West Indies. The Observer placed him among the ten best modern European crime novelists.
Praise For The Honest Folk of Guadeloupe…
Praise for Another Sun

"In Another Sun, Timothy Williams takes us on a tour of an island we think we know something about, but goes deep into the true Guadeloupe as only someone intimately familiar with the place can truly go. Anne Marie Laveaud is a woman of sharp smarts and tenacity, and the storyline offers fresh surprises throughout."
—Sarah Weinman, editor of Troubled Daughters, Twisted Wives

"Another Sun evokes an atmospheric Guadeloupe layered by witchcraft, vestiges of French colonialism, and domestic terrorist movements, yet grounded by the heart. An intriguing novel with a unique main character in Judge Anne Marie Laveaud."
—Cara Black, national bestselling author of Murder Below Montparnasse

"Fans of Williams's other books and readers who enjoy their crime fiction set in exotic locations will welcome Anne Marie with open arms."
—Library Journal

"Williams delivers a saga of dying French colonialism in 1980 Guadeloupe—a story as convoluted as the racial strains afflicting he island's diverse, contentious population.... Laveaud, despite a strong sense of justice, is buffeted endlessly by the strong winds of change that engulf one mere murder.... [A] tapestry of colonial misrule."
—Publishers Weekly

"Another Sun is a complex, atmospheric novel, made all the more fascinating by Williams' painstaking attention to sensory, sociopolitical, and historical detail, and by the author's obvious passion for the written word."
—Mystery Scene Magazine

"Another Sun is a distinct, involving, and entertaining addition to the top rank of crime fiction."
—International Noir Fiction

"In Another Sun Williams provides an interesting view into the politics and race relations of a small island under colonial rule.... Not everyone welcomes the ruling power and intrigue abonds...." 
—Crimespree Magazine 

"A tale of envy and greed and sex envenomed by the inevitable racism of colonial politics."
—The Advocate

"Williams captured the essence and spirit of Guadeloupe and its people beautifully. His story telling style is notably subtle, often requiring his audience to come to conclusions about crucial plot markers of their own accord."
—Booklover Book Reviews

"Dark, gritty. This one is really interesting."
—Good Morning Texas

"The writing here reveals a veteran's confidence and at the same time features an enthusiasm you might expect from an author much earlier in his career. The complex interactions between the characters are handled delicately and their feelings and intentions are conveyed in language both subtle and plain. This novel has restored my faith in the possibility of finding something new in a sea of the familiar. Highly recommended."
—HorrorWorld

"You may think you know where this well plotted novel is going but Timothy Williams has some major and even unsettling surprises in store for you...and the issues this story raises will linger long after you finish it."
—Book Loons


Praise for the Commissario Piero Trotti series 

"Subtle, tense and gripping."
—Val McDermid

"A chilling education, a scalpel-sharp exploration of Italy's body politic. Timothy Williams knows the ABC of corruption—Andreotti, Berlusconi, Craxi—and is a convincing and compelling voice."
—Ian Rankin

"Stylish and excellent. Those who like Dibdin will eat it up."
—Lionel Davidson

"A delight."
—The Observer, "10 Best Modern European Crime Writers" 

"The ageing moody Trotti is a subtle and convincing creation; the other characters are portrayed with depth and sensitivity, and the Italian atmosphere is authentically beguiling. First-rate in every way."
—The Times

"Williams' pared-down descriptions and staccato dialogue are a constant pleasure."—Financial Times 

"Superb."
—The Scotsman

"Breathtakingly good."
—Evening Standard

"Stupendous."
—Publishers Weekly

"Simple but stylish...convincingly Continental...[Williams's] plotting [is] impeccable."
—Time Out

"Big themes, lots of cynicism and the overall impression of powerlessness when faced with corruption....Timothy Williams is a major contender."
—Tangled Web UK
Advertisement