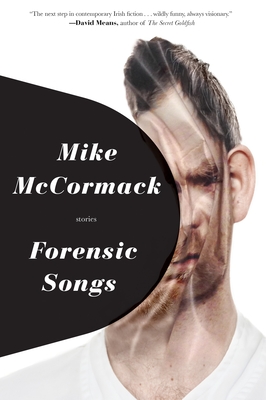 Forensic Songs
Paperback

* Individual store prices may vary.
Description
Mike McCormack's new novel Solar Bones is longlisted for the 2017 Man Booker Prize.

In his second collection of short stories, Mike McCormack joins head and heart in a series of tales which weave a fluid vision of a world morphing between the real and the hyperreal.

Amid much hollow laughter a prisoner is drawn from his cell in the middle of the night to play a video game; two rural guards ponder the security threat posed by the only man in Ireland not to have written his memoirs; a child tries to offset his destiny as a serial killer by petitioning his father for a beating; a late night American cop show becomes a savage analysis of a faltering marriage in the west of Ireland; two men turn up at the door of a slacker to give him news of his death and recruit him to some mysterious surveillance mission; an older brother worries about the health of his younger sibling; the prodigal son returns to reveal the fear and hypocrisy which lies at the heart of his brothers life.

In twelve stories McCormack's characters find themselves trying to hold onto their identities in a world where love is too often and too easily obscured.
Praise For Forensic Songs…
Praise for Forensic Songs

"A true son of Myles na gCopaleen and Flann O'Brien, but there's also an echo of Philip K. Dick in the sergeant's desire to root out possible future subversion."
—Milwaukee Journal Sentinel

"Forensic Songs presents a roster of haunting stories... gorgeously executed."
—LitReactor

"Forensic Songs is a striking work of cross-genre virtuosity, where hints of speculative fiction and fable bring a surprising spark to McCormack's serious literary sensibility. These pieces are clever, touching, timely and at times prescient. A distinctly Irish story collection, perfect for fans of George Saunders's Tenth of December."
—Shelf Awareness

"[B]y turns subdued, witty and raucous. All 12 stories in this collection glisten with insight and poignancy."
—Kirkus Reviews, Starred Review

"[McCormack] effortlessly weaves Raymond Carver's lucidity together with Franz Kafka's otherworldly absurdity to craft narratives that seem familiar and satisfyingly strange at the same time."
—Library Journal, Starred Review

"McCormack's consummate craftsmanship and equal facility with black humor, sober realism, and speculative fiction distinguish him as one of Ireland's leading literary talents."
—Booklist

"McCormack's wry minitragedies punch above their weight... worth savoring."
—Publishers Weekly

"McCormack mimes the deep traditions of Irish short fiction—Samuel Beckett, Frank O'Connor and John McGahern all come to mind—and twists it a bit into a new directions with stories that are uniquely contemporary, often wildly funny, and always visionary. Beneath his clear, precise style is a renegade in action, working the form into new shapes. Just when you think it's impossible for another great book of stories to come roaring out of Ireland, along comes a brilliant collection, Forensic Songs."
—David Means, author of The Secret Goldfish

Praise for Notes from a Coma

"The greatest Irish novel of the decade just ended."
—Irish Times
 
"McCormack's language is lovely, lyrical...his humor is dark, macabre; the words glimmer like a spell."
—Time Out

"The finest book yet from one of Ireland's most singular contemporary writers."
—Matt Bell, author of In the House Upon the Dirt Between the Lake and the Woods

"The testimony about JJ's life is written with a sad and touching simplicity ... Intriguing."
—Wall Street Journal
 
"Subtle but haunting storytelling mixes with an insightful examination into the ethics of the penal system to produce an unusual and unforgettable read."
—Publishers Weekly, Starred Review
Soho Press, 9781616954147, 208pp.
Publication Date: July 8, 2014
About the Author
Mike McCormack has published the short story collection Getting It in the Head and two novels, Notes from a Coma and Crowe's Requiem. In 1996, McCormack was awarded the Rooney Prize for Irish Literature. In 1998, Getting It in the Head was voted a New York Times Notable Book of the Year.