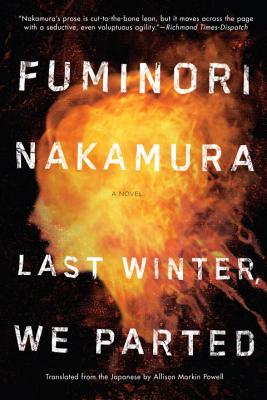 Last Winter, We Parted
Hardcover

* Individual store prices may vary.
Other Editions of This Title:
Digital Audiobook (10/20/2014)
Paperback (9/1/2015)
Compact Disc (10/21/2014)
MP3 CD (10/21/2014)
Compact Disc (10/21/2014)
Description
Instantly reminiscent of the work of Osamu Dazai and Patricia Highsmith, Fuminori Nakamura's latest novel is a dark and twisting house of mirrors that philosophically explores the violence of aesthetics and the horrors of identity.
A young writer arrives at a prison to interview a convict. The writer has been commissioned to write a full account of the case, from the bizarre and grisly details of the crime to the nature of the man behind it. The suspect, a world-renowned photographer named Kiharazaka, has a deeply unsettling portfolio lurking beneath the surface of each photograph is an acutely obsessive fascination with his subject.
He stands accused of murdering two women both burned alive and will likely face the death penalty. But something isn t quite right. As the young writer probes further, his doubts about this man as a killer intensify, and he struggles to maintain his sense of reason and justice. Is Kiharazaka truly guilty, or will he die to protect someone else?
Evoking Truman Capote's
In Cold Blood
and Ry nosuke Akutagawa's Hell Screen,
Last Winter, We Parted
is a twisted tale that asks a deceptively sinister question: Is it possible to truly capture the essence of another human being?
Praise For Last Winter, We Parted…
Praise for The Thief
 
Winner of Japan's Prestigious Ōe Prize
A Los Angeles Times Book Prize 2013 Finalist
A Wall Street Journal Best Fiction of 2012 Selection
A World Literature Today Notable Translation
An Amazon Best Mystery/Thriller of the Month

"I was deeply impressed with The Thief. It is fresh. It is sure to enjoy a great deal of attention."
—Kenzaburō Ōe, Nobel Prize-winning author of A Personal Matter
 
"Fascinating. I want to write something like The Thief someday myself."
—Natsuo Kirino, bestselling author of Edgar-nominated Out and Grotesque

"The Thief brings to mind Highsmith, Mishima and Doestoevsky . . . A chilling existential thriller leaving readers in doubt without making them feel in any way cheated."
 —Wall Street Journal, Best Book of the Year Selection

"An intelligent, compelling and surprisingly moving tale, and highly recommended."
—The Guardian
 
 "Nakamura's prose is cut-to-the-bone lean, but it moves across the page with a seductive, even voluptuous agility. I defy you not to finish the book in a single sitting."
—Richmond Times-Dispatch 

"Fuminori Nakamura's Tokyo is not a city of bright lights, bleeding-edge technology, and harajuku girls with bubblegum pink hair. In Nakamura's Japan, the lights are broken, the knives are bloodier than the tech, and the harajuku girls are aging single mothers turning tricks in cheap tracksuits. His grasp of the seamy underbelly of the city is why Nakamura is one of the most award-winning young guns of Japanese hardboiled detective writing."
—Daily Beast

"It's simple and utterly compelling - great beach reading for the deeply cynical. If you crossed Michael Connelly and Camus and translated it from Japanese."
—Grantland

"Surreal."
—Sacramento Bee, "Page-Turner" Pick

"Nakamura's writing is spare, taut, with riveting descriptions . . . Nakamura conjures dread, and considers philosophical questions of fate and control . . . For all the thief's anonymity, we come to know his skill, his powerlessness and his reach for life."
—Cleveland Plain Dealer
 
"Nakamura's memorable antihero, at once as believably efficient as Donald Westlake's Parker and as disaffected as a Camus protagonist, will impress genre and literary readers alike."
—Publishers Weekly

"Compulsively readable for its portrait of a dark, crumbling, graffiti-scarred Tokyo—and the desire to understand the mysterious thief."
—Booklist
 
"Disguised as fast-paced, shock-fueled crime fiction, Thief resonates even more as a treatise on contemporary disconnect and paralyzing isolation."
—Library Journal

"Nakamura's dark imagination gives rise to his literary world . . . the influences of Kafka and Dostoyevsky are not hard to spot.
—The Japan Times

"Fast-paced, elegantly written, and rife with the symbols of inevitability."
—ForeWord

"The Thief manages to wrap you up in its pages, tightly, before you are quite aware of it."
—Mystery Scene
 
"[An] extremely well-written tale . . . Readers will be enthralled by this story that offers an extremely surprising ending."
—Suspense Magazine
 
"Nakamura succeeds in creating a complicated crime novel in which the focus is not on the crimes themselves but rather on the psychology and physicality of the criminal. The book's power inheres in the voice of the thief, which is itself as meticulously rendered as the thief's every action."
—Three Percent
 
"Both a crime thriller and a character study, it is a unique and engrossing read, keeping a distant yet thoughtful eye on the people it follows . . . It's a haunting undercurrent, making The Thief a book that's hard to shake once you've read it."
—Mystery People
 
"The drily philosophical tone and the noir atmosphere combine perfectly, providing a rapid and enjoyable 'read' that is nonetheless cool and distant, provoking the reader to think about (as much as experience) the tale."
—International Noir Fiction
 

Praise for Evil and the Mask
 
"Karma runs thicker than blood in Evil and the Mask, the thought-provoking and unpredictable new novel by the Japanese zen-noir master Fuminori Nakamura."
—Wall Street Journal

"This literary thriller steeps the reader in humanity's dark nature and the struggle of those who try to resist their own moral corruption."
—Library Journal

"Deals with basic questions of good and evil, guilt and remorse. Cryptic detectives, smoky nightclubs, and murky streets in Japanese suburbs add to the noir sensibility. At times bizarre, at times hallucinatory, the story is always provocative."
—Publishers Weekly

"Evil and the Mask is a hard-to-put-down novel of ideas and a savage comment on nihilism, both Japanese and global . . . Shouldn't be missed."
—Booklist, Starred Review

"Deliciously twisted . . . Nakamura bend[s] the line between what is good and what is evil until it nearly breaks. It's impressive how a book so dark can be so much fun." 
—Grantland

"This literary thriller steeps the reader in humanity's dark nature and the struggle of those who try to resist their own moral corruption."
—Library Journal

"Evil and the Mask is concerned with a twisty sense of morality: is Fumihiro born evil, and can he escape the cruelty associated with his surname?"
—Omnivoracious

"Evil and the Mask is a brilliant novel from one of Japan's most current authors . . . If you love Patricia Highsmith, you'll love Nakamura."
—Globe and Mail
 
"Evil and the Mask is an engrossing account . . . The story is violent, revengeful, and often disagreeable but it still contains that hypnotic voice that makes you want to read more." 
—Midwest Book Review 

"Evil and the Mask delves even further into the dark . . . [It] grapples with murder, war and a deep distrust of society that manifests itself in disturbing ways."
—The Japan Times

"Evil and the Mask, the second book of his to be available in English, is undoubtedly the narrative that will help cement him as the new master of Japanese noir . . . an absolute must-read."
—Out of the Gutter Magazine

"[Evil and the Mask is] full of themes that everyone can appreciate . . . Nakamura blurs the line between light and dark, good and evil. He illustrates that nothing in life is completely black and white." 
—Tulsa Books Examiner
Soho Press, 9781616954550, 216pp.
Publication Date: October 21, 2014
About the Author
Fuminori Nakamura was born in 1977 and graduated from Fukushima University in 2000. He has won numerous prizes for his writing, including the e Prize, Japan s largest literary award; the David L. Goodis Award; and the prestigious Akutagawa Prize. The Thief, his first novel to be translated into English, was a finalist for the Los Angeles Times Book Prize. His other novels include Evil and the Mask and The Gun."
or
Not Currently Available for Direct Purchase