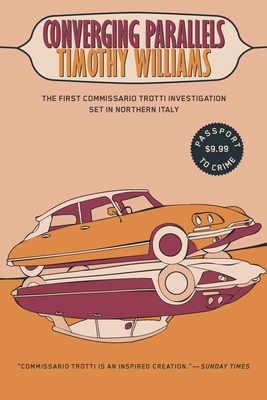 Converging Parallels (Inspector Trotti #1) (Paperback)
Soho Crime, 9781616954604, 320pp.
Publication Date: October 7, 2014
* Individual store prices may vary.
Description
A small-town kidnapping presents a major problem for Commissario Trotti—and draws us into CWA Award winner Timothy Williams' debut, set against the rich backdrop of a provincial Italian city.

Northern Italy, 1978: Commissario Piero Trotti, trusted senior police investigator in an anonymous provincial city off the River Po, has two difficult cases to solve. A dismembered body has been found in the river, and it's up to Trotti to figure out who the murder victim is. At the same time, an estranged friend approaches Trotti with a desperate personal plea: his six-year-old daughter—Trotti's own goddaughter—has been kidnapped. In the wake of the high-profile kidnapping of Aldo Moro, president of Italy's majority party, faith in law enforcement is at an all-time low, and it's no surprise the distraught father isn't willing to take this matter to the police.
About the Author
CWA award-winning author Timothy Williams has written six crime novels set in Italy featuring Commissario Piero Trotti as well as two novels set in the French Caribbean, Another Sun and The Honest Folk of Guadeloupe. Born in London and educated at St. Andrews, Williams has taught at the universities of Poitiers in France, Bari and Pavia in Italy, at Jassy in Romania, and most recently in the French West Indies. The Observer placed him among the ten best modern European crime novelists.
Praise For Converging Parallels (Inspector Trotti #1)…
Praise for Converging Parallels

"By far the best thriller to appear so far this year and I cannot truly see it being bettered . . . The atmosphere is electric and the writing is stylish yet tense."
—Punch Magazine
 
"Commissario Trotti is an inspired creation . . . As well as being an accomplished thriller, the story casts a stark light on the political corruption which is rife in Italy."
—The Sunday Times
 
"In Converging Parallels, Timothy Williams combines a lament for a decaying society with a kidnapping case in a small, municipally proud, communist controlled Italian city...a bright new talent."
—Guardian
 
"You don't often get detectives as roundly and palpably portrayed as Trotti."
—Oxford Times  
 
"A masterful work."
—Républicain (France)
 
"A wonderful picture of Italy during the time of the Red Brigades."
—Elle (France)
 
"Impressive debut of a sternly likable Italian policeman/sleuth . . . shapely plot twists and muted, off-beat character portraits."
—Kirkus
 
"A gripping story, with skillfully humanized characters."
—Publishers Weekly
 
 "A glimpse of authentic contemporary life in Italy....[Converging Parallels] is clever and interesting."
—West Coast Review of Books  
 
"The atmosphere is convincing, the characters vivid....You will need your wits about you for this one, but it's worth it for its twists and turns and sombre north Italian background."
—Homes and Gardens

"Full of atmosphere and suitably strange characters."
—South Bend Tribune


Praise for the Commissario Piero Trotti series

"A delight."
—The Observer, "10 Best Modern European Crime Writers"
 
"Subtle, tense and gripping."
—Val McDermid

"Trotti, whose patch is an unnamed small town in northern Italy, is dogged, cynical, and worries about his wife and anorexic daughter. But above all, he's honest in a society and political system in which corruption flourishes."
—Sunday Times

"Commissario Trotti is clever and tough....His investigation is fascinating to an American reader because it offers insights into the Italian power structure, which is far more interesting than it is stable."
—Newsday
 
"Long live Trotti."
—Financial Times
 
"Superb."
—The Scotsman

"Breathtakingly good."
—Evening Standard

"Wake up and smell the grappa. Big Italy is a chilling education, a scalpel-sharp exploration of Italy's body politic. Timothy Williams knows the ABC of corruption—Andreotti, Berlusconi, Craxi—and is a convincing and compelling voice."
—Ian Rankin
 
"The ageing moody Trotti is a subtle and convincing creation; the other characters are portrayed with depth and sensitivity, and the Italian atmosphere is authentically beguiling. First-rate in every way."
—The Times
 
"Simple but stylish... [Williams's] plotting [is] impeccable."
—Time Out
 
"Fans of dark-edged, politically textured Euro-mystery will want to keep track of Trotti's adventures."
—Kirkus Reviews
 
"Stylish and excellent. Those who like Dibdin will eat it up."
—Lionel Davidson
 
"Williams writes like an angel. He does, but thank Beelzebub, it's a mongrel angel with a bit of fiend about him."
—Oxford Times
 
"Trotti himself is perversely lovable; totally dedicated but not without dark, self-deprecating humor."
—Booklist

"Williams points to specific and specifically Italian corruption. His indirect style is particularly suited to the frequently indirect patterns of life and crime in Italy, without falling back on the more picturesque or charming qualities of life there for solace."
—International Noir Fiction