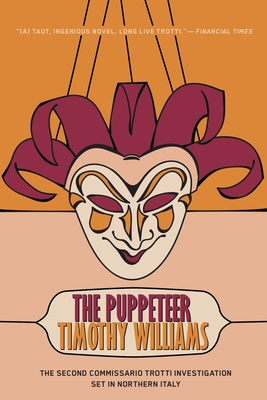 The Puppeteer (Inspector Trotti #2)
Paperback

* Individual store prices may vary.
Description
Northern Italy, 1982: Inspector Piero Trotti is enjoying his breakfast at a café when gunmen drive up and shoot the man sitting at the next table. Was Trotti their intended target? He isn't sure. The case falls under the jurisdiction of the local Carabinieri, but Trotti decides to make his own inquiries.

The Puppeteer is the follow-up to CWA award-winner Timothy Williams's dazzling crime fiction debut, Converging Parallels. This tautly written novel brings us to the depths of a corrupt, scheming Italian society in which bank officials, clergymen, masons, lawyers, and, of course, politicians are all suspect of resorting to criminal activity for personal gain. Only the police are presumed trustworthy, and even they are sorely divided by departmental rivalries and jealousies.
Praise For The Puppeteer (Inspector Trotti #2)…
Praise for The Puppeteer

"The dialogue is a joy . . . [a] taut, ingenious novel. Long live Trotti."
—Financial Times
 
"Commissario Trotti is clever and tough . . . His investigation is fascinating to an American reader because it offers insights into the Italian power structure, which is far more interesting than it is stable."
—Newsday
 
"A reader has to be quick on his mental feet to follow Williams through [The Puppeteer], but the reading is worth the challenge."
—Charlaine Harris
 
"A fine novel for those seeking something a little out of the ordinary . . . a phlegmatic, intellectual detective, and a North Italian milieu flavored with oregano, olive oil, left-wing polities and crime . . . The plotting is crisp and the details pungent."
—Chicago Sun-Times

"Trotti, whose patch is an unnamed small town in northern Italy, is dogged, cynical, and worries about his wife and anorexic daughter. But above all, he's honest in a society and political system in which corruption flourishes."
—The Sunday Times
 
"Castaing, Maigret and their colleagues will welcome Piero Trotti to their ranks with pleasure . . . expert dialogue, realistic characterisation and evocative sense of time and place . . . [A] sophisticated thriller."
—Irish Times
 
"Trotti is a detective one would be happy to meet again."
—Sunday Independent (Ireland)

"You don't often get detectives as roundly and palpably portrayed as Timothy Williams's Trotti . . . [The murderer's] true identity is brilliantly concealed by Williams among a cast or characters as memorable and as vulnerable as Trotti himself. "
—Oxford Times

"A first-rate series of procedurals . . . The mouthwatering glimpses of the Italian countryside provide just enough flavor of everyday Italy to make the revelations convincing. The writing is taut and exact and the tensions among characters and between past and present are often subtly drawn."
—San Jose Mercury News
 
 "Packed with deception, incident and intrigue."
—Bolton Evening News
 
"Williams, a gifted storyteller, has created another stupendous mystery."
—Publishers Weekly

"With Williams's impressively detailed backgrounds and quietly effective narration, the north-Italy milieu remains somberly distinctive —so fans of dark-edged, politically textured Euro-mystery will want to keep track of Trotti's adventures."
—Kirkus Reviews

"An interesting combination: Italian history, police systems, a crime and a human, suffering policeman . . . A very good thriller."
—Jewish Gazette

"A complex, tautly-written thriller."
—Woman's World

"Filled with offbeat characters. Williams's tense, stylish writing creates another easy-to-read 'whodunit' for mystery fans."
—Asheville Citizen Times

"Trotti is diligent, honest and smart . . . [His investigation] works out amid realistic backgrounds of family, cities, offices, restaurants, cars, highways, and Italian police procedure."
—Ormand Beach News

"[The Puppeteer's] storyline is involved, revolving around an Italian society of twisted family loyalties and bureaucratic deceptions. Trotti himself is a creature of single-mindedness and brutal effectiveness, stripping away layers of red tape and exposing a colorful collection of suspects. Solid genre fane."
—PLR

"[Williams's] characters are richly delineated and the plot is carried forward in alternating passages of vivid visual storytelling and realistic, oblique, and frequently darkly comic dialogue . . . Don't expect neat resolutions, though. Like Donna Leon, Williams refuses neat endings and portrays even more definitively than Leon the corruption that forecloses justice in Italy."
—International Noir Fiction


Praise for the Commissario Piero Trotti series 

"A delight."
—The Observer, "10 Best Modern European Crime Writers"
 
"Subtle, tense and gripping."
—Val McDermid
 
"Superb."
—The Scotsman

"Breathtakingly good."
—Evening Standard

"Wake up and smell the grappa. Big Italy is a chilling education, a scalpel-sharp exploration of Italy's body politic. Timothy Williams knows the ABC of corruption—Andreotti, Berlusconi, Craxi—and is a convincing and compelling voice."
—Ian Rankin

"The ageing moody Trotti is a subtle and convincing creation; the other characters are portrayed with depth and sensitivity, and the Italian atmosphere is authentically beguiling. First-rate in every way."
—The Times
 
"Simple but stylish . . . [Williams's] plotting [is] impeccable."
—Time Out
 
"Fans of dark-edged, politically textured Euro-mystery will want to keep track of Trotti's adventures."
—Kirkus Reviews
 
"Stylish and excellent. Those who like Dibdin will eat it up."
—Lionel Davidson
 
"Williams writes like an angel. He does, but thank Beelzebub, it's a mongrel angel with a bit of fiend about him."
—Oxford Times
 
"Trotti himself is perversely lovable; totally dedicated but not without dark, self-deprecating humor."
—Booklist

"Commissario Trotti is an inspired creation." 
—Sunday Times
Soho Crime, 9781616954628, 304pp.
Publication Date: November 11, 2014
About the Author
CWA award-winning author Timothy Williams has written six crime novels set in Italy featuring Commissario Piero Trotti, as two novels set in the French Caribbean, Another Sun and The Honest Folk of Guadeloupe. In 2011, The Observer placed him among the ten best modern European crime novelists. Born in London and educated at St. Andrews, Williams has taught at the universities of Poitiers in France, Bari and Pavia in Italy, and at Jassy in Romania. He taught for thirty in the French West Indies but now spends his time between Europe and Africa. For more information, visit his website: https://www.facebook.com/thdw.co.uk.
or
Not Currently Available for Direct Purchase