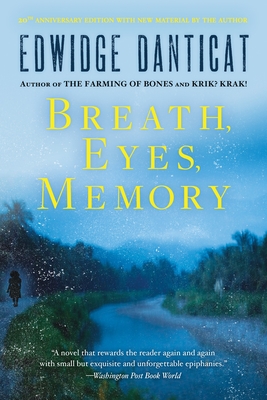 Breath, Eyes, Memory
Paperback

* Individual store prices may vary.
Other Editions of This Title:
Digital Audiobook (7/23/2015)
Description
The 20th anniversary edition of Edwidge Danticat's groundbreaking debut, now an established classic--revised and with a new introduction by the author, and including extensive bonus materials

At the age of twelve, Sophie Caco is sent from her impoverished Haitian village to New York to be reunited with a mother she barely remembers. There she discovers secrets that no child should ever know, and a legacy of shame that can be healed only when she returns to Haiti—to the women who first reared her. What ensues is a passionate journey through a landscape charged with the supernatural and scarred by political violence. In her stunning literary debut, Danticat evokes the wonder, terror, and heartache of her native Haiti—and the enduring strength of Haiti's women—with vibrant imagery and narrative grace that bear witness to her people's suffering and courage.
Praise For Breath, Eyes, Memory…
Praise for Breath, Eyes, Memory

Oprah Book Club Selection

"Vibrant, magic . . . Danticat's elegant, intricate tale wraps readers into the haunting life of a young Haitian girl."
—The Boston Globe

"Danticat's calm clarity of vision takes on the resonance of folk art . . . Extraordinarily successful."
—The New York Times Book Review

"A novel that rewards the reader again and again with small but exquisite and unforgettable epiphanies."
—Washington Post Book World

"Written in prose as clear as a bell, magical as a butterfly, and resonant as drum talk . . . An impressive debut."
—Julia Alvarez, author of In the Time of the Butterflies

"Reading Edwidge Danticat's first novel, Breath, Eyes, Memory, for the first time in 2015 is a remarkable experience . . . It is clear in retrospect that this is a novel whose literary resonance has been profound, one that opened many doors for others—without it, would we have The Brief and Wondrous Life of Oscar Wao?"
—Barnes and Noble Review

"Danticat has created a stirring tale of life in two worlds: the spirit-rich land of her ancestry, whose painful themes work their way through lives across generational lines, and her adopted country, the United States, where a young immigrant girl must negotiate cold, often hostile terrain, even as she spars with painful demons of her past."
—Emerge

"A distinctive new voice with a sensitive insight into Haitian culture distinguishes this graceful debut novel . . . In simple, lyrical prose enriched by an elegiac tone and piquant observations, [Danticat] makes Sophie's confusion and guilt, her difficult assimilation into American culture and her eventual emotional liberation palpably clear."
—Publishers Weekly
Soho Press, 9781616955021, 288pp.
Publication Date: February 24, 2015
About the Author
Edwidge Danticat is the author of numerous books, including Brother, I'm Dying, which won the National Book Critics Circle Award and was a National Book Award finalist; Breath, Eyes, Memory, an Oprah Book Club selection; Krik? Krak!, a National Book Award finalist; The Dew Breaker, winner of the inaugural Story Prize; The Farming of Bones, which won an American Book Award for fiction in 1999; and Claire of the Sea Light. The recipient of a MacArthur Fellowship, she has been published in The New Yorker, The New York Times, and elsewhere.
Why do you think the author uses French and Haitian
Creole words throughout the text? What does the use of
either or both languages suggest about class differences
among the characters in the novel?
How is the use of the colors yellow, red, and blue
significant in the novel? What do you think they mean?
In the first section of the book, Sophie is often seen pulling a sheet over
her head. Why do you think she does that? How do those moments
compare to her mother pulling the sheet over her body after she gives
her the "test" for the first time?
What does Martine mean by "There are secrets you cannot keep." How
does Sophie interpret those words?
How would you interpret the story of the woman who "walked around
with blood constantly spurting out of her unbroken skin." How does
that story relate to the lives of the Caco women?
Why does Martine finally return to Haiti after staying away for so
long? Do you think it was a good idea for her to go?
The Caco women seem to mostly communicate through stories. Why
do you think that is? What roles do maxims and proverbs play in the
novel?
Near the end of the book, Tante Atie says, "Young girls should be
allowed to keep their pleasant stories." Do you agree? Should everyone
be allowed to keep their pleasant stories, even when surrounded by
dark realities? Do the Caco women have any pleasant stories?
Joseph is extremely understanding, both as a husband and as a father.
Is he over-idealized or is he just the kind of man Sophie needs in
her life? Do you think things would have turned out differently for
Martine if Marc were more like Joseph?
At the end of the novel, Sophie's grandmother asks her, "Ou libere? Are
you free, my daughter?" She also tells her, "Now you will know how to
answer." How do you think Sophie would answer? How would you?