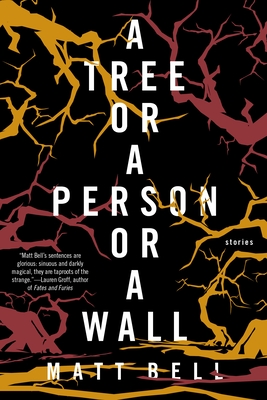 A Tree or a Person or a Wall
Stories
Paperback

* Individual store prices may vary.
Other Editions of This Title:
Digital Audiobook (9/12/2016)
Description
Here we have Matt Bell at his most inventive and uncanny: parents and children, murderers and monsters, wild renditions of the past, and stunning visions of the present, all of which build to a virtuoso reimagining of our world.

A 19th-century minister builds an elaborate motor that will bring about the Second Coming. A man with rough hands locks a boy in a room with an albino ape. An apocalyptic army falls under a veil of forgetfulness. The story of Red Riding Hood is run through a potentially endless series of iterations. A father invents an elaborate, consuming game for his hospitalized son. Indexes, maps, a checkered shirt buried beneath a blanket of snow: they are scattered through these pages as clues to mysteries that may never be solved, lingering evidence of the violence and unknowability of the world.

A Tree or a Person or a Wall brings together Bell's previously published shorter fiction—the story collection How They Were Found and the acclaimed novella Cataclysm Baby—along with seven dark and disturbing new stories, to create a collection of singular power.
Praise For A Tree or a Person or a Wall: Stories…
Praise for A Tree or a Person or a Wall: Stories

A Chicago Review of Books Best of 2016

"A specific kind of focused pain forms the language of Bell's tales... These stories take "everyday" horrors like hoarding, missing children, and cultural unrest, and saturate them with the kind of rich, layered text that make the works of Tolkien and George R. R. Martin so enduring."
—Los Angeles Review of Books

"Both [explores] new worlds and [does] unexpected things with language, structure, and style along the way... telling stories of surreal visitations, obsessions, and moments when the nature of reality becomes decidedly ambiguous. They're memorable and haunting in equal measure."
—Tobias Carroll for Tor.com

"Bell joins a class of genre-blind writers that include Karen Russell, China Miéville and Emily St. John Mandel... Doom-inflected poetics aside, Bell tells deeply human stories that resonate in odd, sad ways."
—Shelf Awareness

"Matt Bell has become a force in American literature and this is in no small part due to his flexibility in style... A Tree or a Person or a Wall is perhaps the most comprehensive example of his stylistic diversity." 
—Vol1 Brooklyn

"The last time Matt Bell released a book with a longish compound title (In the House upon the Dirt between the Lake and the Woods) I was blown away, and this collection of his short fiction (A Tree or a Person or a Wall) was no different."
—The Chicago Review of Books

"These fables plumb the depths of human longing... a collection that resonates like a tuning fork, lingering after the book is closed."
—Publishers Weekly

"A clutch of stories with a flavor of the experimental, the apocalyptic, and often both...Admirable efforts to strip familiarity and sentiment from stories of humanity at its worst." 
—Kirkus Reviews

"Told in a mythic, ­omniscient voice, some of these pieces read like cruel fairy tales... Imagine a tale from Lydia Davis on a bad trip... smart and edgy." 
—Library Journal

"There is nothing remotely close to filler within A Tree or a Person or a Wall... each sentence, and paragraph, are the type that you want to read a second or third time."
—Dan Wickett, Founder, Emerging Writers Network and Dzanc Books

"Matt Bell blurs the often fine lines between literary and genre fictions, allegory and horror, magical realism and bizarro... Bell's tales are all told in a distinctly confident and haunting voice, rendering an unforgettable reading experience every time."
—The New York Journal of Books

Praise for Matt Bell

"Mr. Bell has written a gripping, grisly tale of a husband's descent into and ultimate emergence from some kind of personal hell."
—The New York Times

"Matt Bell's sentences are glorious: sinuous and darkly magical, they are taproots of the strange."
—Lauren Groff, author of Fates and Furies

"In extraordinary language, with deep feeling, Matt Bell has crafted a baby name book for the apocalypse, a gorgeous, brilliant, often darkly hilarious and always moving novella . . . I loved this book and want to recommend it to every human parent and child I know."
—Karen Russell, author of Swamplandia!

"It's hard to imagine a book more difficult to pull off, but Bell proves as self-assured as he is audacious . . . One of the smartest meditations on the subjects of love, family and marriage in recent years."
—NPR

"For readers weary of literary fiction that dutifully obeys the laws of nature, here's a story that stirs the Brothers Grimm and Salvador Dalí with its claws . . . As gorgeous as it is devastating."
—The Washington Post
Soho Press, 9781616955236, 400pp.
Publication Date: September 13, 2016
About the Author
Matt Bell is the author most recently of the novels Scrapper (a Michigan Notable Book) and In the House upon the Dirt between the Lake and the Woods (a finalist for the Young Lions Fiction Award and an Indies Choice Adult Debut Book of the Year Honor Recipient, as well as the winner of the Paula Anderson Book Award). His stories have appeared in Best American Mystery Stories, Tin House, Conjunctions, Fairy Tale Review, Gulf Coast, and many other publications. A native of Michigan, he now teaches creative writing at Arizona State University.