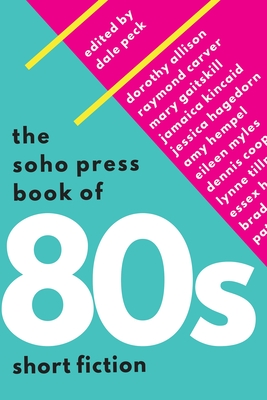 The Soho Press Book of '80s Short Fiction
Paperback

* Individual store prices may vary.
Description
In The Soho Press Book of '80s Short Fiction, editor Dale Peck offers readers a fresh take on a seminal period in American history, when Ronald Reagan was president, the Cold War was rushing to its conclusion, and literature was searching for ways to move beyond the postmodern unease of the 1970s.

Morally charged by newly politicized notions of identity but fraught with anxiety about a body whose fragility had been freshly emphasized by the AIDS epidemic, the 34 works gathered here are individually vivid, but taken as a body of work, they challenge the prevailing notion of the '80s as a time of aesthetic as well as financial maximalism. Formally inventive yet tightly controlled, they offer a more expansive, inclusive view of the era's literary accomplishments.

The anthology blends early stories from writers like Denis Johnson, Jamaica Kincaid, Mary Gaitskill, and Raymond Carver, which have gone on to become part of the American canon, with remarkable and often transgressive work from some of the most celebrated writers of the underground, including Dennis Cooper, Eileen Myles, Lynne Tillman, and Gary Indiana. Peck has also included powerful work by writers such as Gil Cuadros, Essex Hemphill, and Sam D'Allesandro, whose untimely deaths from AIDS ended their careers almost before they had begun. Almost a third of the stories are out of print and unavailable elsewhere.

The Soho Press Book of '80s Short Fiction is a daring reappraisal of a decade that is increasingly central to our culture.
Praise For The Soho Press Book of '80s Short Fiction…
Praise for The Soho Press Book of '80s Short Fiction

"It was the decade when the short stories that appeared in magazines demanded to be read, and not only by other writers. Odd-cornered in form, their prose unshowy, they spoke straightforwardly of grittier experiences, of things like class and substance abuse and bad sex. They were tender. And yet they had an effect not unlike a blade to the heart."
—Vogue

"The Soho Press Book of 80s Short Fiction, edited by Dale Peck, delivers 34 seminal stories about pickup artists, gender benders, working-class heroes, and zonked-out dreamers that seem tailor-made for this bumptious election year."
—Elle Magazine

"The year's best anthology collects some of the most enduring fiction of the 1980s. And it's fronted by a bravura essay from Dale Peck on the decade's politics and art. Indispensable."
—Flavorwire

"A diverse collection of short stories from the politicized decade of Reagan and the AIDS crisis...Features work from luminaries like Raymond Carver, Eileen Myles, Denis Johnson, and Jamaica Kincaid, as well as important '80s writers who may have faded from memory but whom we shouldn't forget."
—Thrillist

"[The Soho Press Book of '80s Short Fiction] avoids cliché or nostalgia in favor of an unexpected and refreshingly inclusive point of view. Peck's collection masterfully evokes the range and diversity of its era."
—Kirkus Reviews, Starred Review

"With an emphasis on gay and lesbian authors, Peck has assembled a powerful collection that celebrates writers who "found strength in the very traits that had been used to vilify them."
—Booklist

"This is a thoughtful, provocative, and important anthology highlighting a seminal decade in the written arts. The author Dale Peck, its editor, has chosen each piece with care and much discernment."
—A&U Magazine
Soho Press, 9781616955465, 592pp.
Publication Date: June 7, 2016
About the Author
Dale Peck is the author of twelve books in a variety of genres, including Martin and John, Hatchet Jobs, and Sprout. His fiction and criticism have appeared in dozens of publications, and have earned him two O. Henry Awards, a Pushcart Prize, a Lambda Literary Award, and John Simon Guggenheim Memorial Fellowship. He lives in New York City, where he has taught in the New School's Graduate Writing Program since 1999.

With contributions from:
Mary Gaitskill, Bret Easton Ellis, Denis Johnson, Jamaica Kincaid, Raymond Carver, A.M. Homes, Amy Hempel, Susan Minot, Patrick McGrath, Dorothy Allison, Eileen Myles, Dennis Cooper, Jessica Hagedorn, Lynne Tillman, Christopher Bram, Robert Glück, Brad Gooch, Gary Indiana, Jim Lewis, Suzanne Gardinier, Sarah Schulman, Laurie Weeks, Sam D'Allesandro, Bruce Benderson, Dodie Bellamy, David Wojnarowicz, Essex Hemphill, Jaime Manrique, John Keene, Gil Cuadros, Kevin Killian, Randall Kenan, and Rebecca Brown.