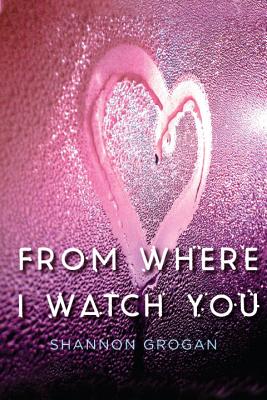 From Where I Watch You
Hardcover

* Individual store prices may vary.
Other Editions of This Title:
Paperback (6/14/2016)
Description
Sixteen-year-old Kara is about to realize her dream of becoming a professional baker. Beautifully designed and piped, her cookies are masterpieces, but also her ticket out of rainy Seattle—if she wins the upcoming national baking competition and its scholarship prize to culinary school in California. Kara can no longer stand the home where her family lived, laughed, and ultimately imploded after her mean-spirited big sister Kellen died in a drowning accident. Kara's dad has since fled, and her mom has turned from a high-powered attorney into a nutty holy-rolling Christian fundamentalist peddling "Soul Soup" in the family café. All Kara has left are memories of better times.

But the past holds many secrets, and they come to light as Kara faces an anonymous terror: Someone is leaving her handwritten notes. Someone who knows exactly where she is and what she's doing. As the notes lead her to piece together the events that preceded Kellen's terrible, life-changing betrayal years before, she starts to catch glimpses of her dead sister: an unwelcome ghost in filthy Ugg boots. If Kara doesn't figure out who her stalker is, and soon, she could lose everything. Her chance of escape. The boy she's beginning to love and trust. Even her life.
Praise For From Where I Watch You…
Praise for From Where I Watch You
"Lyrical prose + riveting mystery + mouth-watering baked goods = one of the best books I've read in years. I stayed up too late, creeped out and glued to the pages. Shannon's debut marks her as a voice to watch."
—Mandy Hubbard, author of Prada and Prejudice and Fool Me Twice

"From Where I Watch You is impossible to put down, as addictive as the sugar cookies the main character loves to bake. The story's many ingredients make it uniquely suspenseful, multi-layered, and easy to gobble up. I couldn't stop!"
—Janet Gurtler, bestselling author of I'm Not Her

"This powerful debut [will keep readers] guessing until the end, which is shocking as the final details are revealed . . . A suspenseful and fast-paced read . . . This novel will do well in YA collections where dark, realistic fiction is in demand." 
—School Library Journal

"The story builds and sustains tension deftly, offering just the right level of clues as to the identity of the stalker. Kara's love of baking is a nifty distinguishing feature, and the author includes her cookie recipe at the end. Involving and suspenseful."
—Kirkus Reviews

"A mingling of creepy and cautionary—everyone being so caught up in themselves they fail to see what is happening to those closest to them."
—VOYA

"I loved Kara's voice. Filled with sweet and spicy characters, From Where I Watch You is a delectable YA thriller."
—Jeanne Ryan, author of NERVE

"From Where I Watch You is a delicious young adult suspense [novel]."
—FreshFiction.com

Soho Teen, 9781616955540, 304pp.
Publication Date: August 4, 2015
About the Author
Shannon Grogan is a second grade teacher who writes at night (and while her kids are at ballet and baseball) in a small logging town east of Seattle. She holds degrees in education and graphic design/illustration. When she isn't writing, she's baking, reading, watching scary movies, and wishing she were at the beach. You can find out more about her online at www.shannongrogan.com. From Where I Watch You is her first novel.
or
Not Currently Available for Direct Purchase