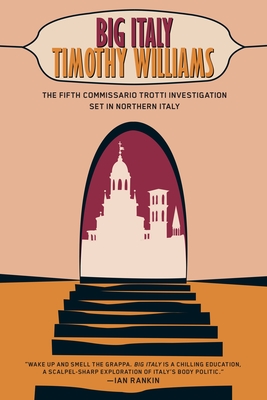 Big Italy (Inspector Trotti #5) (Paperback)
Soho Crime, 9781616955786, 352pp.
Publication Date: February 10, 2015
* Individual store prices may vary.
Description
Northern Italy, 1993: After what seems like several lifetimes as a policeman in the Questura, Commissario Trotti is ready for retirement. Soon, he'll be able to fulfill his dream of moving to the countryside villa he co-owns with his cousin, where his daily business will be tending to goats and chickens.

But despite Trotti's stubbornly old-fashioned investigative methods and his disregard for social niceties, there are several people trying to talk him out of retirement. Trotti's boss offers him a golden opportunity as head of the Questura's new child abuse division.

Meanwhile, Fabrizio Bassi, a reckless, womanizing private detective who worked under Trotti years ago before being kicked off the force, approaches him for help. Bassi has been investigating the death of a murdered doctor, and he has a conspiracy theory that extends to the highest reaches of government. Trotti declines, annoyed by the request. But when Bassi is found in a ditch with a bullet in his head, Trotti decides to take on one last murder case after all.
About the Author
CWA award-winning author Timothy Williams has written six crime novels set in Italy featuring Commissario Piero Trotti, as two novels set in the French Caribbean, Another Sun and The Honest Folk of Guadeloupe. In 2011, The Observer placed him among the ten best modern European crime novelists. Born in London and educated at St. Andrews, Williams has taught at the universities of Poitiers in France, Bari and Pavia in Italy, and at Jassy in Romania. He taught for thirty in the French West Indies but now spends his time between Europe and Africa. For more information, visit his website: https://www.facebook.com/thdw.co.uk.
Praise For Big Italy (Inspector Trotti #5)…
Praise for Big Italy

"Subtle, tense and gripping, Big Italy explores the corruption that feeds on Italian life, from the top to the bottom of the pile. The dialogue is oblique and spare, the breakdowns in communication reflecting the corrosion of relationships between vivid and credibly drawn characters." 
—Val McDermid, Manchester Evening News

"Splendidly realised in four previous novels, Timothy Williams's morose Italian [Commissario Trotti] is contemplating retirement . . . Williams's pared-down descriptions and staccato dialogue are a constant pleasure."
—Financial Times 

"Commissario Trotti is an inspired creation." 
—Sunday Times

"Stylish and excellent. Those who like Dibdin will eat it up." 
—Lionel Davidson

"Wake up and smell the grappa. Big Italy is a chilling education, a scalpel-sharp exploration of Italy's body politic. Timothy Williams knows the ABC of corruption—Andreotti, Berlusconi, Craxi—and is a convincing and compelling voice."
—Ian Rankin

"A glorious, intoxicating mix of Italian melodrama and mystery lovingly brought to life by a writer who really takes you there. Grazie, Signor Williams."
—David Jensen, Capital Radio
  
"Williams serves up rich and complex plots about politics, corruption and love . . . Strong characters, a twisting plot and rich in Italian atmosphere."
—Lancashire Evening Post
 
"The highly praised Timothy Williams has created a splendid character in Commissario Trotti. The writer's spare dialogue and descriptive skills are put to eloquent work to evoke corruption and conspiracy in Big Italy."
—Evening Express
 
"Beautifully told by Williams who controls the whole [storyline] with great skill."
—Birmingham Evening Post
 
"[Williams] is perhaps the best of the distinguished crop of non-Italian crime fiction writers whose work is set in Italy, a literary generation that includes Donna Leon, Magdalen Nabb, and Michael Dibdin . . . I can wholeheartedly encourage readers who are interested in atypical, ambitious, and atmospheric crime writing to [try the] Trotti novels."
—International Noir Fiction
 
"[Williams's] brilliant ear for dialogue puts one in mind of George V. Higgins and every character is sketched in with an artist's eye for colour and contrast. A sheer delight."
—Crime and Detective Stories
 
"A complex and fascinating tale of love, politics and corruption. Highly recommended."
—Publishing News
 
"Set within a contemporary Italian milieu, Timothy Williams's latest book comes across as a labour of love, possessing a patient fidelity in portraying Italian life and mores. Finely constructed . . . political scandal, murder and, of course, food, served in generous yet healthy portions. A Mediterranean diet to be savoured."
—Crime Trail

"Big Italy is the sort of novel Hammett might have written if he'd lived in Italy in the eighties or early nineties. Big themes, lots of cynicism and the overall impression of powerlessness when faced with corruption . . . Timothy Williams is a major contender." 
—Tangled Web


Praise for the Commissario Piero Trotti series 
 
"A delight."
—The Observer, "10 Best Modern European Crime Writers"

"Commissario Trotti is clever and tough . . . His investigation is fascinating to an American reader because it offers insights into the Italian power structure, which is far more interesting than it is stable."
—Newsday

"Superb."
—The Scotsman

"Breathtakingly good."
—Evening Standard
 
"The ageing moody Trotti is a subtle and convincing creation; the other characters are portrayed with depth and sensitivity, and the Italian atmosphere is authentically beguiling. First-rate in every way."
—The Times
 
"Simple but stylish . . . [Williams's] plotting [is] impeccable."
—Time Out
 
"Fans of dark-edged, politically textured Euro-mystery will want to keep track of Trotti's adventures."
—Kirkus Reviews
 
"Stylish and excellent. Those who like Dibdin will eat it up."
—Lionel Davidson
 
"Williams writes like an angel. He does, but thank Beelzebub, it's a mongrel angel with a bit of fiend about him."
—Oxford Times
 
"Trotti himself is perversely lovable; totally dedicated but not without dark, self-deprecating humor."
—Booklist
or
Not Currently Available for Direct Purchase