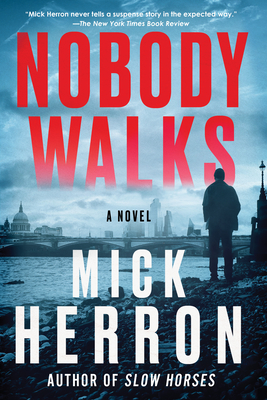 Nobody Walks
Paperback

* Individual store prices may vary.
Other Editions of This Title:
Digital Audiobook (2/16/2015)
Description
Set in the same fictional London as his CWA Gold Dagger Award-winning Slough House spy series, Mick Herron now introduces Tom Bettany, a man with a violent past and only one thing to live for: Avenging his son's death.

Tom Bettany is working at a meat processing plant in France when he gets a voicemail from an Englishwoman he doesn't know telling him that his estranged 26-year-old son is dead—Liam Bettany fell from his London balcony, where he was smoking pot.

Now for the first time since he cut all ties years ago, Bettany returns home to London to find out the truth about his son's death. Maybe it's the guilt he feels about losing touch with Liam that's gnawing at him, or maybe he's actually put his finger on a labyrinthine plot, but either way he'll get to the bottom of the tragedy, no matter whose feathers he has to ruffle. But more than a few people are interested to hear Bettany is back in town, from incarcerated mob bosses to those in the highest echelons of MI5. He might have thought he'd left it all behind when he first skipped town, but nobody ever really walks away.
Praise For Nobody Walks…
Praise for Nobody Walks

2015 Ian Fleming Steel Dagger Award Shortlist
Nancy Pearl "Best Reads" of 2015
A Booklist Best Crime Novel of 2015
One of Booklist's "101 Best Crime Novels of the Last Decade"

"Fast-moving and deeply cynical, yet thoroughly heartfelt, this is a first-rate modern thriller."
—Daily Mail

"Blackly comic."
—The Sunday Times

"English author Mick Herron writes thrillers that are smart in the places that count. Smart prose, smart plotting."
—Toronto Star

"Enough suspense and action to keep thriller fans happy but it also has a strong psychological component. The final revelation in this story will it will knock you backwards."
—Daily Star

"A deep evocation of the consequences of both violence and revenge."
—Los Angeles Review of Books

"[A] superb thriller . . . Herron may be the most literate, and slyest, thriller writer in English today."
—Publishers Weekly, STARRED Review

"Herron's remarkable novel has enough suspense, action, and deductive dazzlement to keep genre fans happy. But be warned: these are deep waters, and this is not nodding-off, night-table reading."
─Booklist, Starred Review

"Herron strips his revenge story to the bone, paring away unnecessary characters, episodes, speeches and gestures to produce a violent little elegy that grows both more clever and more sour as it hurtles along."
—Kirkus Reviews

"The Brits seem to have a lock on clapped-out intelligence agents, and this savvy literary stand-alone by the author of the 2013 Crime Writers' Association Gold Dagger–winning Dead Lions is an affectionate nod to the likes of John le Carré."
─Library Journal

"Nobody Walks is a very different kind of thriller: more Richard Stark than John Le Carre. It's stripped down and raw; a satisfying, immersive thriller, bold and brutal in its simplicity."
—Pages & Pages Books, Australia

"[Herron] writes with uncommon grace about a man who has no illusions."
—Reviewing the Evidence

"[A] beautiful, bleak novel."
—Criminal Element

"[A] complex character-driven thriller."
—Stop! You're Killing Me

"Tough and melancholy—a story of remorse and revenge that asks if it is ever too late for a man to make up the lost years."
—Life Is Story

"This is a more human story—a tragedy, actually—and Bettany is given no easy ride."
—Crime Fiction Lover

"Smartly written with biting British wit."
—Fresh Fiction


Praise for DEAD LIONS

WINNER OF THE 2013 CWA GOLD DAGGER FOR BEST CRIME NOVEL OF THE YEAR
A BBC FRONT ROW BEST CRIME NOVEL OF 2013
A TIMES CRIME AND THRILLER BOOK OF THE YEAR
A SUNDAY TIMES TOP 50 CRIME AND THRILLER BOOK OF THE PAST 5 YEARS

"Smart, sharp British wit at its finest. A uniquely brilliant take on the British spy novel."
─Cara Black, New York Times bestselling author of Murder Below Montparnasse

"Funny, clever . . . Genuinely thrilling. The novel is equally noteworthy for its often lyrical prose."
─Publishers Weekly, Starred Review

"Delightful . . . with a dry humor reminiscent of Greene and Waugh."
—Sunday Times, Best Thrillers and Crime Novels of the Past 5 Years

"A great romp."
─Jeff Park, BBC Front Row

"Clever and funny."
─The Times

"Herron delivers unbeatable entertainment for thriller fans."
─Library Journal, Starred Review

"[A] wickedly clever send-up of the classic British spy novel."
─Crime Writers' Association

"If you like your suspense novels told with a smart dash of wit and sarcasm, filled with lots of twists and turns, Herron's your man."
─Shelf Awareness
Soho Crime, 9781616956196, 336pp.
Publication Date: December 1, 2015
About the Author
Mick Herron is a British novelist and short story writer who was born in Newcastle and studied English at Oxford. He is the author of six books in the Slough House series (Slow Horses, Dead Lions, Real Tigers, Spook Street, London Rules, and the novella The List) and four Oxford mysteries (Down Cemetery Road, The Last Voice You Hear, Why We Die, and Smoke and Whispers), as well as the standalone novels Reconstruction, Nobody Walks and This Is What Happened. His work has won the CWA Gold Dagger for Best Crime Novel, the Steel Dagger for Best Thriller, and the Ellery Queen Readers Award, and been nominated for the Macavity, Barry, Shamus, and Theakstons Novel of the Year Awards. He currently lives in Oxford and writes full-time.