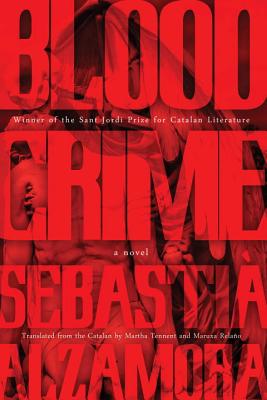 Blood Crime (Hardcover)
Soho Crime, 9781616956288, 304pp.
Publication Date: September 13, 2016
Other Editions of This Title:
Paperback (9/19/2017)
* Individual store prices may vary.
Description
A multi-genre gothic novel of the horrific early days of the Spanish Civil War in Barcelona, perfect for fans of Roberto Bolaño and Mario Vargas Llosa.

"Startling . . . Blood Crime (beautifully translated from the Catalan by Maruxa Relaño and Martha Tennent) has a sort of concentrated power that's rare in horror novels. It's akin to poetry." —The New York Times Book Review

It is 1936, and Barcelona burns as the Spanish Civil War takes over. The city is a bloodbath. Yet in all this death, the murders of a Marist monk and a young boy, drained of their blood, are strange enough to catch a police inspector's attention. His quest for justice is complicated by the politics, dangers, and espionage of daily life in a war zone. The Marist brothers of the murdered monk are being persecuted; meanwhile, a convent of Capuchin nuns hides in plain sight, trading favors with the military police to stay alive. In their midst is a thirteen-year-old novice who stumbles into the clutches of the murderer. Can she escape in this city of no happy endings?

Narrated by a vampire who thrives in the havoc of the war, this stunning novel, inspired by the true story of a massacre in the early days of the Spanish Civil War, is a gothic reflection on the nature of monsters, in all their human forms.
About the Author
Sebastià Alzamora i Martín was born in Mallorca in 1972 and graduated from the Universitat de les Illes Balears with a degree in Catalan philology. He first rose to prominence as a poet with a collection called Rafel, which he published in 1994. Since that time, he has written three other volumes of poetry and five novels. He has been awarded numerous prizes for both his fiction and his poetry, including the prestigious Sant Jordi Prize for Blood Crime. He is the editorial director of the Catalan magazine Cultura as well as a regular columnist for various newspapers, including Avui and Ara. He lives in Majorca.
 
Martha Tennent & Maruxa Relaño are a mother-daughter team of English-language translators, working primarily from Catalan and Spanish. Martha Tennent has received a fellowship from the National Endowment for the Arts for her translation of The Selected Stories of Mercè Rodoreda. Maruxa Relaño was a translation editor for The Wall Street Journal and has written about immigration, local politics, and the Latino community for several US publications, including the New York Daily News, New York Magazine, and  Newsday. They currently live in Barcelona.
Praise For Blood Crime…
Praise for Blood Crime

Winner of the Sant Jordi Prize for Catalan Literature

"Startling . . . Blood Crime (beautifully translated from the Catalan by Maruxa Relaño and Martha Tennent) has a sort of concentrated power that's rare in horror novels. It's akin to poetry."
—The New York Times Book Review

"Extraordinary . . . Alzamora deftly balances a swiftly moving, multithreaded plot set firmly in a historical context with a transcendent, nearly timeless exploration of the dark, violent nature of humanity and the vain search for God's mercy, and, in doing so, creatively fulfills the challenge of reinventing gothic horror for a modern age."
—Publishers Weekly, Starred Review

"Alzamora explores good versus evil in a complex and deeply layered work that somehow manages to remain accessible and compulsively readable. Characters are textured and genuine. Winner of the Sant Jordi Prize for Catalan Literature, this dark and surprising novel travels to unexpected places quickly—but not too quickly."
—Library Journal, Starred Review

"A fascinating book . . . A tapestry of awe and horror, man-made and possibly beyond. Blood Crime twists the genre in new and interesting ways."
—International Noir Fiction 

"This award-winning fictionalization of an actual event reveals slowly, clearly, and ever so gently (mostly) that there are monsters in all of us. This is a beautifully written novel and the translators do it full justice."
—Reviewing the Evidence

"Spooky scary good, cinematic, gothic, and beautifully written."
—Words Without Borders

"Exceptional . . . With it's mixture of crime, horror, and history, Blood Crime is written in the tradition of gothic horror authors like Lisa Mannetti and Susan Hill. Sebastia Alzamora is a master wordsmith. The story is made that much more horrific by the brutal atrocities committed at the hands of the worst monsters of all: the human ones."
—This is Horror (UK)

"A sepulchral Gothic thriller of serious and mesmerizing beauty, Blood Crime depicts a world on the edge of the abyss with a terrifying gentleness."
—Actes Sud, France

"Has no contemporary narrative equivalent . . . An extraordinary discovery."
—Pere Gimferrer

"A daring effort to make the impossible connection between vampires and the Spanish Civil War . . . Alzamora portrays anew the apocalyptic beginnings of the National Uprising, bringing together several plots at a thrilling cinematic pace."
—Reading Now, Spain, Book of the Week

"A complex novel that presents a dark, seldom seen portrait of Spanish Republicans . . . An unclassifiable novel that requires time for reflection, and a second reading to fully grasp."
—Le Salon Littéraire, France
or
Not Currently Available for Direct Purchase