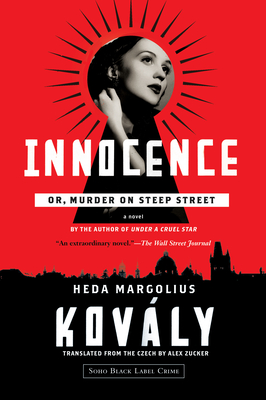 Innocence; or, Murder on Steep Street
Paperback

* Individual store prices may vary.
Other Editions of This Title:
Digital Audiobook (6/1/2015)
Hardcover (6/2/2015)
Description
This rediscovered masterpiece captures a chilling moment in the stifling early days of Communist Czechoslovakia.

1950s Prague is a city of numerous daily terrors, of political tyranny, corruption and surveillance. There is no way of knowing whether one's neighbor is spying for the government, or what one's supposed friend will say to a State Security agent under pressure. A loyal Party member might be imprisoned or executed as quickly as a traitor; innocence means nothing for a person caught in a government trap. When a little boy is murdered at the cinema, the ensuing investigation sheds a little too much light on the personal lives of the cinema's female ushers, each of whom is hiding a dark secret of her own.
Praise For Innocence; or, Murder on Steep Street…
Praise for Innocence; or, Murder on Steep Street

An NPR Best Book of 2015

"A luminous testament from a dark time, Innocence is at once a clever hommage to Raymond Chandler, and a portrait of a city—Prague—caught and held fast in a state of Kafkaesque paranoia. Only a great survivor could have written such a book."
—John Banville

"The great draw of Innocence; or, Murder on Steep Street is the menacing view it gives us of communist Prague . . . Kovály channels Chandler but takes him into a landscape far, far away from wide-open L.A."
—Maureen Corrigan, NPR's Fresh Air

"An extraordinary novel . . . A remarkable work of art with the intrigue of a spy puzzle, the irony of a political fable, the shrewdness of a novel of manners, and the toughness of a hard-boiled murder mystery."
—Tom Nolan, The Wall Street Journal

"A sharp, moving indictment of Soviet-style communism, and of any ideology that relies on fear to subdue."
—Minneapolis Star-Tribune

"The plot is easy to envision as film noir . . . As for innocence, the woman who went to hell twice wants her readers to know that there is no such thing."
—The Times Literary Supplement

"There is a great deal over which to marvel in Innocence: or, Murder on Steep Street. The narrative is riveting. The art of its telling is powerful. And the back story to its publication is itself worthy of recounting: a testament to the author's steely will to hallow memory and, in so doing, bring a semblance of balance to history's often skewed scales of justice."
—Canadian Jewish News

"Purely Chandleresque."
—Toronto Star

"Kovály's prose carries echoes of Albert Camus' novels . . . Yet, Innocence is astonishingly—and brilliantly—written as a thriller in the style of Raymond Chandler, an author Kovály hugely admired. The mean streets her characters tread are infinitely more treacherous than the dark blocks of Los Angeles but she creates a plot packed with surprise, a character-driven, murderous matrix that sustains an amoral universe in an all-too-convincing story."
—The Jewish Chronicle

"A fantastic homage to Chandler."
—The Strand Magazine

"Neither the Nazis nor the Communists could silence her . . . [Innocence] reflects with great insight and accuracy on a Kafkaesque world that unfolded in Communist Czechoslovakia in the 1950s."
—The Virginia Gazette

"The novel's best aspect is its portrayal of time and place. Fear fills Prague and its residents' hearts in the 1950s; no one can trust anyone. With many scenes occurring at nighttime, a sense of darkness spreads as the story unfolds."
—San Antonio Express-News

"Innocence stands as a singular addition to the genre... With this character-driven, philosophical mystery, Kovály has taken her experience and combined it with the vocabulary of classic crime fiction to create something that is engagingly familiar, yet all her own."
—Rain Taxi

"A remarkable story that combines cultural and political observations with crime fiction. It is a testimony to the most brutal times of the 20th century."
—Lake Placid News

"A lost classic . . . In Innocence nobody can claim to be very innocent."
—Dayton Daily News

"An uncensored look at crime in communist Czecholosovakia... I highly recommend."
—Fresh Fiction

"Intense and powerful."
—Crimespree Magazine

"An intriguing reimagining of the crime genre in the context of Prague in the 1950s. Kovály does take from Chandler a focus on the real conditions of the lives of her contemporaries, but Kovály's Prague in 1952, under Soviet totalitarianism, is a very different place than Chandler's 1940s Los Angeles, under corrupt, bankrupt capitalism . . . In the trivializing of evil lies the link between Kovály's Holocaust memoir and Innocence, as well as the dark undertone that makes her crime novel so distinctive and powerful."
—The Life Sentence 

"An intensely interesting novel . . . The central premise, that innocence is neither protection nor excuse in a darkly corrupt world, remains a bitter truth."
—Reviewing the Evidence

"Margolius Kovály's vision of 1950s Prague is marked not only by terror, but by shame and humiliation as well. Her heroine must be both fearless and shameless to get even close to achieving her goals, but this is a Soviet noir, so don't count on a happy ending. Do, however, count on beautiful, intricate, and bleak noir from a master of the genre."
—MysteryPeople Bookstore

"Capturing the fear and oppression of living in a police state, this dark novel, reflective of its time and written by a writer who lived her material, will enthrall noir enthusiasts and readers of literary historical fiction."
—Library Journal

"In noirish tones, [Innocence] depicts the dark streets, the lost souls, and a very difficult time to be judged guilty or innocent by one's supposed friends or by the oppressive and rising Czechoslovakian Communist regime."
—Booklist

"Previously unpublished in English, this mystery by the late Czech translator and author of the memoir Under a Cruel Star vividly depicts Communist-oppressed 1950s Prague . . . That Kovaly's first husband was unjustly executed by the Czechoslovak Communist Party in 1952 gives her narrative of double lives and betrayal a painful veracity."
—Publishers Weekly

"Double lives, secrets, informers, microdots, and above all, lies . . . Set in post-war Prague, a repressive political maze, Innocence is a must-read, a psychological drama played out in crystal prose. Not only did Heda Margolius Kovály write an emotionally wrenching tale, she lived it during the 1950s Communist state."
—Cara Black

"Kovály's skill as a mystery writer shines, as she uses suspense, hints, and suggestions to literally play with the reader's mind . . . An excellent novel."
—New York Journal of Books

Praise for Under a Cruel Star

"This is an extraordinary memoir, so heartbreaking that I have reread it for months, unable to rise to the business of 'reviewing' less a book than a life repeatedly outraged by the worst totalitarians in Europe. Yet it is written with so much quiet respect for the minutiae of justice and truth that one does not know where and how to specify Heda Kovály's splendidness as a human being."
—The New York Times Book Review

"Given thirty seconds to recommend a single book that might start a serious young student on the hard road to understanding the political tragedies of the twentieth century, I would choose this one."
—Clive James, Cultural Amnesia

"One of the outstanding autobiographies of the century."
—San Francisco Chronicle

"A masterpiece of memoir still awaiting its due."
—The American Interest
 
"Kovály's attention to the world's beauty, even while in hell, is so brazen as to take my breath away."
—Columbia Journalism Review
 
"A tragic story told with aplomb, humor and tenderness . . . Highly recommended."
—Publishers Weekly

"An exceptionally intimate and poignant memoir . . . Illuminating."
—Library Journal
Soho Crime, 9781616956455, 256pp.
Publication Date: March 15, 2016
About the Author
Heda Margolius Kovály, a Czech writer and translator, was born in 1919 in Prague to Jewish parents. Under a Cruel Star, Kovály's memoir of her time in Auschwitz and the early years of Czechoslovak communism, was first published in 1973 and has since been translated into twelve languages. Her crime novel, Innocence, is based in large part on her own experiences in early 1950s Prague. Kovály died in 2010 at age 91.

Alex Zucker has translated novels by Czech authors Jáchym Topol, Miloslava Holubová, Petra Hůlová, and Patrik Ouředník. He has received an English PEN Award for Writing in Translation, an NEA Literary Fellowship, and the ALTA National Translation Award. Alex lives in the Greenpoint neighborhood of Brooklyn, New York. Visit his website at www.alexjzucker.com
or
Not Currently Available for Direct Purchase