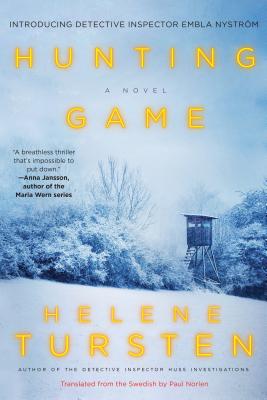 Hunting Game (An Embla Nyström Investigation #1)
Hardcover

* Individual store prices may vary.
Other Editions of This Title:
Paperback (11/12/2019)
Description
Helene Tursten's explosive new series features Detective Inspector Embla Nyström, a sharp, unforgiving woman working in a man's world. When one of her peers is murdered during a routine hunting trip, Embla must track down the killer while confronting a dark incident from her past.

Twenty-eight-year-old Embla Nyström has been plagued by chronic nightmares and racing thoughts ever since she can remember. She has learned to channel most of her anxious energy into her position as Detective Inspector in the mobile unit in Gothenburg, Sweden, and into sports. A talented hunter and prizewinning Nordic welterweight, she is glad to be taking a vacation from her high-stress job to attend the annual moose hunt with her family and friends.
 
But when Embla arrives at her uncle's cabin in rural Dalsland, she sees an unfamiliar face has joined the group: Peter, enigmatic, attractive, and newly divorced. And she isn't the only one to notice. One longtime member of the hunt doesn't welcome the presence of an outsider and is quick to point out that with Peter, the group's number reaches thirteen, a bad omen for the week. Sure enough, a string of unsettling incidents follow, culminating in the disappearance of two hunters. Embla takes charge of the search, and they soon find one of the missing men floating facedown in the nearby lake. With the help of local reinforcements, Embla delves into the dark pasts of her fellow hunters in search of a killer.
Praise For Hunting Game (An Embla Nyström Investigation #1)…
A CrimeReads Most Anticipated Crime & Mystery Novel of 2019
A Criminal Element Best of the Month Book of February 2019 

Praise for Hunting Game

"[A] satisfying series debut . . . Swedish author Helene Tursten, well known for her books featuring the steadfast Detective Inspector Irene Huss, introduces a different sort of hero in Hunting Game." 
—Wall Street Journal

"Haunted, driven, immensely human and highly trained as a hunter and tracker, Embla is a winning new Scandinavian noir lead." 
—Jane Ciabattari, BBC Culture

"Impetuous and physical . . . [Embla is] a bright light among young Swedish cop characters."
—Toronto Star

"Solid and absorbing . . . Tursten takes her time staging the story, focusing on fine descriptions of her rugged setting and the engaging, tough young detective."
—Adam Woog, The Seattle Times

"A powerful new heroine." 
—Check It Out, KWIT.org

"Tursten captures the atmosphere of rural Sweden and the hunting party effectively and develops what can be described as a rather classic noir story, with missing people, corpses, and, of course,
unanswered questions . . . Tursten creates a compelling classic mystery, bolstered by a very strong sense of place."
—The Popular Culture Association 

"An interesting and conflicted heroine . . . Tursten sets the scene perfectly . . . The unassuming prose with some unexpected twists keeps the reader on their toes."
—Crime Review 

"[An] outstanding series launch . . . Embla is a refreshingly capable lead, whose situational ethics means that she doesn't feel she must do everything by the book."
—Publishers Weekly, Starred Review  

"Embla, still plagued by nightmares about losing her teenage best friend, is a sharp, willful, though emotionally vulnerable detective. Fans of the Huss novels in particular and Nordic noir in general will want to follow this series from its start."
—Booklist, Starred Review

"Hunting Game sets up the beginning of what is sure to be an enjoyable series . . . As always, Tursten aptly captures the quotidian details that make her characters memorable, giving glimpses into hunting culture and the coldness of a Swedish winter."
—Shelf Awareness 

"A breathless thriller that's impossible to put down. I was fascinated by Embla, a credible and complex character who is hiding secrets . . . A great reading experience."
—Anna Jansson, author of the Maria Wern series

"Policewoman and prizewinning Nordic welterweight, Embla is a badass. Yes, she's smart and strong—but also refreshingly complicated and flawed . . . and you couldn't have a better setting for a chilling mystery than the Nordic wilderness." 
—Book Riot

"Hunting Game is easy-to-read, exciting and interesting. Embla Nyström will surely appeal to readers as much as Irene Huss." 
—Dagbladet (Norway)

"A superb mystery perfect for the reader of classic detective novels . . . Tursten writes in spare, concise prose, foregoing frills and in-your-face violence, focusing instead on true-to-life storytelling and character development."
—Criminal Element 

"Fellow Irene Huss fans, never fear. I think you're going to like Embla."
—Kittling Books 

"A great beginning to a new series."
—ParrySound.com

Praise for Helene Tursten

"As good as Louise Welsh's similarly creepy tour of Glasgow."
—Gillian Flynn, Entertainment Weekly

"These days Scandinavian crime writers are thick on the ground. It's nice to see that the women can be just as bloodthirsty as the men."
—The New York Times Book Review

"[Tursten] imbues this novel with a cold chill of dread that can't be attributed only to the subfreezing temperatures of Gothenburg in winter."
—Chicago Sun Times

"Truly satisfying."
—Philadelphia Inquirer

"An engaging mystery with a very likable heroine. With a writing style reminiscent of Camilla Läckberg or Henning Mankell, Helene Tursten offers a detective with a nuanced and compelling personal life, as well as a dark and intriguing mystery."
—Shelf Awareness
Soho Crime, 9781616956509, 288pp.
Publication Date: February 26, 2019
About the Author
Helene Tursten was a nurse and a dentist before she turned to writing. She is the author of the short story collection An Elderly Lady Is Up to No Good as well as the Irene Huss mysteries and the Embla Nyström mysteries, including Hunting Game and Winter Grave. Her books have been translated into 21 languages and made into a television series. She was born in Gothenburg, Sweden, where she now lives with her husband.
or
Not Currently Available for Direct Purchase