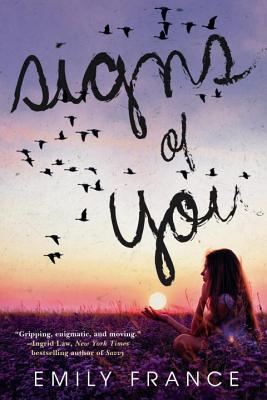 Signs of You
Hardcover

* Individual store prices may vary.
Other Editions of This Title:
Digital Audiobook (7/18/2016)
Paperback (6/13/2017)
Description
Ever since Riley Strout lost her mother two years ago, her survival has depended on her other family: the quirky kids she met in a grief support group at school. Jay, Kate, and Noah are the only people who understand her pain; each lost a loved one.
 
When Riley sees her dead mother shopping in a grocery store, she fears post-traumatic stress—until Jay and Kate report similar visions. Noah, having seen nothing, withdraws. Soon he disappears, and Riley fears the worst. But the frantic search for him unexpectedly draws Riley and the other two into a mystery surrounding a centuries-old relic and the clues it might offer about the afterlife. By reaching for the ones who are gone, Riley uncovers hidden truths about those she hasn't yet lost.
Praise For Signs of You…
Praise for Signs of You

"Alternatingly laugh-out-loud funny, tear-inducing sad, and goose-bump spooky. This is a mystery with a heart, and one that is very hard to put down."
—Jodi Lynn Anderson, New York Times bestselling author of Peaches and Tiger Lily

"Emily France's debut is an irresistible force of nature. Signs of You felt like it was written just for me, and made me want everyone else to read it immediately. Read this book."
—Gwenda Bond, author of Girl on a Wire and Lois Lane: Fallout

"Eerie and intense, Signs of You explores the mysteries of life and what comes after. A vibrant debut from a compelling new voice in young adult literature. This is a book that stays with you long after you've savored the last page."          
—Melanie Crowder, author of Audacity, a National Jewish Book Awards Finalist

"Signs of You has an engaging mystery at its center, one that will keep readers turning the pages as Riley and her friends try to understand the supernatural world that surrounds them. But it is the heart-wrenchingly profound questions that will stick with you long after you've finished. In her funny, suspenseful and romantic debut novel, Emily France beautifully shows us how a person can live fully in the face of unfathomable loss."
—Deborah Heiligman, National Book Award Finalist and Printz Honoree author

"Gripping, enigmatic, and moving, Signs of You will stay with readers long after they've turned the last page. France masterfully plumbs the depths of the human heart as she layers mysticism, friendship, wit, and grief in this story about four teens looking for meaning and love after the deaths of people close to them."  
—Ingrid Law, Newbery Honor winner and New York Times Bestselling author of Savvy, Scumble, and Switch

"There's a terrific mystical-ghost-mystery here, but we really loved the characters in Signs of You. They're conflicted and wounded, but still passionate about their friendship, uncovering the truth and finding closure. (And there's a sweet, slow-burn romance that'll restart your heart in the best way.)"
—Justine

"A blend of mystery and mysticism . . . Fair warning: your final pages will be tear-stained." 
—5280 Magazine

"Kudos to France for creating distinct and compelling characters that will keep readers invested in her debut . . . An entertaining mystery cleverly rooted in religious lore. The Sixth Sense meets The Da Vinci Code for teen readers."
—Kirkus Reviews

"This genre-straddling debut novel is a palatable blend of the supernatural, the spiritual, Dan Brown's The Da Vinci Code, and YA romance ingredients . . . The spiritual and historical elements are well balanced—not an afterthought and not overpowering this very human story of letting go and moving on."
—School Library Journal 

"Compelling . . . [France's] characters are sympathetic and believable, and her message about what keeps people moving forward after tragedy resonates deeply."
—Publishers Weekly

"An inventive concept—part mystery, part supernatural, part spiritual meditation—and the four friends are compassionately drawn, even in their flaws."
—Booklist

"The bond between the four teens will resonate with readers, as having a loving, dependable support group is a universal desire . . . The author notes at the end help to separate fact from fiction as well as offer options for further reading on the topic of St. Ignatius. Devastating loss, ghostly apparitions, devoted friendships, and a hint of romance combine to make this debut novel a compelling read. Readers can look forward to whatever else this author has in store."
—VOYA

"In Emily France's poignant and powerful first novel, her vividly depicted high school heroine tackles life's highest questions. The novel opens a door to a true spiritual quest. France's achingly relatable teen characters come together in shared grief and help each other make both historic and personal discoveries. France tells this sweeping yet intimate tale with wisdom, humor, and heart."
—Elizabeth Searle, author of five books including Girl Held in Home and playwright of Tonya & Nancy: the Rock Opera

"Emily France's Signs of You defies stereotypes as it takes on the story of a loss, friendship, and healing."
—Cleaver Magazine 
Soho Teen, 9781616956578, 240pp.
Publication Date: July 19, 2016
About the Author
Emily France graduated from Brown University before going to law school. She finds creative inspiration in all things spiritual, from 4 a.m. vigils to trekking to the Buddhist and Hindu temples of India. She now writes full-time and lives with her husband and dog in sunny Colorado. She is also the author of the forthcoming YA book Zen and Gone. Visit her online at www.emilyfrancebooks.com or on Twitter @EmilyFranceBook.
or
Not Currently Available for Direct Purchase