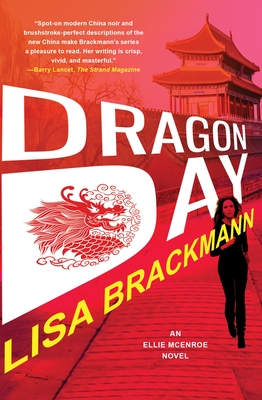 Dragon Day (An Ellie McEnroe Novel #3)
Paperback

* Individual store prices may vary.
Other Editions of This Title:
Hardcover (8/18/2015)
MP3 CD (9/20/2016)
Description
Ellie McEnroe is an Iraq War vet living in Beijing, where she represents the work of cutting-edge Chinese political artists. She has one bum leg, a taste for dumplings and beer, and a sweet-tempered rescue mutt for a roommate. She also has Chinese Domestic Security on her tail and a dwindling number of Percocets to get her through her bad days.

And she's about to have some bad days. The immensely powerful—and occasionally homicidal—Shanghai billionaire Sidney Cao has asked Ellie to investigate his son's suspicious new American business partner. Ellie knows she can't refuse and is grudgingly swept up into the elite social circles of Sidney's three children: debauched Guwei, rebellious Meimei and social climber Tiantian. When a waitress is murdered at one of Tiantian's parties, the last thing Ellie wants is to get sucked into a huge scandal involving China's rich and powerful. But Ellie quickly becomes the most convenient suspect. She realizes she'll have to figure out who really did it—and even that might not be enough to save herself.
Praise For Dragon Day (An Ellie McEnroe Novel #3)…
Praise for Dragon Day 

A Seattle Times Best Mystery of 2015

"Excellent . . . Ellie McEnroe, our guide, is a piece of work: an expatriate American veteran of Iraq with a bad leg and a worse attitude . . . Brackmann is terrific at evoking both the glitz of modern high-society China and Ellie's hand-to-mouth existence in some of Beijing's less reputable corners."
—The Seattle Times

"Edgy . . . When Ellie becomes a convenient murder suspect—her business card is found on the body of a waitress at a party—she must navigate China's elite and their kids, plus corruption on every level, to find the real culprit."
—Fort Worth Star-Telegram

"Spot-on modern China noir and brushstroke-perfect descriptions of the new China make Brackmann's series a pleasure to read. Her writing is crisp, vivid, and masterful."
—Barry Lancet, writing for The Strand Magazine

"As soon as I read the opening lines of Lisa Brackmann's new China-set crime thriller, Dragon Day, I knew I was going to enjoy it every bit as much as I had anticipated. At initial glance, the book indulges in the two ultimate China clichés—that 'dragon' title and its red cover—but with those first four sentences, Brackmann delivers a big wink to her readers: Don't worry. You might think you know what's coming, but you have no idea."
—Los Angeles Review of Books

"Like a bullet-train tour of daily life in China, one vignette after another, sometimes verging on poetry."
—Salem Macknee, McClatchy News 

"Set in China, Brackmann always manages to keep you on the edge of your seat and teach you something about that country at the same time. Not to be missed."
—Huffington Post 

"The sensation of a society in constant flux underpins the action and makes for great excitement." 
—The Crime Review (UK)

"A nonstop thriller, illuminating the Chinese police state in which 'First they decide you're a threat. Then they find a label for it.' Top-notch international crime fiction."
—Booklist, Starred Review

"Rambunctious, well-plotted . . . Readers will be sorry to see the last of Ellie."
—Publishers Weekly

"One of crime fiction's most successful portrayals of China . . . [Ellie] is absolutely convincing, both as a character and as a witness to an unpredictable realm where past, present, and future constantly collide."
—The Life Sentence

"This well-written series not only keeps readers involved in the storyline, it offers some keen insights into artistic freedom in China and the difficulty of managing so many layers of bureaucracy."
—Reviewing the Evidence

"Dark, mysterious and engaging, Dragon Day is a must-read."
—RT Book Reviews

"Had me hooked from the very first page . . . a tale at once exotic in its details but familiar in its inherent hard-boiled truths."
—Criminal Element

Praise for the New York Times and USA Today bestselling Ellie McEnroe series

"Ellie is a perfect spunky heroine . . . Be prepared for a wild ride."
—The New York Times Book Review

"This pulse-racer about an American Iraq-war vet is set in the art world of Beijing."
—Entertainment Weekly, "Recommendation for More Thrills"

"As slick and smart as an alley cat . . . Beijing in Rock Paper Tiger is as it is in real life: fast, furious, often ugly, and with a Starbucks sitting on every corner."
—Time Out Beijing

"A gripping ex-pat nightmare that unfolds with superb pacing and salient details. And it makes you damned glad your life is boring."
—The Miami Herald, "Summer Reading Recommendation"

"China's a big country, and as the foul-mouthed, pill-popping vet travels from tourist trap to toxic wasteland and back, her journey becomes one of disenchantment, frustration and anger . . . This book—and the fingers it points—matters."
—January Magazine, Best Book of the Year

"One of the best thrillers of the year. She has set the bar high for anyone wishing to write at the top of their game in the noir genre."
—Seattle Post-Intelligencer

"Don't turn the pages too fast. Brackmann's evocation of China, funny, frustrating, frightening, sometimes tender, and always real, is worth savoring."
—Nicole Mones, author of Lost in Translation and The Last Chinese Chef
Soho Crime, 9781616956622, 384pp.
Publication Date: June 7, 2016
About the Author
Lisa Brackmann is the critically acclaimed author of the Ellie McEnroe novels (Rock Paper Tiger, Hour of the Rat, Dragon Day) and the thrillers Getaway and Go-Between. Her work has also appeared in The Wall Street Journal, Travel+Leisure and CNET. She lives in San Diego with a couple of cats, far too many books and a bass ukulele.
or
Not Currently Available for Direct Purchase